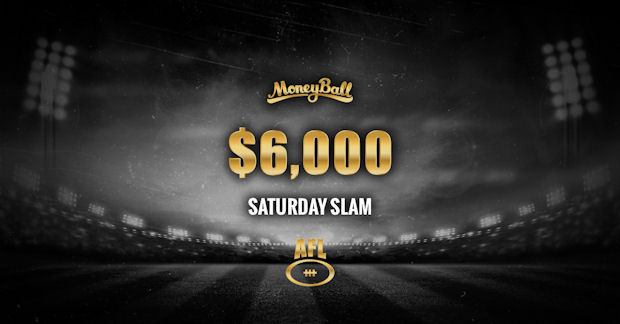 Tbetta here, and welcome to the self-proclaimed top resource for keen Aussie Rules Moneyball punters! DFS (Daily Fantasy Sports) is taking off around the world and Moneyball have the perfect platform for you to turn your AFL Fantasy prowess into cold hard cash. Signing up is easy – head to moneyball.com.au and you could be ballin' within minutes.
If you're unsure how DFS works, be sure to head to the 'Help' section for all the info you need to start cashing in on your AFL Fantasy knowledge!
Let's start Ballin' by checking out the excellent Match Committee Podcast below, starring your favourite DT Talk lads and brought to you by the legends at Moneyball:

Click here to subscribe on iTunes.
RISKY:
David Zaharakis ($7,500 MID) – The fair-weather Essendon onballer has pumped out 128 and 133 in these last two weeks as he's escaped the tag that affected him so greatly over the middle course of the year. Carlton hasn't sent out defensive assignments these past two weeks and is without their main shutdown guy in Ed Curnow… Zaka's oozing value if he remains unguarded but he's a bottomless pit of ordinary if he doesn't.
Aaron Hall ($8,500 MID) – Hall's scored between 100 & 109 in past four weeks straight, so what he's lacking in ceiling, he's making up for with consistency. A double-up only pick, as there are probably better value options out there for the all-or-nothing contests.
SMOKEY:
Mitch Brown ($7,000 FWD) –End-of-year Brown is a far cry from the flailing swingman we pondered earlier in the year, and is actually ranked #5 for total points in last three weeks! That's not just forwards – that's everyone. The former Cat is averaging 14 marks per game in that span playing a Riewoldt-like role, which is huge when you consider you get the extra point in Moneyball!
Keegan Brooksby ($4,500 RU) – the back-up ruckman was super handy last week with a big 99 MB – despite winning just 15 hitouts. I prefer him on a value basis over Lobbe/Trengove, who've been stepping on each other's toes lately.
Nick Haynes ($6,800 DEF) – The long-haired yahoo is averaging a solid 88 in his last 6, but what has me excited was that he was noticeably getting more involved in the switch kicking last week, ending with 13 marks and 106 MB. You wouldn't pay $6.8k for him in the midfield, but he's a perfect low-risk anchor in defence if you don't want to overpay for a Shaw type.
Jamie McMillan ($7,600 DEF) – Being touted as a future North Captain suggests McMillan might have a fair bit of potential stored up inside him, and a glance over his numbers shows a huge growth of late. He's had a lot of solid games this year as he plays a more attacking role out of defence – in fact,  4 of last 5 games have been Moneyball tons, including 135 MB last weekend!
TOP PICK:
Corey Enright ($8,700 DEF) – I feel like I've stepped into a time machine. What year it is? With scores of 131, 103, 88, 130, 111, and 105 in his past six games, are we sure it's not 2010? Enright is scoring at will and he's where you should be spending your dollars outside of the midfield.
Dom Tyson ($8,600 MID) – I can't gush over this guy any more than I have over the past month or so, so here are the cold hard facts: Tyson's averaging the 4th most fantasy points over the past five weeks, and ranks 2nd for PPM behind none other than Tom Rockliff in that span! Tyson hinted at his fantasy ability back in 2014, and now he's finally delivering consistently monster scores. Don't leave him without him.
Ryan Griffen ($7,200 MID) – I love a good hot streak and scores of 143 and 100 in last two weeks has me excited for a former big name Moneyball star in Griffen. Plus, he's significantly cheaper than most of his other Giant MID mates so he qualifies as a bona fide bargain if he continues he's increased output. Let's not forget that this is the same guy who, during season 2013, averaged 121 AF over a 10-game stretch mid-season. Griffen can seriously play and he's earned himself a precious MID slot in my Moneyball side this Saturday.
RISKY:
Ben McEvoy ($5,700 RU) – He's been pretty disappointing in Hawks colours – particularly in a timeshare with Ceglar in recent times – but the Big Boy did manage to average 94 points during a Ceglar-less 10-game stretch last year, so the potential is there. Jack Fitzpatrick comes in as the replacement but plays more spearhead than skyscraper, so I'm bullish about what McEvoy can do with the extra responsibility.
Lachie Neale ($9,200 MID) – Popstar Neale notched 32 touches and 106 MB against the Bulldogs earlier this year, and should exceed that in the comfort of his home deck. The problem is, he's struggling with a sore wing and you'd have to expect some restrictions on his movement (and hence his scoring) if he even survives a late withdrawal cull. Tempting but risky.
SMOKEY:
Blake Acres ($6,000 MID) – Do I spy an end of year break-out? It's rare, but the numbers don't lie and his past 4 scores read 96, 79, 104 and 122. Acres is a perfect fit for DFS, a guy whose price is modest after a year of ordinary scoring but is now stepping up his game. He's won at least 22 touches in all four of those games, which highlight how he's become a big part of St. Kilda's on-ball brigade. Expect it to continue in Round 23.
Tim Membrey ($6,400 FWD) –There is no surer thing in this world than a key forward vs Brisbane, and Membrey ticks that box. He's an easy pick here and a monty to kick 3 goals or more – on the 8 occasions where Membrey's achieved that feat this year, he's averaged 96 MB across those games.
Rupert Wills ($4,800 MID) – Wills' career Moneyball scores now read 87, 91, 100 and 103, thanks to a league-leading 10 tackles per game. That's 40 bonus points before you even count his possession stats… Lock and load.
TOP PICK:
Lachie Hunter ($8,800 MID) – The Bont sees all the headlines but Hunter is a pure slut, and playing on a huge ground like Domain against a dismal defensive outfit? It could get messy. Hunter posted stats of 31 touches, 10 marks and 115 MB against the Dockers earlier this year and is a strong chance to replicate that (or exceed it) and finish as the highest-scoring player at the final siren this Sunday afternoon.
Jason Johannisen ($7,800 DEF) – Busted out a 155 last week but honestly, he's been an awesome Moneyballer all year. The Bulldogs lose another defender in Easton Wood, so Johannisen's run and carry becomes even more crucial despite the lack of importance resting on this game – the Bulldogs' finals standing can't change, but surely you don't mess with form? Additionally, 3 separate Giants defenders logged 10+ marks last week against Freo, so expect another generous marking haul for Jason this week.
Brodie Grundy ($9,300 RU) – Grundy is an under the radar beast! Did you know that he has the 7th-highest average across the entire competition since Round 14, and is the highest-averaging ruckman in that time? Yep, not even Gawn has outperformed Grundy in fantasy over that stretch. His last four scores read like something you'd see from Pendles or Treloar, not the ruckman hitting it down to them: 131, 111, 123 and 129. Grundy ranks as a high priority pick this weekend.
Nick Riewoldt ($9,800 FWD) – Brisbane DEF's, need I say any more? Roo plays on the wing a lot these days but routinely relies on his famous tank to sneak forward, and will win any 1v1 matchup he rotates into. 133, 124 and 114 in his last three, so this is another classic case of form and fixture colliding for a wicked DFS pick with Riewoldt.