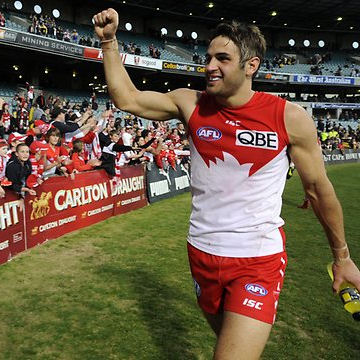 Tom is back with a few players going head to head in fantasy.
Corey Enright ($480,000) V James Kelly ($469,000)
Ever since debuting back in 2001, Geelong defender Corey Enright has been a hero. Now 34, Enright is still a quality point scoring option in AFL Fantasy. Seemingly always named in the Cats bests, Enright is an interception master and has been for some time. Averaging above 80 every year since 2006, 'Boris' as he is known as down at the cattery, rarely fails to deliver. There were reports the Geelong great would retire at the end of last season however he chose to keep going – a decision the Cats will be grateful for come finals time. Geelong kicked off its campaign with a win over Hawthorn in the traditional Easter Monday clash. Enright was opposed to the dangerous Paul Puopolo for much of the match and although 'Poppy' did kick a couple, those goals were not Enright's fault. After a morale-boosting victory of the reining premiers, it's fair to say Geelong would've been bitterly disappointed with a 13 point loss to the Giants the week after. Enright was up there with the best players on the ground and managed 82 Fantasy points. Against Brisbane in round 3, Enright amassed 33 disposals, 6 marks, 4 tackles and 110 Fantasy points. He rebounded well and intercepted the ball in typical fashion. The Cats chose to rest the veteran against the Bombers which nearly proved costly after the Bombers produced a solid display. For the next three weeks, the back pocket out of Kimba in SA didn't collect massive numbers but provided stability and, as always, barely lost a one-on-one contest. He even kicked a goal in round 8 which helped his score rise to 94 points – his second score up to this point. He could only manage 19 touches and 64 points against Collingwood but hit back with a 105 point game against Carlton. Between round 11 and 16, Enright wasn't quite at his best when it came to Fantasy points but was still serviceable given Geelong played four top-eight teams. In many ways, Boris' season kicked into life in round 17 for his good mate Andrew Mackie's milestone match. He was the general in defence and collected 30 disposals, 12 marks and 117 Fantasy points. Enright was excellent at half-back against Adelaide in wet conditions yet still managed to score 106 points. He has scored 93, 121 and 102 in the past three weeks at an average of 105 and has shot into even the best Fantasy teams. Perhaps Geelong will give him a rest against Melbourne or Brisbane but there is no doubting his form.
James Kelly is, no-doubt, one of the most consistent players to ever kick the sherrin. The Geelong great turned Essendon top-up is arguably enduring his best season at the ripe old age of 32. His 13 years at the top level have yielded 6 season averages of above 85. Kelly was generally deployed as either a tough midfielder or attacking half-back during his time at Geelong. However he is now playing a more permanent role in the Bombers back-line, creating drive. Like former team-mate Corey Enright, Kelly's years of experience and composure is well and truly having an impact on younger players. When it was announced that Kelly was going to join the Bombers, many coaches were surprised he was only available as a midfielder to start with. Thankfully for coaches, Kelly was amongst the first influx of DPP's added to the game after round 6. This made Kelly a far more relevant Fantasy option. He kicked off his season with a seven tackle performance against Gold Coast which yielded 118 Fantasy points. The following week, in the Bombers shock victory over Melbourne, Kelly showed great poise in multiple one-on-one situations and used his 28 disposals efficiently. As his match-fitness began to lift, Kelly maintained his class across half-back. He collected 29 disposals, 6 marks, 2 tackles and 101 Fantasy points. He struggled to have much impact on the game against his former club, Geelong, but still managed 99 points from 23 touches and 5 tackles. In his first ANZAC day match, Kelly showed his poise, class and precision with all 12 kicks. He also collected 17 handballs, 7 marks, 3 tackles and 111 Fantasy points. Although he didn't win the medal, he was clearly Essendon's best. Against the Blues he racked up 18 possessions, his second lowest count of the year, but tried hard and was far from the Bombers worst in a difficult match to star in. John Worsfold utilised 'Pops' more through the midfield in round 7 in an attempt to help the younger mid's against the likes of Hannebery, Kennedy and Parker. The round 8 clash with the then-unbeaten Kangaroos was very much a game of two halves. The Bombers played some excellent footy in the second half however Kelly played particularly well early on. Opposed to St.Kilda, Kelly played a lot of the game as the spare man across half-back. He collected 33 disposals, 10 marks, 5 tackles and a season-high 137 Fantasy points. By this stage of the season, Kelly was entrenched in many top coaches teams and was viewed as a candidate for a place as a top six defender. He scored 110 against Richmond at the MCG a week later before being managed for the trip west to face Fremantle. The next five games included fixtures against Hawthorn, GWS and West Coast. Pops made some uncharacteristic errors against Hawthorn but won plenty of the ball against the Giants and Eagles playing a more inside role. Once again he was rested against Adelaide but returned in style with 108 points against the Cats. Kelly is showing no signs of slowing down. His performance is still at a high level and is a safe option for the next two weeks.
Verdict: James Kelly and Corey Enright are both approaching retirement but are still producing very solid scores. Interestingly, they were teammates for years at Geelong and won premierships together. Both players are very good at playing their role week in, week out and have done so for over a decade. I would lean towards Enright here though as he is in slightly better form.
Loading ...
Click here to subscribe on iTunes. (Please leave a rating and review to help us move up the charts).
Josh P. Kennedy ($578,000) V Marcus Bontempelli ($538,000)
So far this year, Swans inside midfielder Josh Kennedy has been solid without stealing the Fantasy limelight from players like Tom Mitchell, Luke Parker and Dan Hannebery. Like them, Kennedy is an excellent contested ball winner, often leading the league in this category. Last year 'JPK' racked up five tons in the first eleven games but uncharacteristically posted three scores under 80 points. But it all changed after a break in round 12. For the remaining rounds, Kennedy was incredible, with a run of eleven games over 30 disposals leading to nine tons (seven over 110) and two nineties. In this period, JPK was by far the highest Fantasy scorer. As a result, Kennedy polled 25 Brownlow votes (the leading Swans player) but was not selected in the All-Australian team. Fantasy coaches were hanging out for a similar end to 2016 and have been rewarded. The run of scintillating form started in round 10 against North Melbourne. Kennedy battled fellow hard-nosed midfielder jack Ziebell for the majority of the night which proved to be a fierce encounter. He also managed to pick up 35 disposals, 12 tackles, 1 goal and 129 Fantasy points. This figure could've been even higher if he hadn't used his hands 26 times. It was his tackling which again stood out the following week. JPK laid 10 to go with 33 touches and 124 points. He was Sydney's best player in the first half against GWS and thrived on the contested ball in wet conditions in the Swans win over Melbourne. Although he didn't ton up in either of these games, Kennedy could still pick up Brownlow votes given his contested work around the ground. Josh was again tireless in his workload all day against the Bulldogs and ended up with 34 possessions and 106 Fantasy points. Despite managing only 24 disposals, Kennedy was influential in the third quarter at Simonds Stadium and help haul his team over the line in a victory which could pay huge dividends as the home and away season nears its conclusion. Imagine if Hawthorn didn't trade JPK away! He has made them pay in the past and did so again in round 17. He laid 6 tackles but found plenty of the ball to end with 131 points in a loosing side. But in round 19, Kennedy went bang. He was everywhere, collected 45 disposals, 8 marks, 2 tackles, 3 goals and a season-high 156 Fantasy points against Fremantle. Kennedy really is a gun in the second-half of the year. He finds plenty of the ball, is a tackling machine, a contested ball beast and a Fantasy jet in a midfield full of stars. The most obvious POD midfielder.
Marcus Bontempelli is a superstar and in my books, a future Brownlow Medallist. He is a supreme inside midfielder that can push forward with the capability of impacting the scoreboard. The 'Bont' also possess great endurance, clean hands in tight and can launch attacks with a pin point left foot kick. He played an incredible game for Melbourne school team Marcelin where he racked up 50 disposals and kick ten goals. Bontempelli is so good that even being selected with pick four in the 2013 draft looks to be a great steal for the Western Bulldogs. Last year, Bont really emerged as a Fantasy prospect. He played 20 games for an average of 92 points. Despite the Dogs consistently playing an exciting brand in the first six rounds, Bontempelli didn't hit three figures. He scored three 80's as well as a 66, 55 and 59. However things have turned around of late, with eleven tons coming from the last fourteen matches, resulting in an impressive five round average of 112. What's interesting about his early form was that all those games were played at Etihad Stadium. He has not only overcome his Etihad issues, but has announced himself as a genuine Fantasy premium midfielder and future Brownlow contender. This run of form initiated in the Bulldogs round 7 clash with Adelaide. The 'Bont' racked up 30 disposals, kicked 2 goals and scored 122 Fantasy points. The following week, the 2015 Coaches Young Player Of The Year was typically clean in tight, won 17 contested possessions and scored 105 points. Bontempelli proved his ability to dominate clearances against GWS and Collingwood. He was tagged against the latter in particular and struggled early but managed to claw his way back into the game after the half time break. Against West Coast he managed 21 contested possessions, 9 tackles and 125 points. He was best on ground against the Power but didn't have too much influence against Geelong. Marcus toned for the next three weeks to average 117 points. He lifted when the 'Dogs needed him and was clearly their best player. Against Collingwood on the weekend, Bontempelli was again tagged by Levi Greenwood but collected 23 disposals, 8 marks, 8 tackles, 2 goals and 137 Fantasy points. He has really improved his Fantasy potential this year and is one of the inform midfielders in the comp. More expensive than the likes of Steven, Mitchell and Neale but is in some serious form.
Verdict: In years gone by, midfielders had a focus on speed, endurance and skill. Nowadays, the prototype midfielder is tall and strong with an emphasis on contested ball. Marcus Bontempelli and Josh P. Kennedy are prime examples of this type of midfielder. They are bulls around the packs and thrive on the tough stuff. Not only do they both regularly hit the scoreboard, but they are excellent around stoppages. Two superstars of the competition. Both are in great form but non more so than Kennedy.
Loading ...
Aaron Hall ($492,000) V Nick Riewoldt ($507,000)
At 33 years of age you wouldn't expect Nick Riewoldt to be the best Fantasy key forward in the league, yet he has turned it up this year and produced some fantastic scores. Most premium forwards are young and win midfielder like numbers. But not Riewoldt. His 144 against the Roos was largely due to a stock standard 16 marks whilst a four goal effort against the Giants yielded 137 points. In recent years Riewoldt has evolved into more of a winger or running half forward. He still kicks goals, runs until the end and takes stacks of marks, but has recorded some big disposal numbers for a forward. Roo struggled in his games at Adelaide Oval, scoring 55 and 64 against the two SA clubs although he was forced to play through injury against the Crows. Other than those blemishes, he has been brilliant and went on a run of seven consecutive tons from rounds 4-10. He has even been Calvin's number one Captain pick twice already thanks to his ever increasing ceiling. In the Saints gripping 3-point loss to Geelong, Riewoldt was fantastic. He collected 26 touches, 10 marks and 116 Fantasy points. His two-way gut running and defensive pressure saw him find open space on the wing far to often. It's fair to say his performance against Gold Coast could've been better. He gathered 21 disposals and 10 marks but kicked 0.5 for the day. Riewoldt played a very well rounded game against Essendon, helping out the defence, midfield and forward line.Unfortunately, as a result of the Saints poor start, Riewoldt was omitted from his role of the wing and thrust forward in a bid to swing the momentum away from Melbourne. His scoring was not affected though largely thanks to his weekly haul of 10 marks. A similar switch was made against the Bulldogs. Rooey was one of the best on ground and finished with 4 goals and 107 Fantasy points in the pivotal win over the Bulldogs. He only had 16 touches against North Melbourne but his marking and work rate was sublime. In the past fortnight, Riewoldt has scored 117 and 112 against Carlton and Sydney. I doubt whether there has ever been a key forward who has been granted midfield DPP status half way through the year. Roo is one of the games greats. His marking and work rate are the standouts and unlike many other medium/tall forwards, doesn't rely on goals. A required player in your forward line.
There is no question, Aaron Hall has endured a brilliant season. It didn't come completely out of the blue though. Hall finished the back end of 2015 with a series of high scores thanks to a role in the midfield left open by the Suns injury list. He was one of the most popular picks in pre-season and was available at the lucrative price of $422,000. There was a cloud of doubt cast over him by some coaches who thought he was fools gold. They have been proved wrong. It all started in round 1 where Ablett and Hall ran riot for the entire afternoon. Gold Coast easily eclipsed Essendon and Hall was probably the best on ground. He collected 36 disposals, 4 marks, 3 tackles, 2 goals and 125 Fantasy points. It was crucial that Hall backed this up against Fremantle and he did just that, amassing 32 touches, 11 marks and 126 Fantasy points. Hall went even bigger against Carlton, collecting a cool 40 possessions and 151 Fantasy points. After yet another hundred against Brisbane, close to half of all coaches owned Hall and were benefiting from his consistently high scores. He wasn't as damaging against North Melbourne but still scored 94 points from 32 disposals. Nearly half of his disposals were ineffective against Geelong but that obviously didn't impact his overall Fantasy haul. Hall struggled to reach the highs of the opening rounds against Melbourne but his rebounding was solid against GWS. He missed the game against Adelaide with a shoulder issue but returned against West Coast only to suffer a similar injury. He soldiered on against Sydney but didn't adjust to the conditions, resulting in an underwhelming score of 59. In arguably the most frustrating 'out' of the year, coach Rodney Eade dropped Hall to the NEAFL. He was expected to dominate and he did but that was not enough to earn an immediate return to the AFL. Down at Aurora Stadium, Hall was clearly a class above most of his teammates. In rounds 15, 16 and 17, Hall scored 115, 107 and 102 in a return to his early season form. But that was short lived as he missed the next three games with a Hamstring complaint. Last weekend, Aaron got impressive numbers but was virtually invisible in defence. There has been a few hiccups but when he has played, Hall has been very impressive. Hall is a damaging midfielder with pace and scoreboard impact. He has produced just one disappointing score and looks to be a serious premium forward option in years to come.
Verdict: Riewoldt and Hall have been two of the best Fantasy forwards this year, but they score their points very differently to each other. Rooey is well known for his first class endurance and marking whilst Hall finds stacks of the ball and is almost always amongst the goals too. I would go with Hall though. He has Collingwood and Port Adelaide in the final two rounds and should be good for two tons.
Loading ...