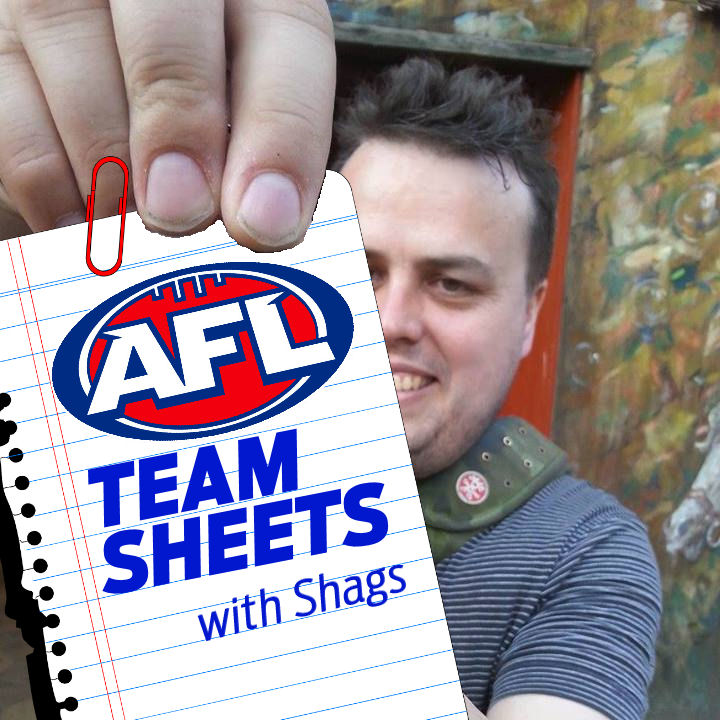 6:00pm Friday 05/08/2016
Sunday extended benches are in. Aaron Hall is listed as an In! Blakely makes the cut for Freo. Ruggles made the cut, but Menzel did not.
6:30pm Thursday 04/08/2016
Round 21 teams are out, and DT finals are in full swing. For an unfortunate few the season is already over with completion of elimination finals last week. Stef Martin is back in, but Sam Jacobs is not. Ruck bench cover Mason Cox is also out with a niggle. Some may have held Matthew Suckling who is back in this week. A few rookies are out with Sam J. Reid, Aaron Francis, Harrison Himmelberg, Darcy Parish.
We have a few late season rookies being played with David Cuningham (Mid $174,000 AF $125,800 DT), Ryan Burton (Fwd $159,000 AF $143,800 DT), Jesse Palmer (Fwd $125,000 AF $128,200 DT) and Jake Long (Fwd/Mid $125,000 AF $121,300 DT) confirmed to play even though its a Sunday game.
Rd21 teams released shortly on club sites / https://t.co/IBZE862aY1
28 changes to Fri / Sat teams.
12 confirmed outs for Sunday squads.

— Patrick Keane (@AFL_PKeane) August 11, 2016
DT Relevant INs and OUTs
*check Sunday extended bench selections ~5pm fri
IN:
Matthew Suckling (Fwd/Def)
Tom Phillips (Fwd/Mid)
Jordan De Goey (Fwd/Mid)
Stefan Martin (Ruck)
Jarrad Jansen (Mid)
David Cuningham (Mid $174,000 AF $125,800 DT)
Ryan Burton (Fwd $159,000 AF $143,800 DT)
Matthew Lobbe (Ruck)
Jesse Palmer (Fwd $125,000 AF $128,200 DT)
*Jake Long (Fwd/Mid $125,000 AF $121,300 DT) (confirmed to debut)
*Connor Blakely (Mid)
*Scott Thompson (Mid)
*Harrison Wigg (Def)
*Tom Ruggles (Def)
*Lincoln McCarthy (Fwd)
OUT:
Mason Cox (Shoulder)
Sam J. Reid (Omitted)
Harrison Himmelberg (Managed)
Tom Nicholls (Knee)
Brendon Goddard (Groin)
Aaron Francis (Calf)
Darcy Parish (Rested)
Daniel Menzel (Groin)
Andrew Mackie (Managed)
Paul Seedsman (Corked Buttock)
Tim O'Brien (Omitted)
Important times to remember:
Teamsheets full weekend ~6:15pm Thursday 11/08/2016
Sunday games Extended bench selection ~5:00pm EST Friday 12/08/2016
Late changes to Dogs vs Pies ~7:00pm EST Friday 12/08/2016
Full Lockout Dogs vs Pies 7:50pm EST Friday 12/08/2016
Updates
Essendon has promoted Jake Long to the senior list under the rules relating to the promotion of a rookie after mid-season.

— Patrick Keane (@AFL_PKeane) August 11, 2016
Jake Long's seemed fairly happy with something today: https://t.co/gZgxO9Rz4m #DonTheSash pic.twitter.com/UbjT32meI8

— Essendon FC (@EssendonFC) August 11, 2016
Friday August 12
Western Bulldogs v Collingwood at Etihad Stadium (7.50pm)
WBulldogs v Collingwood
Suckling in for Morris.
Goldsack, Oxley, Moore, De Goey, Phillips in for Reid, Cloke, Williams, Crocker, Cox.

— Patrick Keane (@AFL_PKeane) August 11, 2016
B Shane Biggs, Fletcher Roberts, Easton Wood
HB Jason Johannisen, Joel Hamling, Matthew Boyd
C Lachie Hunter, Marcus Bontempelli, Liam Picken
HF Lin Jong, Jake Stringer, Clay Smith
F Tory Dickson, Tom Boyd, Caleb Daniel
FOL Jordan Roughead, Luke Dahlhaus, Josh Dunkley
I/C Matthew Suckling, Zaine Cordy, Nathan Hrovat, Lukas Webb
EMG Toby McLean, Will Minson, Jed Adcock
IN
Matthew Suckling
OUT
Dale Morris (Hamstring)
B Jonathon Marsh, Nathan J. Brown, Jeremy Howe
HB Josh Smith, Tyson Goldsack, Brayden Maynard
C Steele Sidebottom, Adam Treloar, James Aish
HF Rupert Wills, Darcy Moore, Travis Varcoe
F Adam Oxley, Jesse White, Jarryd Blair
FOL Brodie Grundy, Scott Pendlebury, Taylor Adams
I/C Jordan De Goey, Levi Greenwood, Tom Phillips, Jack Crisp
EMG Brent Macaffer, Travis Cloke, Alan Toovey
IN
Tyson Goldsack, Darcy Moore, Adam Oxley, Jordan De Goey, Tom Phillips
OUT
Mason Cox (Shoulder), Travis Cloke (Omitted), Ben Crocker (Concussion), Ben Reid (Knee), Marley Williams (Omitted)
Shags' Watchlist

Brodie Grundy (Ruck $524,000 be 104 AF, $547,600 be 97 DT) has certainly fired late in the season, his last 5 game average is 112.2. A definite option if you need to upgrade a Ruck injury.
Saturday August 13
Brisbane Lions v Carlton at Gabba (1.45pm)
Bris Lions v Carlton
Martin, Close, Jansen, Cutler in for Green, Dawson, Robertson, Schache.
Jones, Cunningham in for Walker, Graham.

— Patrick Keane (@AFL_PKeane) August 11, 2016
B Tom Cutler, Daniel Merrett, Darcy Gardiner
HB Michael Close, Harris Andrews, Sam Mayes
C Tom Rockliff, Ben Keays, Lewis Taylor
HF Pearce Hanley, Archie Smith, Eric Hipwood
F Ryan Lester, Josh Walker, Dayne Zorko
FOL Stefan Martin, Daniel Rich, Mitch Robinson
I/C Ryan Bastinac, Jarrad Jansen, Rhys Mathieson, Matthew Hammelmann
EMG Josh Clayton, Liam Dawson, Jackson Paine
IN
Tom Cutler, Michael Close, Stefan Martin, Jarrad Jansen
OUT
Josh Schache (General Soreness), Liam Dawson (Omitted), Josh Green (Foot), Nick Robertson (Knee)
B Zach Tuohy, Simon White, Kade Simpson
HB Sam Docherty, Jacob Weitering, Lachie Plowman
C Dennis Armfield, Patrick Cripps, Blaine Boekhorst
HF Jack Silvagni, Liam Jones, Ed Curnow
F David Cuningham, Levi Casboult, Dylan Buckley
FOL Matthew Kreuzer, Bryce Gibbs, Sam Kerridge
I/C Andrew Phillips, Matthew Wright, Dale Thomas, Sam Rowe
EMG Nick Graham, Andrejs Everitt, Kristian Jaksch
IN
Liam Jones, David Cuningham
OUT
Nick Graham (Omitted), Andrew Walker (Retired)
NEW
David Cuningham
Shags' Watchlist

Its reached the stage where many will have complete teams and you are looking for the best. I'd dont think I would be putting too much out by saying Sam Docherty (Def $529,000 AF be 98 $559,800 be 97 DT) is the best defender premium going around, and he plays Brisbane lions this week.
Hawthorn v North Melbourne at MCG (2.10pm)
Haw v NM
Frawley, Puopolo, Shiels, Hartung, Burton for Stratton, O'Rourke, O'Brien, Heatherley, Sicily.
Hansen, Nahas for McKenzie, Clarke

— Patrick Keane (@AFL_PKeane) August 11, 2016
B Taylor Duryea, James Frawley, Shaun Burgoyne
HB Sam Mitchell, Josh Gibson, Grant Birchall
C Isaac Smith, Liam Shiels, Bradley Hill
HF Luke Breust, Jack Gunston, Cyril Rioli
F Paul Puopolo, Ben McEvoy, Ryan Burton
FOL Jonathon Ceglar, Jordan Lewis, Grant Birchall
I/C Kaiden Brand, Brendan Whitecross, Billy Hartung, Will Langford
EMG Kurt Heatherley, Angus Litherland, Jonathan O'Rourke
IN
James Frawley, Liam Shiels, Paul Puopolo, Ryan Burton, Billy Hartung
OUT
Ben Stratton (Pectoral Strain), Kurt Heatherley (Omitted), James Sicily (Suspension), Jonathan O'Rourke (Omitted), Tim O'Brien (Omitted)
NEW
Ryan Burton
B Scott D. Thompson, Michael Firrito, Shaun Atley
HB Jamie Macmillan, Robbie Tarrant, Nick Dal Santo
C Sam Gibson, Trent Dumont, Daniel Wells
HF Brent Harvey, Ben Brown, Jack Ziebell
F Lindsay Thomas, Drew Petrie, Majak Daw
FOL Todd Goldstein, Ben Cunnington, Andrew Swallow
I/C Jed Anderson, Lachlan Hansen, Aaron Mullett, Robin Nahas
EMG Brad McKenzie, Ryan Clarke, Corey Wagner
IN
Lachlan Hansen, Robin Nahas
OUT
Ryan Clarke (Rested), Brad McKenzie (Omitted)
Shags' Watchlist

If you are a bit shorter on cash and are looking for a fallen premium defender, traditional must have Luke Hodge (Def. Mid/Def $423,000 AF $428,600 DT) is possibly the cheapest he has been since he was a rookie with a recent 49 keeping his scores right down. Some may take the punt his 95 last week is him coming back to form.
GWS Giants v West Coast Eagles at Spotless Stadium (4.35pm)
R21 teams now on club sites / https://t.co/IBZE862aY1
GWS v WC
A Kennedy, Shiel, M Kennedy for Reid, Wilson, Himmelberg.
Butler for Nelson.

— Patrick Keane (@AFL_PKeane) August 11, 2016
B Heath Shaw, Zac Williams, Nick Haynes
HB Joel Patfull, Phil Davis, Adam Kennedy
C Josh Kelly, Stephen Coniglio, Lachie Whitfield
HF Tom Scully, Jeremy Cameron, Adam Tomlinson
F Ryan Griffen, Rory Lobb, Toby Greene
FOL Shane Mumford, Callan Ward, Devon Smith
I/C Jonathon Patton, Steve Johnson, Dylan Shiel, Matthew Kennedy
EMG Nathan Wilson, Matt Buntine, James Stewart
IN
Adam Kennedy, Dylan Shiel, Matthew Kennedy
OUT
Nathan Wilson (Omitted), Sam J. Reid (Omitted), Harrison Himmelberg (Managed)
B Shannon Hurn, Will Schofield, Brad Sheppard
HB Sam Butler, Jeremy McGovern, Sharrod Wellingham
C Andrew Gaff, Matt Priddis, Jamie Cripps
HF Mark LeCras, Jack Darling, Chris Masten
F Scott Lycett, Josh J. Kennedy, Josh Hill
FOL Nic Naitanui, Mark Hutchings, Luke Shuey
I/C Dom Sheed, Elliot Yeo, Simon Tunbridge, Thomas Barrass
EMG Jack Redden, Lewis Jetta, Jackson Nelson
IN
Sam Butler
OUT
Jackson Nelson (Omitted)
Shags' Watchlist

Under a lot of coaches radars but performing consistently has been Stephen Coniglio (Mid. $529,000 AF $554,400 DT) averaging 107.4 for last 5 games, and impressively tonning up 6 times out of his last 7 games. You wouldn't be faulted grabbing him to improve your midfield.
St Kilda v Sydney Swans at Etihad Stadium (7.25pm)
Rd21 teams now on club sites / https://t.co/IBZE862aY1
St Kilda v Sydney Swans
McCartin for Dunstan.
Sydney unchanged

— Patrick Keane (@AFL_PKeane) August 11, 2016
B Dylan Roberton, Sam Fisher, Sean Dempster
HB Jack Newnes, Sam Gilbert, Jarryn Geary
C Leigh Montagna, David Armitage, Blake Acres
HF Maverick Weller, Nick Riewoldt, Jack Billings
F Tim Membrey, Josh Bruce, Jade Gresham
FOL Tom Hickey, Sebastian Ross, Jack Steven
I/C Shane Savage, Paddy McCartin, Nathan Wright, Darren Minchington
EMG Daniel McKenzie, Cameron Shenton, Jason Holmes
IN
Paddy McCartin
OUT
Luke Dunstan (Shoulder)
B Callum Mills, Aliir Aliir, Nick Smith
HB Dane Rampe, Heath Grundy, Jarrad McVeigh
C Isaac Heeney, Josh P. Kennedy, Jake Lloyd
HF Tom Mitchell, Lance Franklin, Dan Hannebery
F George Hewett, Gary Rohan, Dean Towers
FOL Sam Naismith, Kieren Jack, Luke Parker
I/C Harry Cunningham, Toby Nankervis, Tom Papley, Xavier Richards
EMG Jordan Foote, Harrison Marsh, Ben McGlynn
IN
No Change
Shags' Watchlist

Am I allowed to rave about Josh P. Kennedy (Mid. $574,000 AF $ 608,700 DT) again? Yes. 5 game average of 123.3, hes tonned up every game since round 15. Easiely a late season top midfield option. Problem is he is now top dollar.
Port Adelaide v Melbourne at Adelaide Oval (7.40pm)
Port Adel v Melbourne
Lobbe, O'Shea, Palmer in for Stewart, Butcher, Ah Chee.
Hogan in for Weideman.

— Patrick Keane (@AFL_PKeane) August 11, 2016
B Darcy Byrne-Jones, Logan Austin, Jasper Pittard
HB Matthew Broadbent, Jackson Trengove, Tom Clurey
C Brad Ebert, Ollie Wines, Jared Polec
HF Jarman Impey, Justin Westhoff, Chad Wingard
F Jesse Palmer, Charlie Dixon, Aaron Young
FOL Matthew Lobbe, Travis Boak, Robbie Gray
I/C Cam O'Shea, Karl Amon, Sam Gray, Nathan Krakouer
EMG Jake Neade, Riley Bonner, Brendon Ah Chee
IN
Jesse Palmer, Matthew Lobbe, Cam O'Shea
OUT
Brendon Ah Chee (Omitted), John Butcher (Omitted), Paul Stewart (Omitted)
NEW
Jesse Palmer
B Sam Frost, Tom McDonald, Neville Jetta
HB Jayden Hunt, Oscar McDonald, Tomas Bugg
C Christian Petracca, Bernie Vince, Dom Tyson
HF Jeff Garlett, Jack Watts, Aaron Vandenberg
F James Harmes, Jesse Hogan, Dean Kent
FOL Max Gawn, Nathan Jones, Jack Viney
I/C Angus Brayshaw, Clayton Oliver, Billy Stretch, Cameron Pedersen
EMG Chris Dawes, Colin Garland, Alex Neal-Bullen
IN
Jesse Hogan
OUT
Sam Weideman (Quad)
Shags' Watchlist

Talking about upgrading to the best in the game, if you have a luxury or ruck injury, you cannot go past Max Gawn (Ruck $557,000 AF $ 585,200 DT) who smashed a 144 last week, and no reason he wont go huge again against underdone Lobbe at Port.
Sunday August 14
Essendon v Gold Coast Suns at Etihad Stadium (1.10pm)
Ess/GC
Stokes Simpkin Hams Fantasia Long Langford Redman 4Goddard Dempsey Francis Parish.
Brooksby Cameron Tape Saad Hall 4 Nicholls Sexton.

— Patrick Keane (@AFL_PKeane) August 11, 2016
B
Matt Dea Michael Hartley Conor McKenna
HB
Adam Cooney Mitch Brown Patrick Ambrose
C
Zach Merrett David Zaharakis Martin Gleeson
HF
James Kelly Jayden Laverde Anthony McDonald-Tipungwuti
F
Mathew Stokes Joe Daniher Jake Long
FOL
Matthew Leuenberger Craig Bird Orazio Fantasia
I/C
Jackson Merrett James Polkinghorne Jonathan Simpkin Sam Grimley
EMG
Mason Redman Kyle Langford Will Hams
IN
Mathew Stokes Jonathan Simpkin Orazio Fantasia Jake Long
OUT
Brendon Goddard (Groin) Courtenay Dempsey (Hamstring) Aaron Francis (Calf) Darcy Parish (Rested)
NEW
Jake Long
MILESTONES: Matt Dea-Playing 50th game

GOLD COAST SUNS
B
Adam Saad Steven May Kade Kolodjashnij
HB
Jarrod Harbrow Rory Thompson Jesse Joyce
C
Joshua Schoenfeld Mitch Hallahan Matt Shaw
HF
Brandon Matera Tom J. Lynch Jarrad Grant
F
Sam Day Peter Wright Ryan Davis
FOL
Keegan Brooksby Jack Martin Touk Miller
I/C
Matt Rosa Callum Ah Chee Aaron Hall Jarrod Garlett
EMG
Clay Cameron Sean Lemmens Seb Tape
IN
Keegan Brooksby Adam Saad Aaron Hall
OUT
Tom Nicholls (Knee) Sean Lemmens (Omitted) Alex Sexton (Quad
Shags' Watchlist

Son of dons superstar, Bombers are finally giving Jake Long (Fwd/Mid $125,000 AF $121,300 DT) a run. He was already on a few peoples radar preseason, and his DPP status is handy, if you need a cheap downgrade even if just for 1 week I'd argue he is the best option. Plays an undermanned Suns lineup as well.
Richmond v Geelong at MCG (3.20pm)
Rich v Geel
Edwards, Lambert, Elton, Lennon in for Griffiths.
Ruggles, Kersten, McCarthy, Kolodjashnij, Lang in for Mackie, Menzel.

— Patrick Keane (@AFL_PKeane) August 11, 2016
B
David Astbury Alex Rance Dylan Grimes
HB
Jayden Short Taylor Hunt Brandon Ellis
C
Anthony Miles Trent Cotchin Shaun Grigg
HF
Dustin Martin Sam Lloyd Ty Vickery
F
Bachar Houli Jack Riewoldt Shane Edwards
FOL
Shaun Hampson Nick Vlastuin Andrew Moore
I/C
Daniel Rioli Oleg Markov Nathan Drummond Ben Lennon
EMG
Kane Lambert Adam Marcon Todd Elton
IN
Shane Edwards Ben Lennon
OUT
Ben Griffiths (Groin) Adam Marcon (Omitted)
NEW
MILESTONES: Jack Riewoldt-Playing 200th game
GEELONG CATS
B
Jake Kolodjashnij Tom Lonergan Corey Enright
HB
Mark Blicavs Harry Taylor Lachie Henderson
C
Cameron Guthrie Joel Selwood Josh Caddy
HF
Scott Selwood Rhys Stanley Jimmy Bartel
F
Josh Cowan Tom Hawkins Lincoln McCarthy
FOL
Zac Smith Patrick Dangerfield Mitch Duncan
I/C
Shane Kersten Sam Menegola Steven Motlop Tom Ruggles
EMG
Jed Bews Darcy Lang George Horlin-Smith
IN
Tom Ruggles Shane Kersten Lincoln McCarthy Jake Kolodjashnij
OUT
Andrew Mackie (Managed) Daniel Menzel (Groin) Jed Bews (Omitted) Nakia Cockatoo (Knee)
NEW
MILESTONES: Harry Taylor-Playing 200th game
Fremantle v Adelaide at Subiaco Oval (4.40pm)
Fremantle v Adel Crows
Thompson, McGovern, Kelly, Wigg in for Seedsman
Suban, Mzungu, Sutcliffe, Taberner, Blakely in for Ibbotson, Crozier

— Patrick Keane (@AFL_PKeane) August 11, 2016
B
Tommy Sheridan Alex Silvagni Lee Spurr
HB
Darcy Tucker Sam Collins Ethan Hughes
C
Michael Walters Stephen Hill Lachie Weller
HF
Hayden Ballantyne Chris Mayne Shane Yarran
F
Michael Apeness Matthew Pavlich Zac Clarke
FOL
Aaron Sandilands David Mundy Lachie Neale
I/C
Ed Langdon Danyle Pearce Connor Blakely Garrick Ibbotson
EMG
Cameron Sutcliffe Nick Suban Matt Taberner
IN
Connor Blakely
OUT
Hayden Crozier (Calf)
B Kyle Hartigan, Jake Lever, Luke Brown
HB Rory Laird, Daniel Talia, Kyle Cheney
C Brodie Smith, Scott Thompson, Rory Atkins
HF Charlie Cameron, Taylor Walker, Richard Douglas
F Eddie Betts, Josh Jenkins, Tom Lynch
FOL Reilly O'Brien, Rory Sloane, Brad Crouch
I/C David Mackay, Cam Ellis-Yolmen, Jarryd Lyons, Harrison Wigg, Mitch McGovern, Matt Crouch, Jake Kelly (Three to be omitted)
IN
Scott Thompson, Harrison Wigg, Mitch McGovern, Jake Kelly
OUT
Paul Seedsman (Corked Buttock)
NEW
Harrison Wigg