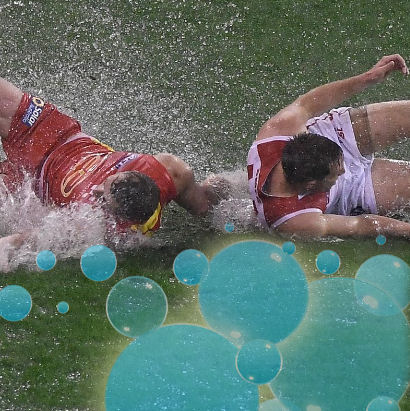 It was the prophecy that said the 'chosen one' would bring balance to the force. Tom Rockliff did exactly that. Round 11 was a leveler for many, as plenty of early season bolters struggled while those who kept patient with their premiums were justly rewarded. I wasn't one of those people… It's time for the weekend wash-up!
Legends
Wells (126) – Bang! This is just reward for those who held Wells, what a brilliant call. He fitted my bye structure perfectly and is my biggest regret, but holding him with an achilles problem required balls of steel. I should try growing some. Legend!
Cotchin (118) – Guys… Cotch scored amazingly again. How long do we ignore this form? 7 tons in 8 games. 3 round average of 122. He's still a differential! Crazy. We have long memories…
Vince (120) – Roos said that Vince was the obvious option to replace Viney in midfield, and boy did he do a job of it! He's value at $495k, get on board (Byes permitting)!
Kerridge (139) – Sigh. What a legend, he absolutely gave it to the people who traded him out. I was included in that bunch and I stand by it, but fair play to Kerridge. What a second half! This score makes him the perfect stepping stone to a premium in a few weeks, enjoy it!
Rockliff (184) – Not sure what I need to add here that hasn't already been said. Rocky's the greatest and he needs to come into your team this week. Injury risk or not, he can score 180. That is all. L.E.G.E.N.D.
Shiel (114) – I've been told off for ignoring Dylan Shiel so ignore him no longer! He has a 6 round average of 111.3 having just scored his fourth ton in a row. I reckon you could find better value at ~$540k, but as a differential he ticks all boxes! I'm an extremely happy owner in Elite.
Prestia (149) – This isn't the first time this season that Prestia has shown glimpses of his previous form, however 39 disposals and 11 tackles means we must consider him to be back at his best. He has averaged well over 100 in the past and $485k is clearly value. Owned by under 1% of coaches he is the very definition of a differential! Consider.
Ablett (124) – Brilliant Gary. 13 tackles propelled him to a massive score even while being (half) tagged by Tom Mitchell. That's back to back 120's for the GOAT, if you traded him out then you'd be silly not to re-consider him at $507k! Bargain.
T.Mitchell (132) – Titch was practically born to play in the wet, 14 tackles propelling him to another huge score. This is his FIFTH score above 130 this season. Those are insane figures, $550k is still a bargain.
JPK (124) – Did anyone get on board last week? If so kudos to you. He's a second half specialist every season and must be considered as a POD. Great option.
Parker (121) – A monster 63 point last quarter helped Parker to this score. Take note, he is now priced at $501k (Bargain) with a B.E of 106. Another premium midfielder to consider, there's just SO many!
Neale (126) – Ball. Magnet. 7% of the competition are laughing… This score places him second in total points scored and average behind Zach Merrett. Beast!
Merrett (121) – Who would've thought that at the halfway mark of the year Zach Merrett would be the best Fantasy player of the season. He is averaging 114, has scored 1,256 points overall (Ranked 1) and has a 5 round average of 116. Yet there seems to be a myth that he's slowing down?! Must have in the forward line, no questions asked.
Blakely (108) – This is awesome. Mid year rookies are hard to come by, so myself (And many others) gambled on Blakely after his first 80. $200k seemed expensive, but cash generation is king. Only 9% of coaches have him, yet he is priced at $300k with a negative break even. His game time remains around 60% so I can see him slowing down, but for now let's enjoy the ride! Legend!
Pendlebury (133) – For at least the past 2 seasons I always ignored Pendlebury thinking he was boring! After enduring Zaharakis' effort on the weekend, it's now clear why he's a Fantasy great. Pendles has now tonned up in 8 of his past 9 games (Wow) and carries a 5 round average of 119. A fully fit Pendles is not what you want to see in your opponents uniques!
Sloane (140) – Rory has pumped out his second 140 in the past month, we all know he has a huge ceiling! The question is can he avoid these low scores, and judging by last week that may be a pipe dream. Even so, he's still killing it for his owners!
Jacobs (134) – God damn it Sauce you brilliant bastard. I passed on the reliable Sam Jacobs to structure my byes and it backfired big time. If you're in the market for a ruckman look no further! $470k for a comfortable 90 average, say no more. Gun.
Western Bulldogs – As I said last week, load up on high scoring teams! Once again the Doggies went huge, with 4 players cracking the 120 mark. I will proudly say I was the biggest fan of Hunter (163) pre-season, but even I didn't think he was capable of an average much more than 100. How happy I was to be proven wrong, now he's gone next level! This score makes him the fourth best midfielder for the season. To think he started at $430k as a differential, crazy!!! Up until a few weeks ago I didn't think he was a keeper, let me just backtrack on that quote. He's staying for good! Thank you green vest. What did I say about Macrae (126) last week?! He is following exactly the same pattern as last season, unfortunately I couldn't squeeze him in. How this guy is owned by 1% of coaches I will never know. BEAST! Speaking of beasts, Bontempelli (125) also killed it again. Well done to those who got on board a few weeks ago, he's now about to tick over $500k! He was just $395k five weeks ago… Lastly, the ever reliable Boyd (122) had another cracking week. This lifts his season average to 102 with a low score of 92… Insane.
Leuenberger (102) – … What a joker. This makes me sick and I'll speak about it no more.

Click here to subscribe on iTunes.
Losers
Martin (67) – We'll start proceedings off with Dusty, but I'm prepared to give him this one. We all know that Martin isn't exactly the most reliable of players, however his 5 round average of 104 is solid enough. Just kick things back into gear next week please…
Ellis (24) – Wow. WOW. You could have sent a cardboard box out to half back and it would have done a similar job to Brandon Ellis. The first round draft pick was expected to take his game to another level this season, and this performance did exactly that. Only Brandon has found the wrong level. I can't get over the fact that he only managed 24 in a full game of football. TWENTY-FOUR. Get out.
Kreuzer (24) – At least Kruze had a fair excuse, after copping a knock to the head he was ill at half time and couldn't return. This was just unlucky… The ruck curse continues!
Gibbs (58) – Good to have you back Bryce. To be fair Gibbs has well and truly earned this poor score, however his owners now have a decision to make. You could make $83k by 'downgrading' him to Rockliff… You just have to consider it. Obviously if you can get Rocky any other way then do so, Gibbs is brilliant.
Coniglio (72) – Conoglio's brilliant run also came to an end this weekend, scoring just 5 points from the midway point in the third term. It's the second consecutive week he has failed to ton up, now consider that there are guys like Rockliff, Steven, Macrae, Parker, Kennedy and Ablett available at a cheaper price. I'd consider cashing him in, that's not to say he hasn't been brilliant!
Greene (78) – Someone needs to take an ice pack to Toby's head, calm it! 8 (!!!) free kicks he gave away on the weekend, that's the difference between a solid score and a ton. That's the difference between winning and losing your match up. Having said that, madness is often associated with brilliance… Expect a 140 next week.
Duncan (71) – Ok, Duncan had of the THOSE weeks again. Any danger of a solid 90?! We just need him to score at least one more ton during the byes so we can trade him out in Round 15. Please Mitch!
Blicavs (69) – I honestly thought with Rhys Stanley's omission that Blicavs would be great. He beat his season average for hitouts, unfortunately he also did an expert job of running to where the ball wasn't. If he got points for each time he was on my tv screen he would've had a good day, I'm backing him in!
Ruggles (35) – Not so sure about (S) T.Ruggles. He was on many benches as an emergency for Mills, so this pitiful score just doesn't rank. He has just about maxed out in price now, but may well be worth holding onto until his Round 15 bye if no options appear before then. Then again, is his 50 even worth it? Could be on the chopping block for the Cats anyway.
Hewett (10) – Damn, damn, DAMN! Yes he was only on our benches, but this score is a killer. Firstly, we need him to be in the team for the Round 13 bye… Hopefully he recovers fine from this head knock. Secondly, he's now likely to bleed cash before his bye. Cruel game.
Dea (48) – There's no arguing this one, it's time to cash in Dea. I don't care if he 'could' come out and score 120 again, $367k is surely as good as he will fetch. The time is right. There's plenty of DPP upgrade alternatives now in defence, so that's not an issue! Thanks for your fine service, sincerely, the owners who were forced to hold him… Wink.
Brown (34) – Mitch Brown has already started bleeding cash, if he didn't get traded last week then he has to go now! You can have him losing cash on your bench, must trade!
Naitanui (64) – I instantly regretted my Blicavs trade until the alternative tracked even worse. So much for a reliable ruckman, Nic is struggling with a 'foot injury' and is also nursing a broken nose. Yikes. I'd still hold at this stage if you have Mason Cox on the bench.
JJK (52) – Finally we can confirm that Josh Kennedy (The Eagles version) is not a Fantasy player. He's just as capable of a 40 as he is a 160. Stick to him in the drafts…
Riewoldt (64) – If anyone deserved a week off it was Roo. I couldn't bear to watch this game as I just want my happy memories of him hounding up and down a wing. I couldn't tell you what happened, but I can tell you he'll be back next week! Still a beast.
Montagna (36) – NOT A BEAST. I REPEAT NOT A BEAST. This score makes me question the meaning of Fantasy. Leigh Montagna. A ball winner. A fantasy jet. A 105 average forward. 36. Thirty-six. How? Honestly how did this happen. Sure I'll let you off with a lazy 70, but 36? I just feel sick. Ruined my week.
Zaharakis (26) – Ha. Correction. They ruined my week. Dave from your local Bottle-O could have put in a better performance than Zaha on the weekend. No tackles? You're being tagged and you don't lay a tackle. Was he even playing? It says 80% time on ground but I swear I didn't see him all night. He's now averaging just 97 for the season and certainly doesn't look like a keeper, however you almost have to hold. Unlike Coniglio and Gibbs, Zaharakis isn't worth sh*t. 130 minimum required next week. Even then he'd still be average 75 for the two rounds… Jesus.
Once again we're not short of nominees this week! Here are your 5 stubby nominations…
Rockliff – Do we really need a poll? Rocky called it, and he delivered. 48 disposals (Club and personal record), 8 marks, 9 tackles, 1 pig.
Hunter – Any other week… He still gets my vote though. 38 disposals, 11 marks and 6 tackles, he's just an all-round machine!
Kerridge – A 98 point second half propelled Kerridge to Fantasy greatness. He took a ridiculous 16 marks, I swear you'll never see anything like this ever again.
Wells – Not only has Wells returned early for his owners, he's going HUGE! Another 29 disposals, 7 tackles and 3 goals. Boom!
Blakely – Lastly Blakely deserves a nomination for that kind of performance. He scored 108 from just 64% TOG, including 78 points from the 10 minute mark of the third quarter. He's even getting better!
Who gets your vote?
This Game Sh*ts Me
All week us Fantasy nuts speculate over our trades. I reckon 80% of the time of the hundreds of trade options we come up with, we pick the worst one. In my case last week I didn't have a winner to choose from. I had to get rid of Leuenberger. Surely?! He had a 3 round average of 62, missing last week through injury. His price was going nowhere, it was time to say goodbye. HE GOES AND PUMPS OUT A TON?! That's ok though, I'd be bringing in a premium. Sam Jacobs was high on my list of potential targets, unfortunately Max Gawn didn't fit my bye structure. Goldy was my number one choice, but he was ruled out through injury. I decided I wanted some consistency, so went for Blicavs. I had my reasons, but clearly they were flawed. There goes 33 points. Onto the next trade, Sam Kerridge. Yep. Say what you like, if I had my time again I'd still trade him. Yes he had averaged 85 and it wouldn't be a surprise to see him ton against the Lions, however I had the luxury trade available and it improved my team long term. But 139… Are you kidding. A 98 point second half?! 16 marks?!?! Bullsh*t. It's a shame, but Robbie Gray should still comfortably outscore him. Unfortunately this week those 2 trades set me back 86 points and a lot of money. That's why this game sh*ts me.
The Other Bits and Pieces
*Yes, Carlton have just been directly compared to the greatest Sporting story of all time.*
2026… Can't win them all! As I said this week was a leveler, and it was my legends from previous weeks that let me down. That I can deal with, but it's the level they let me down that really pisses me off. Montagna mate, a 4 point half? You must be joking. Zaharakis only just outscored that in a whole game mind you. Riewoldt had an off day, forgivable. Dusty had a shocker, but he had been brilliant for me beforehand. Duncan had one of 'those days'. All in all it was a stinker, but I'm happy to get that one out of the way and still be ranked at 2000! Rocky is in this week and I'm confident it will all turn around. That's it from me until next week, where we encounter the byes… Scary.