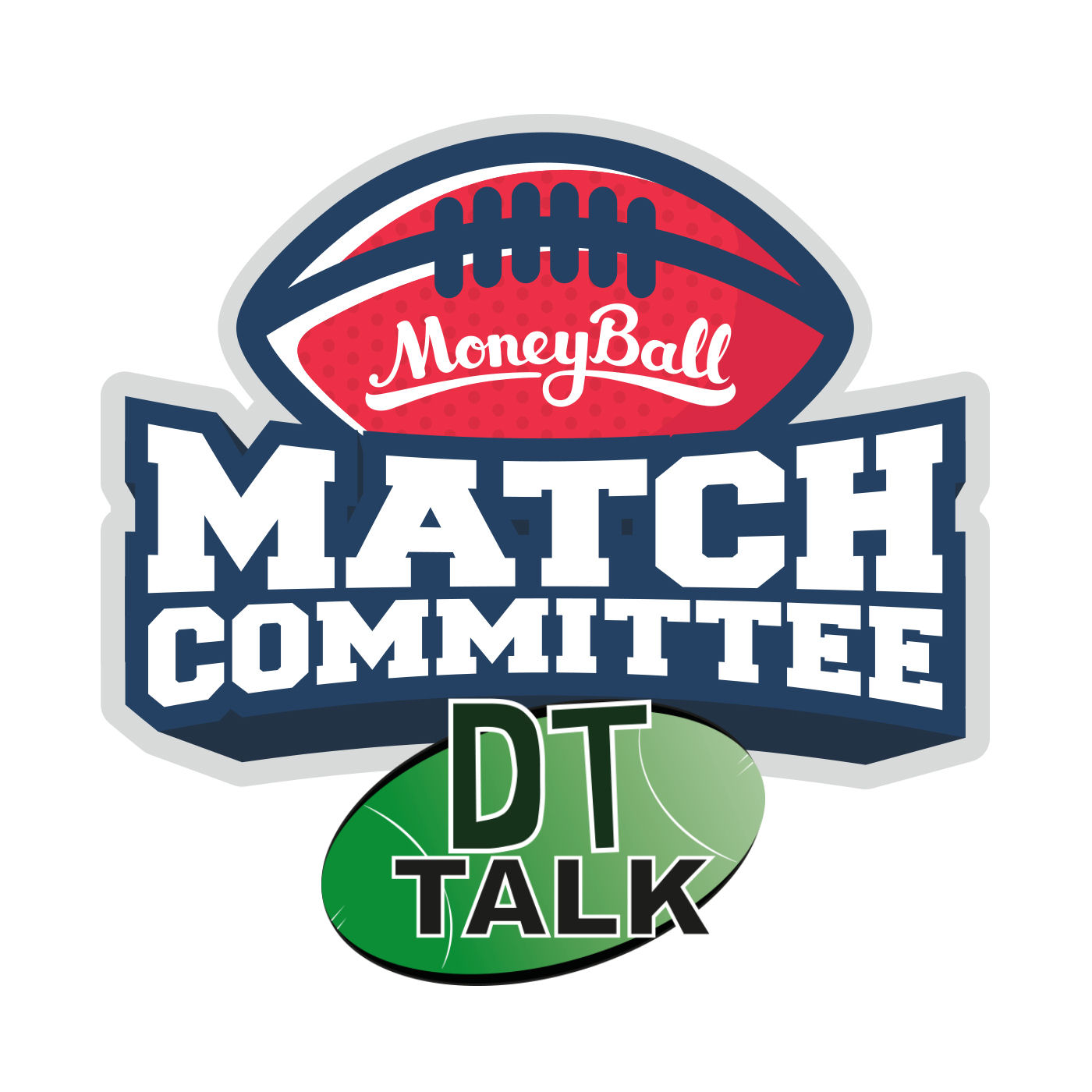 Tbetta here, and welcome to the self-proclaimed top resource for keen Aussie Rules Moneyball punters! DFS (Daily Fantasy Sports) is taking off around the world and Moneyball have the perfect platform for you to turn your AFL Fantasy prowess into cold hard cash. Signing up is easy – head to moneyball.com.au and you could be ballin' within minutes.
If you're unsure how DFS works, be sure to head to the 'Help' section for all the info you need to start cashing in on your AFL Fantasy knowledge!
Let's start Ballin' by checking out the excellent Match Committee Podcast below, starring your favourite DT Talk lads and brought to you by the legends at Moneyball:
Click here to subscribe on iTunes.

The Teamsheets have been decreed and we've lost some talent at the cheaper end of the scale. Farren Ray ($6,000 MID) is predictably history after the single game in blue and white stripes, as is Aaron Mullett ($3,500 DEF), which stings most from a bargain hunter's perspective. A full-priced and shakily-bodied Daniel Wells ($7,000 MID) doesn't tempt me much on return from a range of leg issues, and neither does Swan debutant and dour defender Harry Marsh ($3,500 DEF), despite the bottom-dollar tag.
Join the $5000 guaranteed Swans vs Kangaroos Special here.
From those rolling over from last weekend, you might notice that despite their early-season success, the Roos don't have any traditionally big-number midfielders. Looking a little deeper and Jack Ziebell ($8,500 MID) could be the answer, particularly if the question is how to go unique in the midfield against the standard quartet of Sydney onballers. Ziebell ticks a few key boxes; he has just one score below 90 MB in his last 7 games and was North's leading fantasy scorer against the Swans in last year's Semi Final with 25 touches and 8 tackles for 104 MB.
AVOID:
The Kangaroos have had the dream run over the first 9 rounds, and no one has enjoyed that more than ultimate seagull and downhill skier Sam Gibson ($6,800 MID). In fact, North has faced off against just one other Top 7 side in the Western Bulldogs, and Gibson couldn't buy a touch with a season-low 51 MB. When the going gets tough, jump off Gibbo.
SMOKEY:
The backline is as thin as they come in the $5000 Guaranteed Swans vs Kangaroos Special, which has thrown me onto the scent of Dane Rampe ($5,900 DEF). His 110 MB points from last weekend (24d, 8m, 5t) is far from his normal home on the fantasy bell curve, but I'm hoping that the Swans go in with a similar defensive structure to last Friday night which saw Rampe sitting back as the extra defender all game.
I considered Scott D Thompson ($6,200 DEF) and Robbie Tarrant ($5,400 DEF) here on the back of recent, though modest, bumps in form. However, the Buddy/Tippett factor doesn't exactly have me salivating, so don't be surprised if they decide to concentrate on actually defending rather than picking up cheap marks this week.
TOP PICK:
It's hard to go past Lance Franklin ($8,300 FWD), purely on a consistency basis. It's crazy to imagine that Buddy – famous over his career for being a fantasy rollercoaster – has produced a minimum score of 86 AF all year, yet his peak score sits at just 110! A big reason for that ridiculously tiny standard deviation has been his consistent scoreboard impact, kicking at least 2 goals in every game this year.
AVOID:
Max Gawn ($9,200 RU) came out and said on the Marngrook Footy Show last week that he was carrying a few niggles, and his scores of 47 and 55 MB in the past fortnight certainly support that. Maximus is now a big avoid target for me until he recovers despite the possible Trengove and/or Howard match-ups – although  that's assuming he's not rested for the Alice Springs trip.
Both the Demons and Power have taken multiple emergencies to this match, and with Jackson Trengove ($4,200 DEF) under an injury cloud of his own with an ankle niggle, we could end up with any number of ruck permutations this week.
SMOKEY:
Rested with soreness last week despite being touted to fill the Houli role, Corey Ellis ($4,800 MID) returns to provide a half-price option for Moneyball punters. His output of 79 MB over the past three is promising, and you'd have to assume that increases if he is to soak up the switches that normally end up in Houli's bread basket. A risky play for sure, but there's upside, especially against the swiss-cheese zone of the Bombers.
While we're here, don't overlook Tomas Bugg ($6,500 DEF) completely; the former GWS pest has sneakily been ticking over at 94 MB over his past three, an excellent trajectory for his price. Bugg seems to be enjoying a looser role of HBF than he had earlier in the year and his career at the Giants.
TOP PICK:
As we've talked about in this article before, key forwards go huge against Brisbane, and we can add Jesse Hogan's 5 goals and 115 MB to that list. If Jack Gunston ($8,100 FWD)  had 4.2 and 128 MB against the Swans last week – what will he do to the dismal Lions backline?! To add to the fun, Gunston had 24 touches, 10 marks and 4 goals against the Lions late last year, so my expectations are sky-high for Hawthorn's spearhead this Saturday afternoon.
While Fremantle continues to suck, it'd be rude to not target the Saints players who'll capitalise on that. Midfield mates Jack Steven ($9,100 MID) and Seb Ross ($$7,800 MID) went bonkers against the Bombers with 138 & 137 respectively, and come up against a similarly leaky Freo side… What's not to love? These are classically astute picks on a fixture basis – especially Ross, who is somehow still under $8k despite averaging 115 MB over the past 5 weeks!
AVOID:
If you've been scouring the Moneyball contests over the past few weeks, you' have noticed that Caleb Daniel ($6,500 FWD) is way outta form; but probably more accurately, way outta match fitness. That's evident from his injury splits:
Pre-calf average: 102 MB.
Post-calf average: 61 MB.
I'm not going to shock anyone here by recommending you avoid Daniel until he starts covering the ground like he was early in the year.
SMOKEY:
Finding some serious form off half back, despite being recruited to the Pies as a forward, is the human jumping-jack Jeremy Howe ($6,300 DEF). He's been busy pumping out scores of 109, 90 and 109 in the last three rounds, averaging a healthy 9 marks in that time. Ride out Howe in this purple patch of form at his price.
Normally we look for increased team output as an indicator of increased individual output, but it's the complete opposite for Jesse Lonergan ($5,700 DEF). Despite Gold Coast's struggles in putting out an AFL-quality side, Jesse's personal form is way up, somewhere close to the kind of output we expected earlier in the year. A midfielder we can pick in DEF, a big reason for Lonergan's boost in scoring is his average of 8 tackles over the past 3 weeks.
TOP PICK:
As we know, West Coast belt poor opposition at home, so we expect the footy to be in front of Josh Kennedy ($8,400 FWD) and Mark LeCras ($7,600 FWD) continually this Sunday. And boy, do that love it when that happens – I'm just going to leave a couple of stats here and we'll leave it at that:
Averages in Wins:     121 MB for Kennedy, 100 MB for LeCras
Averages in Losses:    85 MB for Kennedy,   60 MB for LeCras
While we're bashing on the Suns, expect the Nic Naitanui ($7,900 RU)/Scott Lycett ($6,900 RU) combo to keep rolling against an out-of-favour Tom Nicholls. Over the past 4 weeks, they've averaged 202 MB points as a duet and I can't see them failing to exceed that against what'll be in front of them this Sunday evening.