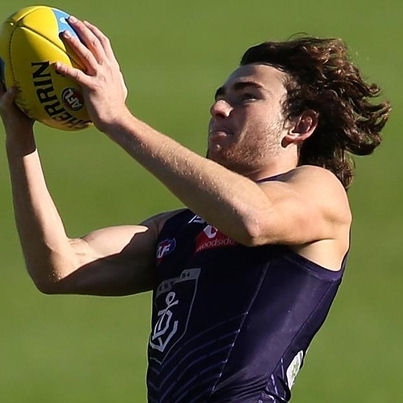 Tom returns for another week of putting players head-to-head in Versus.
Trade Them Out
Daniel Wells ($398,000) V Callum Mills ($314,000)
Daniel Wells has never been one to give up after an injury lay-off. The 31 year-old's scintillating pace and pin point disposal were major factors as to why the Kangaroos picked him up with the 2nd selection of the 2002 Draft (Still the club's highest ever draft pick). But last year, a nasty achillies injury saw Wells play just two AFL games after straining a calf in his VFL return. However, after a strong pre-season, Wells was priced nicely in Fantasy, considering his potential returns. Consequently, over 45% of coaches started with him. Wells and new Blue Sam Kerridge were possibly the two best value picks in pre-season and so far have not disappointed. Opening scores including a 95 against the Crows followed by hauls of 89 and 76 started things of nicely. Against the previously restrictive Dockers in round 4, Wells collected 25 disposals, 4 marks, 8 tackles and a season best of 101 Fantasy points. This performance came with just 66% TOG – his fourth consecutive outing under 80% TOG. It also brushed aside theories that he was solely an outside player, thanks to 8 tackles. By now, Wells' price had risen considerably and was continuing to surge upwards. A slightly under-par score of 68 points against Gold Coast was a minor blip in a very solid comeback season so far, after serious injury threatened to end his career. A 98 the following week got things back on track and saw his price exceed the $400k mark. However this week, coaches will likely be forced to consider trading Wells for the first time. The veteran Kangaroo suffered a bad 'corkie' and is in doubt for the 'Roos clash with Essendon. Although he fought through the pain and returned to the field in the final quarter, I doubt whether the club sitting undefeated at the top of the ladder would risk a senior player who has a recent history of injuries – not to mention they come up against the 1-6 Bombers. Hopefully Wells can make a quick recovery as North play Carlton, Sydney and Richmond in rounds 9, 10 and 11. A Round 8 BE of 89 may not lead to many more dramatic price increases, although he'll be a nice stepping stone to a premium in the coming rounds.
The Swans had one aim for the 2015 AFL Draft – to reel in academy star and local boy Callum Mills. Considered one of the top midfielder's from last years draft crop, Mills was drafted by Sydney after they matched Melbourne's bid. Already, just seven games in, that decision is shaping to work out rather nicely. Mills has draw comparison to team-mate Isaac Heeney by the way he slotted straight into senior footy. Like Heeney, Mills is also a classy player and has the capabilities to play a role in the centre, up forward or, as we've seen so far this year, down back. This can be largely put down to his courage and ability to read the play. Mills has played every match this season, averaging 16 disposals, 3 marks, 2 tackles and 62 Fantasy points. He has also averaged 82% TOG – an promising figure for a first year player. The hype around Mills all started thanks to an impressive NAB Challenge where he was the top first year rookie throughout the pre-season competition with scores of 81, 63 and 78. Fantasy coaches who expected 75+ scores straight off the bat were left disappointed but should've realised that Mills is no different to any other rookie. After hauls of 59, 69 and 31 in the opening weeks, coaches faced the seemingly impossible task of deciding which rookie to play on-field. Many elected to bench Mills ahead of the Swans clash with Adelaide at the Adelaide Oval but they were left frustrated after Mills pumped out 92 points (23 disposals, 8 marks, 3 tackles) in what is his best AFL performance to date. Off the back of that, some consistency started to emerge with an 81 point game in the Swans win over West Coast at the SCG. However returns of 60 and 44 have since left coaches contemplating whether to trade Mills out. This decision may have an obvious answer this Thursday night at the selection table with the possibility of being rested looming. Many top draftee's such as Josh Schache and Clayton Oliver have already been rested this year and Mills may be the next to have a week off. Could this week be the right time to offload Mills?
Verdict: These two players are on opposite ends of the age spectrum however they are both under a cloud in Fantasy. Whilst Mills may be rested this week, Wells will be forced to complete a fitness test before being allowed to participate. Obviously this decision will become clearer once the teams drop, however Wells no doubt has more cash to make and should maintain his 80+ average, whereas Mills may have not generate many more dollars. If funds allow, I would trade Mills. Thankfully, there are plenty of downgrade options with a MacPherson/Keays/Blakely type available in the midfield as well as GWS's Tim Mohr and Hawthorn's Kaiden Brand in defence.
Loading ...
Get Them In
Darcy MacPherson ($146,000) V Connor Blakely ($158,000)
Gold Coast midfielder Darcy MacPherson endured a positive start to what promises to be an excellent career. Already, his style is as clear as day – crash, bash, tackle and put the opposition under as much pressure as possible. Although he just missed out on selection in the most recent NAB AFL Draft, Macpherson, a Northern Knight's product, joined the ever growing list of fiercely competitive blonde haired midfielder's when he was scooped up by Gold Coast with the 21st rookie pick. MacPherson managed to finish in the top 10 for the beep test, agility test, running vertical jump, clean hands and kicking assessment. These encouraging results certainly caught the attention of numerous recruiters as the Melbourne-born young gun was rated one of the best talents available in the rookie sweep. At just, 174cm and 72kg, it was obvious that MacPherson would need to bulk up a few notches in order to match it at the top. Much to the admiration of senior coach Rodney Eade, Darcy not only put on some kilos but also played a starring role for the Suns NEAFL team in the opening rounds. MacPherson earned a call up to the big stage after yet another stand out display which involved 33 disposals, 2 marks, 6 tackles, 12 clearances and 117 Fantasy points. After being rumoured to debut earlier during pre-season, MacPherson kicked off proceedings well against the Demons on the weekend, recording 31 pressure acts (the most for the Suns) including 9 tackles. He also kicked the first goal of his career which happened to be the opening major of the game. He finished the game with a respectable 72 Fantasy points despite recording 37 first quarter points. A key aspect when selecting rookies is their all important job-security. It's a huge jump from the NEAFL to senior football, a step too far for numerous 'rooks'. However MacPherson has all the attributes to maintain his position in the best 22. Popular midfielder/forward Ryan Davis gathered 38 disposals last weekend with Danny Stanley and Joshua Schoenfield also prominent. Currently, Matt Rosa and Alex Sexton look set to miss the Suns upcoming clash with GWS which could result in a recall for Davis in particular. Have confidence with MacPherson – his JS will improve with every game and his tackling should hopefully remain a feature. A good downgrade choice along with Brisbane's Ben Keays.
22 year-old midfielder Connor Blakely spend almost all of his debut season in the WAFL and was viewed as one of Peel Thunder's (Fremantle's affiliate club) most consistent players. The 2014 pick 34 worked hard in the off season with the hope of making a spot in the best 22 his own. Generally a very good stoppage player, the Swan Districts product is also precise with ball in hand. After debuting in round 23 of 2015, it took Blakely six games of solid WAFL football to break into the first team. In the end it was his 29 disposals, 3 tackles, 7 marks game which won him the call up to face Adelaide away from home. Although his two senior appearances this year have not exactly yielded huge scores (45 and 46), they have come at under 60% TOG – an alarming statistic. If he can improve his endurance, Blakely has proven he can score at a reasonable click and could hopefully be averaging in the 60's by the end of the season. Of course the ever-present issue of job-security does come into effect here, especially considering coach Ross Lyon has a history of not starting the younger players. Blakely owners, of which their are approximately 7,300, will surely be hoping the Western Australian can hold his position on the side. However those owners should only have him on the bench. Looking ahead at the struggling Dockers fixtures, they face the reigning premiers Hawthorn at the MCG – a daunting task. In previous years this game would've be close however I'd expect the Hawks to prove too classy. For Fantasy however, the Hawks have conceded an average of 1579 points against (ranked 9th), 2.57 100's against (ranked 5th) and 1.14 120's against (ranked 13th). With just two games under his belt so far this season, there isn't a lot to say about Blakely, but a 80+ score is waiting if he can improve his TOG.
Verdict: It's a battle of the young guns here. MacPherson opened his senior footy account with a solid performance highlighted by ferocious tackling. On the other hand, Connor Blakely hasn't set the world on fire since coming in ahead of round 6 but has potential. A downside to MacPherson's game is that 49% of his total Fantasy score came from tackles. Although coaches love their players to tackle, there will be days where he will need to find more of the ball. Both players job-security is not set in stone but I would join the 8,000+ coaches bringing in MacPherson ahead of Blakely. Neither should need to be played on-field for too many rounds however.
Loading ...