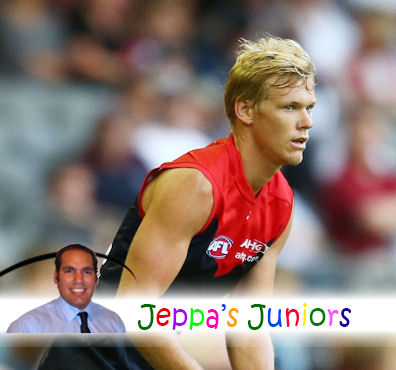 I'm back from holidays and gee whiz we've got a lot to talk about!
Round 4 was another tough week for Fantasy coaches after plenty of under performing premiums (Titchell, Dusty, Houli, Ablett) and midpricers (S.Gray, Lonergan, Sheridan). The rooks weren't that much better with just one hitting the ton and only three cheapies scoring in the 90's. Patience is going to be a virtue this season!
Trading this week will vary from team to team but ultimately you should be eyeing off a cheap premo like Dahlhaus, Pendlebury, Hannebery and Jordan Lewis. Picking an underpriced jet now we'll give you a leg up early.
Three-Or-More Gamers
KEEPERS
How good do North Melbourne look with a fit and firing Daniel Wells (Fwd/Mid. $387,000, 36 be AF. $314,700, -4 be DT)!? The two time North best and fairest winner is getting better each week and he scored his first Fantasy ton (101) against the Dockers on Sunday. First of many!
Young star, Callum Mills (Mid. $274,000, 22 be AF. $264,500, 23 be DT) rewarded his owners that kept the faith with a super handy 92 Fantasy points from 23 touches, 8 marks and 3 tackles. He'll score reasonably well against West Coast this week and I'd start him on your field. Note that Mills is a certainty for Fantasy dual position defender/mid status come Round 6.
Essendon pair Matt Dea (Def. $287,000, 7 be AF. $274,900, -8 be DT) 79 and Anthony McDonald-Tipungwuti (Def/Fwd. $256,000, 2 be AF. $233,200, -18 be DT) 70 continued their good form and they face the largest Fantasy leaking opponent, Collingwood this round. Start them both on your field. Same goes for Sam Kerridge (Fwd/Mid. $377,000, 49 be AF. $302,600, 14 be DT) whose lowest score this season is 76!
Ben Kennedy's (Fwd/Mid. $311,000, 32 be AF. $317,000, 47 be DT) stamina on the field isn't quite equating to the 80+ scores I'm hoping for most weeks. 22 possessions and 73 Fantasy points against his former club on Sunday is still a good result and his output against Richmond in Round 5 should be greater than 70.
Quiet achievers Dean Kent (Fwd. $239,000, -5 be AF. $258,200, -27 be DT) 93, Sam Frost (Ruc/Fwd. $174,000, -3 be AF. $217,900, 8 be DT) 86 and Corey Ellis (Fwd/Mid. $229,000, 11 be AF. $238,100, 7 be DT) 73 all bobbed up in Round 4 scoring well above expectations. Backing them in for another big score this week is risky though. Kent against Richmond could do ok.
DON'T PANIC
We don't need to worry too much about our rooks hitting those mediocre scores as they're still earning us money.
Those 'juniors' scoring steadily but still going up in value include Darcy Parish (Mid. $361,000, 49 be AF. $317,100, 42 be DT) 65, Josh Schache (Fwd. $273,000, 36 be AF. $260,400, 30 be DT) 64, Mitch McGovern (Fwd. $224,000, 3 be AF. $220,000, -3 be DT) 64, Mitch Brown (Def/Fwd. $244,000, 24 be AF. $202,600, 2 be DT) 63, James Sicily (Fwd. $289,000, 27 be AF. $295,300, 25 be DT) 61, Clayton Oliver (Mid. $291,000, 30 be AF. $278,900, 4 be DT) 60, Jed Lamb (Fwd. $213,000, 31 be AF. $224,500, 26 be DT) 59, Lachie Weller (Mid. $222,000, 11 be AF. $258,700, 17 be DT) 59, Charlie Curnow (Fwd. $244,000, 37 be AF. $198,900, 8 be DT) 57, Ryan Harwood (Def. $214,000, 20 be AF. $252,800, 17 be DT) 57, Andrew Phillips (Ruc/Fwd. $225,000, 35 be AF. $242,800, 37 be DT) 56, Marcus Adams (Def/Fwd. $310,000, 11 be AF. $287,500, -4 be DT) 55, Connor Menadue (Fwd/Mid. $237,000, 16 be AF. $242,600, 25 be DT) 52, Eric MacKenzie (Def. $287,000, 37 be AF. $289,500, 38 be DT) 52, Jacob Weitering (Def. $306,000, 35 be AF. $301,000, 13 be DT) 47, Daniel Rioli (Fwd. $214,000, 30 be AF. $186,600, 15 be DT) 42, Blake Acres (Mid. $263,000, 35 be AF. $274,100, 27 be DT) 41, Michael Hartley (Def. $190,000, 11 be AF. $165,200, 6 be DT) 39 and Clay Cameron (Def. $249,000, 18 be AF. $245,300, 9 be DT) 34.
From the list above, I'd still start Parish and Adams!
TRADE, TRADE, TRADE
It's probably a week early to start offloading your cashcows but if you can make an upgrade then I'd look to offload Tom Papley (Fwd. $229,000, 34 be AF. $202,200, 39 be DT) 22, Callum Ah Chee (Fwd. $219,000, 35 be AF. $209,300, 26 be DT) 28, Ryan Davis (Mid. $212,000, 22 be AF. $189,700, 6 be DT) 31 and Ed Langdon (Fwd/Mid. $244,000, 59 be AF. $233,500, 63 be DT) 33. All four are susceptible to scoring under 50 Fantasy points given their role thus you wont be missing much.
Note that Wayne Milera (Fwd. $231,000, 43 be AF. $227,500, 59 be DT) 25 will miss this week with a quad injury.
Please note that if I haven't mentioned a rookie priced player above, it means they're not relevant. Remember rooks are classified as players under $250,000 in Fantasy and/or Dreamteam.
Two Gamers
Josh Wagner (Def. $166,000, -26 be AF. $125,300, -65 be DT) was superb against Collingwood and he should be your number one downgrade target this week in both Fantasy and Dreamteam. The mature age defender reads the play exceptionally well and makes excellent decisions when he has the ball in hand. Wagner finished last weekend with 13 kicks, 11 handballs, 6 marks, 5 tackles, 98 Fantasy points and was one of the Dees best players on the day. I haven't forgotten about his 36 Fantasy points in Round 3 but confidence is a beautiful thing and now that Wagner knows that he belongs at the highest level, I'm expecting around 70 Fantasy points from him each week. Back him in.
In only his second AFL match, Darcy Byrne-Jones (Def. $169,000, -20 be AF. $128,200, -61 be DT) battled hard for Port Adelaide and I thought he was far from disgraced unlike some of his teammates. Playing as a running defender, DBJ had the ball 21 times (5 rebounds from defensive 50), 5 marks, 3 tackles, 1 goal and a notable 84 Fantasy points. With Jarman Impey a chance to return this week, Byrne-Jones could be squeezed out as both play similar roles. Hinkley isn't one to drop a player performing though so DBJ could be a great short-term cashcow. Risky.
Much to my disappointment, promising options Ciaran Byrne (Def. $171,000, -8 be AF. $144,900, -43 be DT) and Tom Ruggles (Def. $174,000, -8 be AF. $105,800, -68 be DT) underperformed last weekend. Poor last quarters from both players saw them score just 54 and 50 Fantasy points respectively. They should hold their spots this week but note that an inform (VFL) Jed Bews threatens Ruggles job security. Even after an average week, I still like Byrne and Ruggles as back up options in defence and scores in the 70's are realistic.
Expensive options Daniel Menzel (Fwd. $290,000, 22 be AF. $231,300, -24 be DT) 87, Nakia Cockatoo (Fwd. $211,000, 10 be AF. $208,700, 3 be DT) 82 and Darren Minchington (Fwd. $248,000, 20 be AF. $277,100, 23 be DT) 67 are valid options but their cheaper counterparts are just as good so why spend the extra?
One Gamers
After being named as an emergency for Rounds 1, 2 and 3, Tom Lee (Def. $152,000, -16 be AF. $128,200 DT) finally got named to play his first senior game since mid 2014. The forward turned defender was excellent from an AFL Fantasy point of view, scoring 85 but he made quite a few critical mistakes in the match that the Saints coaching staff would not be happy with. Clangers and poor disposal efficiency threaten Lee's job security and he's a risky pick as a result. I'd much rather Wagner.
Lee's opponent for the majority of the day was young Tim O'Brien (Fwd. $140,000, -2 be AF. $128,200 DT). O'Brien's stat line at the final siren read 11 possessions, 2 marks, 5 tackles, 2 goals and 60 Fantasy points. To play pretty well and score just 60 Fantasy points isn't good enough for me and to pick him would go against the Fantasy rule of thumb of avoiding young key forwards. Tall defender Lachie Plowman (Def. $235,000, 50 be AF. $231,300 DT) is in the same boat. He was one of Carlton's best players but scored just 37 Fantasy points. Pass on both.
Jayden Hunt (Fwd. $136,000, 6 be AF. $128,200 DT) is an impact player for Melbourne capable of being reasonable back up in Fantasy. On debut against the Pies, Hunt had 7 kicks, 6 handballs, 5 marks, 2 tackles and 50 Fantasy points. His role won't see him be a big ball winner but with a little more confidence, scores in the 60's are achievable. It's probably wise to wait and see what he produces against the Tigers on Sunday before trading him.
I was surprised with Liam Sumner's (Mid/Fwd. $141,000, 10 be AF. $128,200 DT) selection for Carlton after he had just 13 touches in the VFL the week prior. The dual position forward/mid managed 7 disposals, 2 marks, 2 tackles and 46 Fantasy points against the Dogs, which tells me that he's not Fantasy relevant. Like Sumner, Conor McKenna (Fwd. $213,000, 33 be AF. $206,900 DT) isn't an accumulator of the football. The running Irishman had 13 touches, 4 marks and 49 Fantasy points and I can't see him scoring more than 60 this season. Avoid.
Keep Your Eye On
Fresh faces coming through the ranks are limited at the minute. Rupert Wills (Mid. $125,000, 23 be AF. $121,300 DT) is one that could debut this week, on ANZAC Day no less! For two consecutive weeks Wills has been a prolific ball winner in the VFL averaging 32 possessions, 6 marks, 6.5 tackles and a whopping 130 Fantasy points. Collingwood have to swing the axe in my opinion and a workmanlike player like Wills who is keen to impress is exactly what they need. Hopefully Buckley has the balls to pick him but with the game being on Monday, we may not know if Wills has made the 22 until after lockout. Watch this space regardless.
The previously mentioned Darcy Tucker (Def. $158,000, 29 be AF. $121,300 DT) is a greater chance to play this week with the Dockers underperforming. He's a good user of the ball and can accumulate possessions. Against Carlton, Tucker would do well but with a long-term approach, I like Wagner better.
FYI hold Lincoln McCarthy (Fwd. $204,000, -6 be AF. $188,200, -20 be DT). Reports are that he was rested last week not omitted! McCarthy is expected to play this weekend.
There you have it. Feel free to ask me a question below and don't forget to add me on Twitter @JeppaDT for all things Fantasy and more. Happy trading!