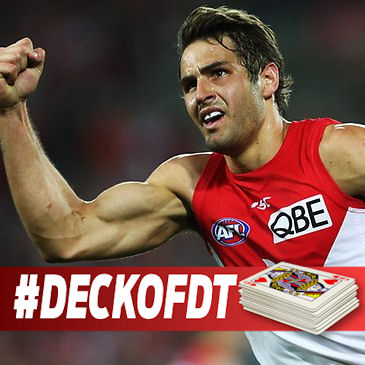 Name: Josh P Kennedy
Club: Sydney Swans
Position:  MID
AFL Fantasy: $594,000
AFL Dream Team: $623,200
Bye Round: 14
2015 Average: 107.5
2015 Games Played: 22
Predicted Average: 113
Click here for DT Live profile.
Why should I pick him?
We have a soft spot for old mate JPK at DT Talk. He was the first player we ever interviewed (well, with permission from the club and not just stalking dudes like Nathan Bock in our first year).
Since we recorded that interview, he played 13 games for the Hawks before being traded to the Swans where his Fantasy game started to develop. Not only did he get an opportunity but he played 22 games in his first year at Sydney and showed his worth as a midfielder from the get go. In his six seasons at his new club, he has missed just two games… that's out of a possible 132.
Hello Mr Durable.
Kennedy ranked fifth last season for points scored, sitting behind Jack Steven, Scott Pendlebury, Dan Hannebery and Todd Goldstein for an average of 107.5 – the best return of his career. This squeezed him into the top eight on average come season end.
This season I believe he will lock himself into the top 8 midfielders comfortably as he will easily drop a season average of 110+. In his last 11 games of 2016, JPK averaged 118.2. An amazing number with 95 being his lowest total and a handy four scores over 127, including 151 against the Power in round 14. The best set of numbers were those over the Fantasy finals where coaches who were on board were treated to 120, 127, 134 and 119 for the final four weeks.
The 27-year-old's great end of season run continued is the Swans' two finals appearances, knocking up 141 against the Dockers and 130 on the Roos.
If you're a believer of end of season form being a reason for selection the following year, then JPK ticks that box as well as anyone else in the competition. Couple this with the fact he's likely to play 22 games and his role/place in the team won't change, he's a safe pick and potentially has some upside.
Why shouldn't I pick him?
It's always something that sits in my head about picking dudes who are coming off their best season. I am always looking for value and selecting someone who has only averaged over the premium midfield figure of 105 twice in his 10 year career worries me slightly, especially with the value available in the midfield this year.
Structure is why we probably shouldn't select Kennedy.
There's no doubting how good he is, and most likely will be again this year, but there will possibly be an opportunity to get him cheaper. He has a nice early fixture, but with that being said, why not load up with all of these value picks? It is an interesting discussion point. Calvin is looking at six starting premium midfielders and looking to go heavy on value down back and up forward. If you are keen on that, then someone like a Kennedy should be in your side. But is Calvin potentially missing out on some of the big movers that are MID only?
There's a bit more to see over the NAB Challenge, but it could be a little ballsy to go with JPK from the start if that spot is being filled with someone who could be making more cash for the long term.
The massive end to last season was completely different to the start. While 96.8 average in the first 11 rounds is less than disastrous, you wouldn't be too happy if you're paying close to $600K for a so-called premium dishing that up. He had a 67 against the Giants and 60 against the Suns in this period. JPK's return games were 127 and 119, so don't read too much into this as opponents, however he is capable of some ordinary scores in there.
Deck of DT Rating.
ACE – With only 5% ownership, Kennedy could be a pretty safe POD for your squad. Durable and will be in the mix to be one of the top averaging/scoring players come the end of the season. He finished fifth in the 2014 Brownlow and fourth last season, this year I think we might see JPK at his best and it will be nice to be on from the start. An tasty early fixture for the Swans sees them take on Collingwood, Carlton, GWS and Adelaide. This is enough to make him worth starting with, rather than an upgrade target.
Loading ...
FOLLOW ME ON TWITTER: @WarnieDT for all thing AFL Fantasy (and more). Got something to say about the deck? Use the hashtag… #DeckofDT.
That's it for the Deck of DT for 2016! Thanks for jumping on the site everyday, voting in polls and joining in the conversation. It has been a great pre-season so far but with the NAB Challenge starting on Thursday, we have only scratched the surface on the #1 AFL Fantasy site on the net.