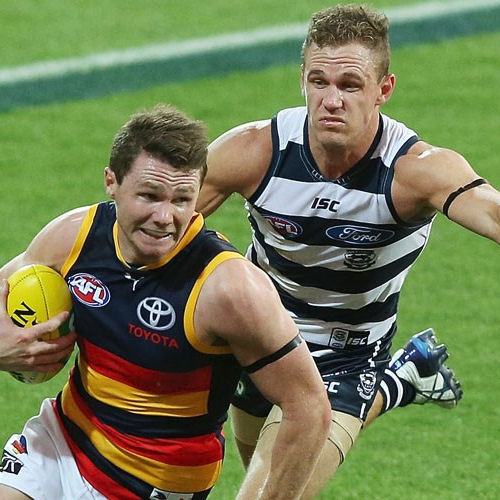 Click here for part one from Leighroy.
GAFF $579,000 VS PRIDDIS $570,000
* Disclaimer – I am a West Aussie and support the mighty Eagles!*
Eeeny Meeny Mineey Mo. You simply can't go wrong with either of them and in a quality side like West Coast they will both continue to provide consistently high scores, Jump on! Ah, if only it was that easy. In 2015 I believe more than ever we are faced with an abundance of quality midfielders at affordable prices. Think about it. Gaff and Priddis are priced in a bracket that includes guys like Beams, Sam Mitchell, Treloar, Fyfe, Ellis, Sidebottom, Neale…. The list goes on. So how exactly do we know which one to pick? Ultimately, the beauty of Fantasy football is echoed in that very question. The answer is, we don't. We don't know who will fire and who will flop, all we can really base our choices off are prior stats, pre-season form and a little bit of gut instinct. I believe there's another element that plays a part in who we choose. Bias. Favouritism and Man crushes have all found their way into some teams and for me, that person is Gaff. I don't know why I have said man-crush on the bloke, I just do, and I bet every one of you has a player, or players you just love to see in your team. I guess having a man – crush on Gaff last year wasn't the worst thing in the world. In 2015 he had his best year to date. He increased his average points per game by a cheeky 9 points and finished the year playing every game of the season for a grand total of 2547 points. Furthermore, 2015 came with it, Gaff's personal best for kicks (27 in round 15), handballs (22 in round 23), disposals (36 in round 23) and goals (3 in round 15). He's durable as all hell too, having equalled club great Dean Cox's 104 consecutive games. During the 2015 season, Gaff cracked the ton 16 times. He only made 4 of them break 120+ which does show his limits but still 16 times is what you want when you fork out over half a million dollars for a player. His ceiling wasn't too shabby at 152 against the crows in round 15, and if I'm honest his lowest score of 62, again against Adelaide in round 22 is unacceptable for a premium. When comparing the two statistically it is very noticeable that Priddis and Gaff accumulate their points in totally different ways. They have roughly the same disposals per game (29.5 Gaff vs 29.6 Priddis), but it's clear Gaff prefers to go by foot (16.6 Gaff vs 10.0 Priddis) and Priddis by hand (12.9 Gaff vs 19.7 Priddis) It was frustrating last season watching the 2014 Brownlow medallist handball all the time (sort of). How does Priddis make up for this lack of kicking you ask? Tackles. Priddis is a tackling machine. Last year he laid 176 tackles in comparison to Gaff's 69. That's an average of 7.3 per game! Rocky numbers! (Again, sort of). There was an alarming stat I came across though. In 2015, the reigning Brownlow medallist gave away 41 free kicks. 41! Compare that to Gaff's 6 and you're looking at a lot of – 3's. With Priddis, you're going to get what you paid for. In his 10 year career, his overall fantasy average over that time is 97.3. He's consistent, durable, and great to watch (albeit frustrating when he constantly handballs).
If I had to choose one: Choosing one over the other at their current prices is like choosing your favourite ice-cream (They're all good!). Personally I'd go for Gaff. He's younger, poised to step up again this year, gives away way less free kicks and kicks the ball more often.
DANGERFIELD $598,000 VS J SELWOOD $541,000
In my opinion, this pairing will pay dividends for the Cats in their quest to play and win finals footy. Again I'm not sure who will receive the number one tag but even with a hard tag, both can more than perform. Truthfully, comparing these two now feels a bit odd. It's hard to compare players when the bulk of the stats you are using apply to guys who were on opposing teams in 2015. Regardless, stats never lie. Fantasy wise it could be said 2015 was a LOT better for Dangerfield than it was for Selwood. Dangerfield managed to play every game the crows took part in and was awarded the Crows' Best and Fairest at seasons end. In terms of Fantasy classic numbers, Dangerfield was able to increase his yearly average by over 13 points! (93 in 2014 vs 106.4 in 2015). Compare that to Selwood who actually reduced his yearly average by around 10 points (107 in 2014 vs 97.8 in 2015). Across the board, Dangerfield outscored Selwood. Disposals, kicks, marks, goals, points, even the amount of free kicks given all favoured Dangerfield. The only fantasy relevant stat Selwood trumped Dangerfield in, was tackling (Selwood 6.2 to Dangerfield's 5.5). Personally, I had Dangerfield last season almost from the start and there were countless times I was able to rely on him to go big and win me a head to head matchup. His highest score of 147 points, came in round 9 when he battled it out with the 2015 Brownlow medallist Nat Fyfe. The game was a treat to watch from any perspective and it allowed us to see the quality of player Dangerfield had become. In that game, Dangerfield had 38 disposals, 20 kicks, 18 handballs and 8 tackles! The man went beast mode and thrilled those Fantasy coaches who had held the faith in him. Dangerfield cracked the ton 14 times in 2015 and 6 of those were scores 120 or above. His lowest score came at the beginning of the season in round three but that was still a semi respectable 71 (ok not really respectable for a premium). These scores are great, but they are even better when you remember that he was Adelaide's number 1 midfielder and he copped a tag in a huge percentage of those games. So, he beat Selwood in most stats and had a stellar year, but is it that easy? No, it isn't. Selwood is still Selwood. The current Captain of Geelong, the most career polled Brownlow votes by a Geelong player, the only player in VFL/AFL history to win the AFL Rising Star Award and play in an AFL premiership within the same year. Selwood needs no introduction. In his last 6 seasons, 2015 was his worst fantasy wise at an average of 97.8 PPG. From 2010 – 2014 he never once averaged less than 103.   (107,109,103,106,107). He still managed a huge 146 points in round 18 against Brisbane, a game in which he laid a whopping 11 tackles and scored 2 goals 1 behind. I think the main difference between the two last year was consistency. Selwood cracked the ton 9 times and only 4 of those were 120 points or above. He also had a few games in the low 60's and one in round 22 where he scored just 57 points. He had roughly the same average time on ground as Dangerfield (83.1 vs 80). In 2016, there is nearly a 60k price difference in favour of Selwood. I'd argue that either Selwood is under-priced for what we all know he can achieve, or Dangerfield is a tad overpriced. I haven't made my mind up on this yet. I do believe that 2015 was an anomaly for Selwood, in that I believe he will again average over 105 PPG. The bigger question for me is whether 2015 was a once off for Dangerfield? A new club, new boys around him, a new role perhaps? Who knows? At nearly $600,000 He's floating around the Pendles, Lewis price tag so you'd want to be pretty sure he could replicate his lofty heights he achieved last year. In any case, both are great prospects and the one who avoids the tag will be the one to lock in.
If I had to choose one: I've got no doubt Selwood will reach 100 PPG again, however I personally have Dangerfield at M1 as a potential POD. I think the old Geelong Falcon's boy will relish the chance of playing at Geelong and exceed his 2015 average. Also I've yet to see many fantasy teams floating around which include him, so I might keep this one to myself……
HANNEBERY $613,000 VS KENNEDY $594,000 VS MITCHELL $593,000
You'd be silly to not have one of these three in your team come round 1. To be truthful, comparing Hannebery and Kennedy was boring. I wasn't able to find any real Fantasy relevant stats that distinguished them. Over the course of the 2015 Home and Away season, both Hannebery and Kennedy scored career high Fantasy totals (2607 vs 2636 points respectively) and increased their yearly PPG average, (108.6 vs 109.8). Both played in every game the Swans took part in, including two finals and both had approximately the same average disposals per game (30 vs 30.5). The similarities don't stop there, they had roughly the same amount of kicks and handballs, and were able to score 15 goals each. Like I said, nothing really exciting about the comparison here. This is no way intended to diminish the season these two had, I am merely underlining the fact that either one of these guys should net you roughly a 105 + average. Both have been known to receive a tag so it's a gamble either way there and both have roughly the same ceiling with Hannebery hitting 153 and JPK hitting 151. I've done a bit of digging and found that the biggest stat differential comes with HOW they gather their possessions. Hannebery racked up over 100 more uncontested possessions than JPK. Conversely, JPK raked in over 100 more contested possessions than Hannebery. Take from this what you will but clearly Hanners found himself unopposed and in free space more than his teammate. Due to his price I'll briefly touch on the piglet in the making that is Tom Mitchell. The Deck of DT article written by Anthony was a beaut and I urge everyone to read it. I won't delve too deep into his stats as Anthony has already done so but I will say that I am seriously considering him over both Hannebery and JPK. He marks and kicks slightly less on average but lays more tackles at a rate of 6.5 per game. In 2015 he had a slightly higher ceiling than Hannebery and JPK, scoring a massive 163 points in round 23 against Gold Coast – He also increased his average points per game from 87 in 2014 to 104.4 in 2015. Admittedly he did only play 6 games in 2014 but you get where I'm going. When Mitchell went big he did it properly, scoring 130 + on five separate occasions. Again I won't dwell on it but there are question marks over his role and job security in 2016. It appears Longmire likes toying with us fantasy coaches and regularly either vested the kid or didn't even play him. The vests are gone this year (THANK GOD!) so this SHOULD spell points for young Mitchell who enters his fourth season. Watch closely in the NAB cup to see his role. He's a jet tagger too, let's just hope he hasn't secured that role full time.
If I had to choose one: You honestly couldn't go wrong with any of them. Money no issue I'd lock Hannebery in to start, but that's purely a personal preference.
STEVEN $618,000 VS ARMITAGE $592,000
These two lads were among the surprise packets of 2015. Those who picked up either from the start found themselves laughing all the way to the bank. Whether it was the money they were making for us or points they were raking in, very few people could have predicted just how well 2015 would turn out to be. It's hard to imagine, but prior to 2015, Jack Steven NEVER averaged over 100 points a year. His highest yearly average came in 2013 where he managed just 98, which is hardy elite status. In 2014 this dropped by a further 11 points to 87. Statistically then, 2015 could be looked at as an anomaly. But is it? 2015 brought with it without a doubt Steven's best year. With his return to form he won his second Trevor Barker award in three years and became the face of an ever evolving Saints midfield. He smashed myriad personal bests' including kicks (25 in round 6), marks (11 round 6), tackles (14 in round 15) and fantasy points (164 in round 8 against the Eagles) and managed to notch up all 22 games. When comparing Steven to his teammate in Armitage, the stats are relatively even and both go tit for tat when pulling their punches. Steven had more kicks, marks and tackles, but Armitage had more handballs, goals, and hitouts. Despite playing one less game, Armitage even trumped Steven when it came to total yearly disposals (597 to 591). There really isn't much statistically different between these guys, much in the same way as Hannebery and JPK to be fair. You know that safe feeling you get with a few picks? The Pendlebury/Fyfe/Lewis/Rocky types? I'm beginning to feel that way about Steven. I may be way off the mark there but it's just a hunch. Put it this way (and here's the stat that will sway you) I went back 6 years and looked at seasons 2010 through to 2015. In every single season, Steven has had more kicks than handballs and Armitage has had more handballs than kicks. This is such a telling stat as it goes a long way to prove the fact Steven is a safer more fantasy friendly pick. You're welcome.
If I had to choose one: Do you like your players kicking more and handballing more? Steven Easily. Yes you're paying top dollar for him but he's in a Fantasy friendly role, in his prime and coming off a career best year.