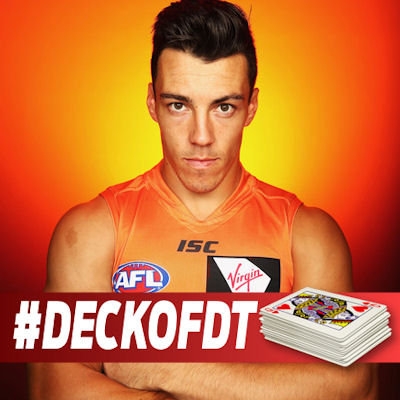 Name: Dylan Shiel
Club: Greater Western Sydney Giants
Position:  Midfield
AFL Fantasy: $512,000
AFL Dream Team: $534,600
Bye Round: 15
2015 Average: 92.2
2015 Games Played: 14
Predicted Average: 102.1
Click here for DT Live profile.
Why should I pick him?
Without over-stating it, Dylan Shiel is a future lock in everyone's team for the rest of eternity. Alright, maybe I'm over-stating it a little bit. Or am I? No I am. But he is the future of the Greater Western Sydney Giants football team and will be one of the most influential midfielders in the game within the next three seasons. Big call, I know.
Last year Dylan completed his first full pre-season, and it showed. He flew out of the blocks with six tonnes in his first 8 games (at an average of 104.75), with big scores of 136 and 135 in his first month. He then picked up a few niggles and only averaged 75.5 for the rest of the season, before an injury ended his year in round 14.
The good news about the injury, a torn lateral meniscus (a fancy worn for knee – I looked it up), meant that Shiel had surgery in July and has not missed a step in his recovery and will be right to go in the NAB Challenge. He is at a slightly reduced price due to three mediocre games last season, two from tagging (see Why shouldn't I pick him below), and one from his season ending injury (and again, refer to Why shouldn't I pick him).
When fit, Dylan runs hard for the outside handball when the Giants are in possession, and will hit the pack hard, scoring you plenty of +4s, when they aren't. He can sneak forward and snag a goal or two, and will lead hard out of the backline to score you those valuable midfielder mark/kick combo's (+6) as a link up player.
The kid who grew up idolising Chris Judd is fast becoming one of the hottest young midfielders of the competition, and by picking him, you'll be getting in on the ground floor. In 2015, Dylan racked up more than 25 possessions in all but three games, with a career high of 39 touches against the Gold Coast Suns. Amazingly, he did this without spending more than 83% of time on ground (TOG) in any match last year. With the removal of the substitute vest and a reduced interchange cap, you should expect Dylan to see a small increase in TOG in 2016.
Now entering his fifth season of AFL, Dylan has hardened his body and is having his best pre-season yet (a cliché, I know). In his first two years at the Giants, Dylan averaged in the low 70s. That's nothing to write home about; but nothing to scoff at, either. In the past two years, Dylan has bolstered that average to in the low 90s. This year, we should see him jump again.
Ranked 17th in the league for effective disposals per game, and with a tendency to handball more than kick (ranked 12th for handballs per game), Shiel is a better SC scorer than AF/RDT. With the departure of Adam Treloar and the removal of the substitute vest, he will see expectations increase from both within the club and outside of it, and he should see more time on the ground (with an average of only 76% TOG in 2015).
Why shouldn't I pick him?
Three reasons: durability, tag-ability and price.
Let's start with the obvious; Dylan has been plagued by injury in his AFL career to date. As mentioned previously, last year was his first full preseason without injury. He has surprisingly played about 70% of all games for the Giants, but that is 30% less than you'd want. His injury history increases the possible need for a forced trade.
You might be able to cover his injury risk in AF with two trades every week, but in RDT and SC where trades are finite, it's a risk. Last year he played 14 games. In 2014 he played 17. In 2013 he played 21 and in his debut season he played just 12.
Secondly, Dylan will be the biggest gun in the Giants arsenal in 2016 – and opposition clubs will know it. The departure of Adam Treloar may help Dylan see more midfield/game time, with potential to increase his scoring, but it also opens him up to extra attention.
Yes, Callan Ward is a steam train that won't be derailed, but that also makes him incredibly hard to tag as he keeps on bashing in. Tom Scully is the high profile draftee finally due to deliver – showing glimpses of what he can produce last year – but his average disposal means he won't be tagged much. Ryan Griffen will have learnt to work with his new teammates – but until he delivers he won't be seen as a threat. Young guns Josh Kelly, Lachie Whitfield, Jack Steele and Jacob Hopper are damaging in their own right, but it's Dylan who will be the man who has to lead the charge with the departure of Treloar. So will he be tagged and will it affect him? Yes – and probably.
There were three strong tagging attempts made on him last year, with varrying results.
The first, in round three against Sydney (vs. Craig Bird), he managed 14 disposals (47pts) before being subbed off midway through the third quarter (injured).
The second, in round 11 against Collingwood (vs. Jack Crisp) – he had 34 touches (97pts) – the tag didn't work.
The third, in round 12 against North Melbourne (vs. Ben Jacobs), he had a meagre 11 disposals (52pts). Then again, Jacobs shut down just about everyone in 2015.
Luckily for him (and possibly for you), the Giants midfield is becoming increasingly more dangerous and it's unlikely that he'll be the sole tagging target every week, but more evidence is needed to make you comfortable if he gets close attention. That's reason two.
Finally, Dylan may have been injured last season, but it hasn't significantly dropped his price. Using AFL Fantasy (AF) pricing, at $513,000 you have to consider if he will significantly outscore others available at, or below, his price tag. Will he outscore:
Port Adealide duo Oliver Wines ($513,000) or Jared Polec ($393,000),
Geelong pair Scott Selwood ($326,000) and Mitch Duncan ($442,000),
Blues couple Bryce Gibbs ($449,000) and Daisy Thomas ($354,000), or
Suns duet Dion Prestia ($496,000) and Jaeger O'Meara ($415,000)?
Value for money you'd want him to outscore all of these options. It's possible, but it's not guaranteed.
Deck of DT Rating.
QUEEN –
Look, I would love to rate Dylan more than a Queen as I genuinely feel he will dominate the competition, very, very soon. I'm tempted to rate him a King given I think he will average more than 100 this year. But he hasn't got the runs on the board yet to justify me telling you to go out and put him in your team, and I don't think he will be one of the top 10 mid-fielders in the AFL… this year. He is a risk – one that you have to weigh up.
Dylan's biggest risk with you picking him is he can't be trusted on durability, and for the price he comes at, you want him to play 22 games and average 100+. I think we will see Shiel go over 100 points this year, but I'm not convinced it will be from 22 games. If everything goes right, he could average 110+, but if it doesn't, you'll be looking at a forced trade with a player who won't increase too much in price.
That said, personally, I'm flip-flopping between him and Ollie Wines for my fourth midfield spot, mainly because I love watching him play and like an idiot I'm picking my pre-NAB team with my heart, not my head. He has a very bright future, but at his awkward starting price, will it be bright enough to start with him?
Watch his NAB form, and if he is running injury free, consider him as a unique option in your team.
Loading ...
FOLLOW ME ON TWITTER: @RLGriffinGWS for all thing AFL Fantasy (and more). Got something to say about the deck? Use the hashtag… #DeckofDT.