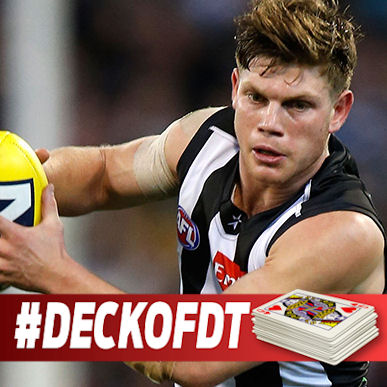 Name: Taylor Adams
Club: Collingwood
Position: MID
AFL Fantasy: $560,000
AFL Dream Team: $586,800
Bye Round: 13
2015 Average: 101.2
2015 Games Played: 18
Predicted Average: 105-120
Click here for DT Live profile.
Why Should I Pick Him?
As promised by many, Taylor Adams had a breakout season in 2015, pushing his averaging up 30 points from an average of 71 in 2014 to an average of 101 points per game in 2015. How does that make him relevant in 2016 however?
Adams averaged 113.6 points in his last 10 games of the year. This includes an injury affected score of 41, in which he was substituted off at half time. 7 of his scores in these last 10 games were above 110, further demonstrating his massive fantasy potential.
Adams also has a massive ceiling, posting scores of 146, 126, 95 and 139 during a 4 week period in rounds 11-15, along with scores of 135 and 127 during the Dream Team finals weeks.
He averaged 27.4 possessions a game in 2015, an increase of 8.2 possessions a game in 2014. Along with this, Adams increased his marks and tackles per game average to 4.4 and 5 respectively. This is important as it guarantees us a consistent score almost every week, which is vital in the fantasy formats.
Unfortunately, Adams will not have FWD eligibility this year, to the disappointment of many DT coaches. However, could this be a good move? Although I am disappointed with the departure of his dual position status (correct move by Champion Data), this will make him even more tastier causing his ownership numbers to significantly drop. This will make him a unique point of difference.
Adams' tagging days are over, and therefore he should be picked with confidence. He should also play entirely midfield for the whole year.
There have been signs that Scott Pendlebury may be rotating between the midfield and the half back line as well. In rounds 22 and 23 last year, he played a significant half back, midfield role, as shown by the heat maps below. Will this be a sign of things to come? Buckley has also reported that Sidebottom will spend more time up forward, strengthening the stocks of Taylor Adams. And of course Swan will rotate in the midfield but will spend more time than ever in the position of full forward, as Collingwood looks to give their young guns ever more opportunity in the middle.
Plus Taylor Adams has apparently been fitter than ever, and is 'tearing up the track'. This gives us a tad of confidence, however we tend to hear this every preseason. Haha.
Why Shouldn't I pick him?
Taylor Adams only played 18 games this year. He missed a game due to a toe injury, came back for 4 games, and then got suspended for 2 matches for a hefty knee to the head against Port Adelaide's Justin Westhoff, in which he claims he 'got caught up in the moment'. This can be a pain, especially if something like this happens in finals time.
Although it's a bit early to be talking about the byes, Adams shares the round 13 bye with many popular midfield players, such as Ablett, Crouch, O'Meara, Pendlebury, Montagna, Brandon Ellis and more midfield premiums. Come bye time, your team could be in a bit of trouble if you include most of the above players.
Some people may find him pretty pricey, with many opting for the cheaper midprice option with players such as Gibbs, Crouch, O'Meara and Libba. These people will have extra cash in the bank, and some of these midprice options may even have similar outputs to Adams, however I highly doubt that.
Deck of DT Rating.
KING – I believe that Adams will reap the rewards from departing with his tagging duties, and as a result I seriously don't know any reasons why he'll go down in average from here on. He'll be unique and a massive POD. I have complete faith in him, in which I see him being a top 5 midfielder by year's end. The sky is the limit for Taylor Adams.
Loading ...
FOLLOW ME ON TWITTER: @BenjoDT for all thing AFL Fantasy (and more). Got something to say about the deck? Use the hashtag… #DeckofDT.