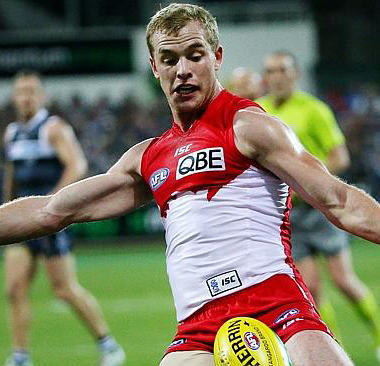 Game 1: Hawthorn vs Adelaide
Friday 7:50, MCG
Hawthorns first final last week proved a very hard task. Not only the game itself but also their Fantasy stats. Luke Hodge obviously the main and probably only standout and only Sam Mitchell and Jarryd Roughead scoring hundreds. The Crows on the other played probably the most exciting game of the year and won a thriller, although their Fantasy stats didn't show it. Their top score was only 110 from Patrick Dangerfield and Sam Jacobs and Ricky Henderson scored over 100.
Last time these teams met:
Liam Shiels- 120
Rory Sloane- 108
Sam Jacobs- 107
Patrick Dangerfield- 105
Isaac Smith- 103
Tom Lynch- 101
Rory Laird- 100
Luke Hodge- 97
Scott Thompson- 97
Matthew Suckling- 96
These were the top 10 scores from last time these two teams played each other. As you can see there were 7 in the top 10 over 100 with Liam Shiels scoring the top score. But only 2 of the 7 100's were Hawthorn players which is very low for the champion team, and the five Adelaide 100's were 5 of their best players, some of which are definite picks for this week. Sam Jacobs with 107 last time they met and 104 last week will be my ruckman for this game and should be everyone else's too.
Who should be my captain?
Luke Hodge: scored 130 last week in a side that was well beaten by the West Coast Eagles over in Perth. In that game he actually played back pocket on Mark LeCras for most the game and had a ripper third quarter. He was also the highest costing and highest scoring defender this season and should be a definite pick not only as a defender this week, but also as captain.
Patrick Dangerfield: He got off to a really slow start last week and some people such as myself would've been quite nervous with the choice of him in their team. But in the end he top scored for the Crows with 110 and a blistering last quarter to get his team over the line. He will do the same this week and is a good pick for a captain.
Rory Sloane: Got the Crows top score with 108 against the Hawks in their last clash and that was on the back of missing 4 weeks with a cheek bone injury. He may have only got 79 last week but he won't 2 bad games in a row very often. It's do or die for the Crows against the Hawks this week and that's exactly how Sloane will play. Lock him in for at least 120 and a good pick for captain.
Game 2: Sydney Swans vs North Melbourne
Saturday 7:20, ANZ Stadium
This could be a game that brings out some very high scores, especially after the way the Swans scored last week. Josh Kennedy the huge standout of last week with a whopping 141 against the top team Fremantle in Perth and yet another 30 disposal game for him. He will do the same, yet again, this week. For North Melbourne it proved a tough but triumphant come from behind win against the Tigers and their Fantasy scores showed it. Jarrad Waite top scored with his 4 goals scoring 123, only one other Roo scored 100 plus in that game and that was Brent Harvey with 31 disposals scoring 101.
Last time they met:
Todd Goldstein- 122
Luke Parker- 120
Dane Rampe- 110
Lance Franklin- 109
Jarrad McVeigh- 105
Harry Cunningham- 101
Tom Mitchell- 100
Kieran Jack- 100
Brent Harvey- 94
Dan Hannebery- 93
These were the top ten Fantasy scores from last time they met when the Swans beat the Kangaroos and had a lot more big scores. But it may not bring much help for this week given that Parker, Franklin and Kieran Jack won't be playing this game. Dan Hannebery will be one of the top 10 again this week and even bump up his score a bit higher. He will definitely be in my midfield for this one.
Who should be my captain?
Josh Kennedy: Quite a few candidates for the captain selection this week and I'm going to start with probably the most inform player in the AFL, Josh Kennedy. In his last 11 games he has astoundingly had over 30 disposals in all of them and his lowest Fantasy score has been 95. I'm going to back him in again this week after his last score of 141 and lock him in as captain.
Tom Mitchell: Another player who has found a lot of form at the back half of the 2015 season is Tom Mitchell. 108 last week in Perth against the Dockers and a huge 163 the week before. He will go big for the Swans in front of a home crowd and will be a very good captain choice.
Dan Hannebery: Arguably Sydney's best player this season and has brought at some big Fantasy scores. Doesn't like ANZ a whole lot though. 3 games there this year and didn't score a 100, but did get 99, 99 and 90. He will also lift this week with a big score and be a great choice of captain. If you think he'll be a good captain, don't hesitate to lock him in.