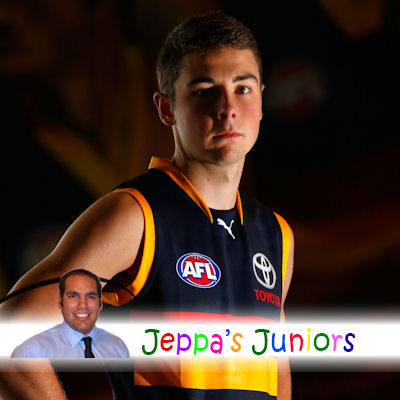 And just like that, it's finals time! I think many would agree that it has been a tough Fantasy and Dreamteam season to date but hopefully you've made the top 8 in a few leagues.
Plenty of premos have been up and down all year so if you think you're safe in finals, think again. As far as the rookies go, there are very few quality youngsters to see us through these last few rounds but that's not to say we have zero options…
Three-Or-More Gamers
WORTHY ROOKIE RESERVES
If you've had a good run for the majority of the season, you won't be starting any 'juniors' on your field in finals. That's not the case for all coaches however, as one or two rooks may need to perform in the 22.
REALISTIC and worthy rookies, whether they are backup or fielding a couple of spots on your field are as follows:
Defenders:
Sam Colquhoun (Def. $318,000, 72 be AF. $305,300, 66 be DT) – He's been green vested two weeks running but Port are now out of the finals race and Colq should get plenty of game time as a result. Sammy loves an uncontested mark and kick and he's won plenty of footy in the past scoring 84 (twice) and 81 Fantasy points this season.
Alex Pearce (Def. $241,000, 2 be AF. $243,600, -18 be DT) – Recent hot form sees Pearce hold his spot in the Dockers 22 for at least the next couple of weeks. Scores of 69 and 88 in his last two matches is ideal and he's growing in confidence each week.
Sam Darley (Def. $254,000, 20 be AF. $277,700 DT) – See 'One Gamers'.
Midfielders:
Rory Atkins (Mid. $138,000, -7 be AF & $144,700, -12 be DT) – No vest for Atkins for the first time this season gave owners a great result. The left footer played as an outside mid and finished with 24 possessions, 6 marks and 75 Fantasy points. Comporeale is a fan (source, 5min 28sec) and he is still cheap enough to trade in.
Liam Dawson (Mid. $214,000, -6 be AF & $216,700, -23 be DT) – Playing at half back, Dawson is relishing his on field opportunities scoring 60, 80 and 67 from his last three games. He has no job security issues but I wouldn't rule out a green vest. Back him in.
Elliott Kavanagh (Mid. $225,000, 38 be AF. $200,600, 50 be DT) – A select few may still own Kavanagh who did score 83 back in Round 10. Kav was best on ground in the VFL on the weekend and with all of Essendon's issues he should return to the senior side this week. Solid backup.
Jack Steele (Mid/Fwd. $334,000, 79 be AF. $290,700, 76 be DT) – Steele will come back into the Giants senior side this week and you know I'm a fan! Whether it is in your midfield or forward line, he's A grade back up!
Rucks:
Jono Griffin (Ruc. $239,000, 12 be AF & $286,300, 43 be DT) – The big fella has teamed up with Sandi and Freo haven't lost a game since his first game in Round 16. Sandi is due for a rest before the finals too.
Forwards:
Kane Lambert (Fwd/Mid. $293,000, 21 be AF. $313,300, 40 be DT) – Took a while to get going this season but there is no doubting his toughness and desire for the contest. He's more than capable of scoring 80+ and has averaged 78 from his past three matches.
Jayden Laverde (Fwd/Mid. $266,000, 25 be AF. $235,200, 5 be DT) – Well balanced and strong through the core, Laverde is a natural footballer. Should play a decent role for the Bombers in the final four games and scores in the high 60's is what I'd expect from him.
Caleb Daniel (Fwd. $282,000, 48 be AF. $265,000, 38 be DT) – The pocket dynamo appears to have cemented a spot in the Dogs 22 after playing the last six consecutive rounds. Wont score big but he's still handy backup.
Two Gamers
Matt Scharenberg (Def. $184,000, 35 be AF. $124,600, 0 be DT) is worth a punt even though he wore the green vest in Round 19. He scored a whopping 32 Fantasy points in a quarter but it's his clean hand and skills that are most impressive. I presume Buckley will play him in the last four rounds so jump on if it suits.
I cannot recommend Andrew Phillips, 47 (Ruc. $161,000, 14 be AF. $182,900, 23 be DT), Lachie Weller, 18 (Mid. $238,000, 72 be AF. $162,900, 38 be DT) and Jono Freeman, 13 (Fwd. $142,000, 31 be AF. $170,700, 47 be DT). They're unlikely to make worthy contributions in these final rounds.
One Gamers
Sam Darley (Def. $254,000, 20 be AF. $277,700 DT) surprised me with his run and skill off half back for the Dogs. The former Giant has clearly worked hard in the gym and his power running reminded me a lot of teammate Robert Murphy. Darley's stat line for Round 19 read 21 touches (86% efficiency), 6 marks, 3 tackles and an impressive 84 Fantasy points. If Murphy returns this week and plays forward, there's a spot there for Darley but that's a big if. Unfortunately, he's too expensive for most anyway but he deserves recognition.
Luke McGuane (Fwd. $142,000, -10 be AF. $189,100 DT) looms as a valuable forward downgrade option this week. The forward kicked 3 goals and scored 73 Fantasy points in his first game since Round 7 last year. I very much doubt McGuane will average higher than 60 Fantasy points per game but he's cheap and the Lions will play him in the last four rounds.
Ben Reid (Fwd. $161,000, 61 be AF. $222,00 DT) made a successful return to AFL kicking 4 goals to go with 9 possessions, 4 marks and 61 Fantasy points. I'd hate to think what his score would have looked like if he kicked 0 goals! To be fair it was Reid's first game in almost a year so expect him to improve and gain confidence with every week that passes. Reid is a very safe back up option for Fantasy if you exclude his recent run of injuries.
A red vest for Billy Evans, 28 (Mid. $122,000, 18 be AF. $132,900 DT) wasn't ideal and he didn't even get a kick in the match…just 12 handballs. Hopefully the young Lion gets another go this week. One would have thought Jonathon Marsh, 18 (Def/Fwd. $120,000, 30 be AF. $124,600 DT) copped a vest but he just couldn't get his hands on the footy. I did love Marsh's physicality on debut but that doesn't help his Fantasy scoring.
Even though he scored 81, avoid Alex Silvagni (Def. $263,000, 25 be AF. $281,300 DT). He's too expensive and his Fantasy friendly game last week won't last.
Keep Your Eye On
Jake Barrett (Mid. $120,000, 22 be AF. $124,600 DT) is likely to debut on Saturday with Scully and Treloar both out injured. The young midfielder has been racking up big numbers in the NEAFL and if he can avoid the green vest, he'll provide his new owners with very healthy scores. Pencil him in for your midfield bench!
Daniel Markworth (Fwd. $120,000, 22 be AF. $124,600 DT) is a player cursed by injury but he has three VFL games under his belt with his most recent performance seeing him finish with 20 possessions, 2 goals and 94 Fantasy points. Markworth is a sensible replacement for the injured Lonie and if he's named, I'm likely to bring him in for Fantasia in Fantasy. Dirt cheap.
2015 AFL Fantasy & Dreamteam Rookie of the Year
It's time to vote for this season's best rookie. Select the 'junior' that you believe was the most valuable throughout the season. Consider scoring, games played, consistency, and the like.
Non-Negotiable Premiums
I'm out of my jurisdiction a little here but I thought I'd share my 'must have' premos for the four weeks of Fantasy finals. Theories and previous records don't always work out but you're more likely to get over the line if you play the odds. The premos to have are:
Defenders:
Heath Shaw – He was on my never again list but Shaw's form over the past couple of months cannot be ignored. The designated sweeper for the Giants gets plenty of it and he's a clear top 6 defender. Surprisingly, Shaw is only owned by 11.9% and 20.6% of Fantasy and Dreamteam coaches respectively. Get him!
Liam Picken – A new coach and new role for Liam Picken has seen him excel this season. Playing through the midfield he's averaged 105 Fantasy points and hasn't scored below 90 since round 8. I love consistency.
Having Luke Hodge amongst your six defenders is a no brainer.
Midfielders:
Jack Steven – I can't think of a player that runs harder than Steven. He's the highest averaging midfielder to date this season and it will be blue skies against North, Geelong, Sydney and West Coast all of whom he has a good record against.
Scott Pendlebury – Mr. Consistent. Pendles has only scored below three figures on four occasions this season, that's a 79% likelihood of hitting a ton.
Brent Stanton – The biggest seagull in the AFL but it translates into some pretty handy Fantasy scores. Stants has hit the ton five weeks straight and there's no signs of him slowing down. A unique option but the oracle of Fantasy, @WarnieDT has taken the plunge.
Rucks:
Todd Goldstein – The highest averaging Fantasy player to date this season. Need I say more? The big fella is unstoppable at the minute and he's vital to North Melbourne's potential charge up the ladder.
Stefan Martin – Big Stefan will be a force with no Leuenberger to take his midfield time. I guarantee he hits three figure Fantasy scores in the final four rounds.
I have a lot of love for popular pick Sam Jacobs if you cant afford Goldy and a unique option would have to be Brodie Grundy.
Forwards:
Jimmy Bartel – After missing the majority of the season with injury, Bartel is flying a little under the radar. Since returning in Round 15 he has scored an impressive 116, 122, 90, 103 and 98. That's an average of 106…the fourth highest of any forward from the past five rounds.
Luke Dahlhaus – Who's Haus!? Dahlhaus has scored less than 90 just five times this season making him one of the most consistent forwards in 2015. Melbourne, West Coast, North and Brisbane is a great run home.
Dane Swan, Dustin Martin and Robbie Gray are other required forwards for obvious reasons. If you're looking for a point of difference, consider Steven Motlop. When Motlop is allowed to roam free, he can go big!
That's a wrap! What a year. I hope you have enjoyed my research and opinions. This job isn't easy but I enjoy it immensely. Good luck in the finals and be sure to send through your questions via the article or Twitter @JeppaDT.