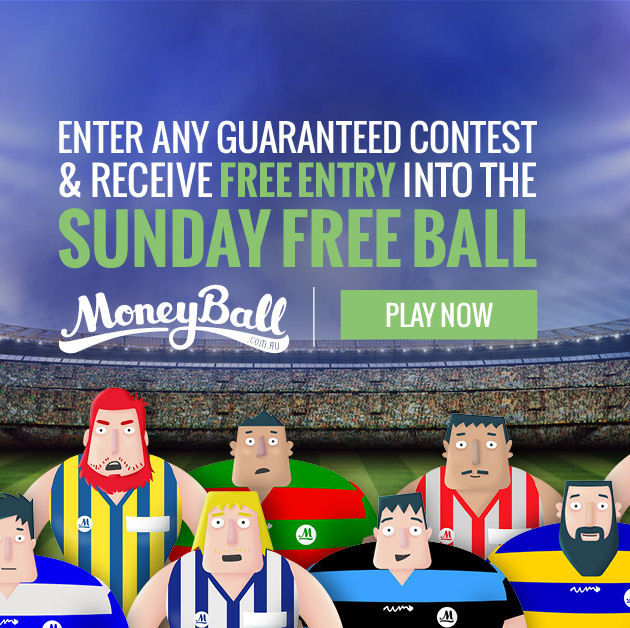 This week for round 18 the Sunday Free ball contest is back with $250 Guaranteed up for grabs and only top three are paid out which means there is some pretty solid prizes to be won.
To gain access to the AFL Sunday Free Ball members will need to enter any of the Guaranteed AFL contests. For every entry they put into a Guaranteed contest they will receive a FREE entry into the free ball. The button will be grey'd out and un-clickable unless they do this. This means once a Guaranteed contest has been entered this button will turn green and open up.
Guaranteed contests this week are similar to last weekend, really appreciate the promotion you did mate, was awesome!
Guaranteed  (all $10 Entry)
 AFL $1.5k Fantastic Friday
 AFL $2K Saturday Slam
AFL $1.5K Sunday Funday
Other Big Contests (all $20 Entry)
AFL $1K Friday Fever
AFL $1K Super Saturday
AFL $1K Sunday Lobster
POINT SCORING
Goal 6 pts
Behind 1 pt
Kick 3 pts
Handball 2 pts
Mark 4 pts
Tackle 4 pts
Clanger -3 pts
Free For 3 pts
Free Against -3 pts
Hitout 1 pt
PICKING YOUR TEAM
Prices are a little different to what we are used to in AFL Fantasy. In your salary cap of $60,000 you need to choose 9 players (2 forwards, 1 ruck, 4 midfielders, 2 defenders).  Be smart with picking your team as there are plenty of bargains to help you fill your squad at an average of $6,667. Prices will change after round four.
Sign up and get all registered to take on us in some different games. Just search up DT Talk and you will find a couple of different options each week.
We will add more contests when others fill up.
* 18+ only and please gamble responsibly.