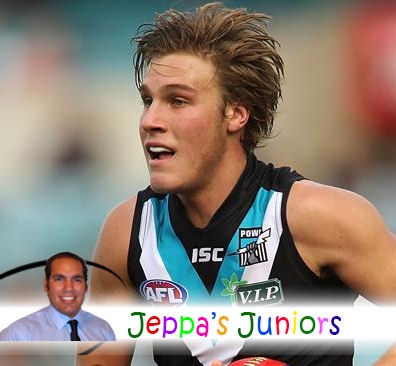 What a week. The sudden passing of a great man and coach, the return of the game's best and a handful of teams put their hand up for this year's premiership. The highs and lows of AFL have had an impact on us all this round and Fantasy football is just a minor detail.
No game between the Crows and Cats saw last minute changes to Fantasy and Dreamteam. Without being able to plan for a cancelled match, awarding the averages of Crows and Cats players named for the weekend was a fair outcome for coaches. If you didn't have too many Adelaide or Geelong players, the top 18 approach adopted by Dreamteam would have had nice benefits.
Looking ahead, many of us are making the last of our big on field improvements and we are all keen on the new wave of rooks coming through to generate the cash!
Three Gamers 
KEEPERS
Sam Colquhoun (Def. $279,000, 9 be AF. $248,100, -25 be DT) continued his ball winning ways with 15 kicks, 7 handballs, 8 marks and 84 Fantasy points against excellent opposition in Sydney at the SCG. Playing on a wing and behind the ball allows Colquhoun to get plenty of it and he'll continue to score well with Collingwood, Adelaide, Essendon and St Kilda his next four opponents. I'm that impressed that I'll be trading my D6, Oxley to him this week to generate some cash. Colquhoun's teammate, Nathan Krakouer (Fwd/Mid. $279,000, 33 be AF. $260,500, -1 be DT) continues to make me look bad. I traded out the skillful defender after he was banished back to the rookie list in Round 10 and he has since returned to the seniors on fire. Krakouer was one of Port's best in the game against Sydney amassing 18 possessions, 5 marks, 2 tackles, 2 goals and 85 Fantasy points. He's sticking around so if you held him, well done.
Matthew Kreuzer (Ruc. $330,000, 17 be AF. $370,200, 13 be DT) and Shaun McKernan (Ruc/Fwd. $267,000, -3 be AF. $289,800, -12 be DT) are very handy big men. Kreuz played his role and scored 88 Fantasy points from 7 touches, 29 hitouts and a whopping 9 tackles. McKernan was one of a few that showed up for Essendon on the weekend, working hard for his 19 possessions, 3 marks, 26 hitouts and 79 Fantasy points. Obviously keep these giants.
Brendon Ah Chee (Mid. $158,000, -13 be AF. $169,600, -21 be DT) was vestless and played the best game of his short career as a result. As an inside mid, he's not shy to get amongst the rough stuff and he finished with 11 kicks, 8 handballs, 3 marks, 3 tackles, 1 goal and 74 Fantasy points. Ah Chee played well enough to avoid the vest this week but you never guarantee it these days. A risky pick but when there aint that many cheap options available, he could be worth the punt.
DON'T PANIC
Alex Neal-Bullen, 65 (Mid. $201,000, 11 be AF. $155,100, -25 be DT), Keegan Brooksby, 64 (Ruc. $192,000, -6 be AF. $157,800, -28 be DT), Andrew Boston, 60 (Mid. $287,000, 33 be AF. $276,400, 45 be DT), Hugh Beasley, 54 (Def. $183,000, 2 be AF. $173,300, -13 be DT), Billy Stretch, 48 (Mid. $224,000, 26 be AF. $206,200, 18 be DT), Joel Hamling, 45 (Def. $222,000, 26 be AF. $209,500, 11 be DT), Kane Lambert, 42 (Fwd/Mid. $128,000, 12 be AF. $115,700, 3 be DT), Elliott Kavanagh, 41 (Mid. $225,000, 37 be AF. $200,600, 49 be DT) and Alex Pearce, 37 (Def. $193,000, 31 be AF. $194,200, 54 be DT) are not setting scoring records but their breakevens are lower than / close to their averages so you shouldn't lose out if you hold them. In fact, I would approve if anyone still wants to pick up Brooksby or Lambert.
I'm being stubborn on Trent Dumont, 40 (Mid. $216,000, 34 be AF. $219,000, 57 be DT). He has had 5 green vests from 7 games and by the look of last week; he'd do a better job with a full run than some of his spud teammates. If he plays a few games without the vest, his earnings will escalate quickly. Hold him if you can.
TRADE, TRADE, TRADE
If I haven't categorised a player from Round 14 under 'Keepers' or 'Don't Panic' then trade them out as soon as you can but when appropriate.
Young Toby McLean, 85 (Fwd. $263,000, 3 be AF. $226,300, -38 be DT) has been fantastic the last few weeks but late in the game on Saturday night, he unfortunately injured his shoulder and is expected to miss 6 to 8 weeks.
Plenty of popular rooks can now be offloaded given our teams are almost full of premos. This includes Patrick Cripps, 79 (Mid. $453,000, 72 be AF. $468,500, 102 be DT) who is under an injury cloud. Don't be shy.

Click here to subscribe on iTunes.
Two Gamers 
We are very lucky to have Jack Steele (Fwd/Mid. $272,000, 17 be AF. $117,900, -88 be DT) as a dual position forward / mid. The role he is playing at the Giants is an important one, through the guts with rests up forward. Steele was far from amazing on the weekend but still managed to score a reasonable 63 Fantasy points and he probably would have done better if it wasn't for Maric's forearm making heavy contact to his head in the third quarter. In his two games this season, Steele has proven that he's a player with his toughness, tackling pressure, clean ball skills and I reckon he's in the best 22 at the Giants especially with Griffen moving to half back. If you don't have Steele in Dreamteam, trade him in this week! At $272,000, you can live without him in Fantasy.
Zac Jones (Def. $148,000, 13 be AF. $156,600, 17 be DT) held his spot after last week's debacle and did a reasonable job against the Power. Playing at halfback, the nuggetty defender used the ball well and he won his fair share of contested ball. Scoring 50 Fantasy points is respectable and I'm forecasting a bit of improvement out of him with every game he plays. A viable D7 / D8 option given he'll likely average 60 with no vests. No Gary Rohan for a month aids his job security that little bit more too.
Nick O'Brien (Mid. $152,000, -4 be AF. $124,600, -31 be DT) probably holds his spot given that Essendon doesn't have much else to go to. O'Brien had 16 possessions and 58 Fantasy points but he doesn't damage the opposition when he has the footy in hand. I'm not a fan but he's quite cheap. Nick Holman, 55 (Def. $180,000, 15 be AF. $180,600, 10 be DT) was uninspiring in his first vestless game for the year. The midfielder is good at the one percenters but he's not an accumulator of the footy. I suspect that his poor disposal efficiency won't see him hold his spot for too long also. Avoid.
Talls Jack Redpath (Fwd. $166,000, 13 be AF. $197,600, 29 be DT) and Rory Lobb (Ruc. $188,000, 12 be AF. $176,100, -1 be DT) were respectable on the weekend scoring 61 and 58 respectively but I'm against trading in young key forwards…Jesse Hogan is an exception to the rule.
Stay away from Caleb Marchbank, 39 (Def. $272,000, 65 be AF. $197,900, 28 be DT), as he is not Fantasy relevant this season.
One Gamers
Caleb Daniel (Fwd. $168,000, 14 be AF. $117,900 DT) became a cult figure for Bulldog supporters on debut. The pocket dynamo started in green but came on at the start of the third and managed 14 possessions, 5 marks, 1 goal and 54 Fantasy points in half a game. Watching him closely, his work rate, ability to read the play, decision-making and skills are all impressive. No doubt, Daniel is a vest risk going forward however, short term I think he is a good option given his price. The kid can play and if you do trade him in, make sure it is as a F7 / F8.
I liked the look of Brayden Maynard (Def/Mid. $203,000, 25 be AF. $117,900 DT). In such a big game, he was hard at the footy, applied plenty of pressure on the opposition and was good with his second and third efforts. At the final siren his stat line read 7 kicks, 4 handballs, 2 marks, 6 tackles and 56 Fantasy points. Buckley would have been happy with his performance but at $205,000 in Fantasy, you'd want to see what he produces from another game before jumping on. In saying that, cheap options are limited in Dreamteam especially if you jumped on Steele early and a dual position Maynard is a reasonable option. My advice is to hold fire on Maynard though…Seedsman, Clinton Young and even Scharenberg are pushing hard for his spot. 
Toby Nankervis (Ruc. $134,000, 2 be AF. $124,600 DT) came in for the suspended Kurt Tippett and did his job. The ruckman started at full forward, pinch hitting on the ball when Mike Pyke needed a rest. He finished with 10 touches, 3 marks, 6 hitouts, 2 tackles, 1 goal and 54 Fantasy points but he wasn't good enough to hold his spot. Tom Downie (Ruc. $133,000, 3 be AF. $124,600 DT) kept Maric honest but failed to have an impact worthy for Fantasy coaches. Playing as the Giants number one ruckman, he finished with just 7 touches, 3 marks, 21 hitouts, 2 tackles and 52 Fantasy points. I suspect Downie will hold his spot this week but with a better tap ruckman in Andrew Phillips breathing down his neck, he is a risky pick.
Blaine Johnson (Fwd. $185,000, 27 be AF. $211,100 DT) gets a notable mention for his 45 Fantasy points however he's too expensive for the likely returns he will provide. Ariel Steinberg, 38 (Def. $167,000, 27 be AF. $171,600 DT) and Darcy Moore, 15 (Def/Fwd. $258,000, 76 be AF. $182,900 DT) were poor in their games and I'd avoid them at all costs.
Please note that if I haven't mentioned a rookie priced player above, it means I don't rate them. Remember rooks are classified as players under $250,000 in Fantasy and/or Dreamteam.
Keep Your Eye On
Anyone call for a big bodied midfielder? Jared Jansen (Mid. $123,000, 23 be AF. $124,600 DT) stands at 192cm, weighs in at 92 kilos and would be a very handy addition to Geelong's 22 in my opinion. With the Cats injury list growing I'm hoping they turn to their youth and Jansen has been one of their better VFL performers in recent times. He's a big tackler and should average 60 per game without a vest. Cheap as chips!
A 'junior' from a couple of years ago, Nick Kommer (Fwd. $207,000, 38 be AF. $147,700 DT) is available to us at rookie prices again after a lingering knee problem saw him miss the entire 2014 season. The defensive forward is one of Hird's favourites and I suspect he'll be named in the seniors very soon after stringing together three VFL games. Kommer won't be a big scorer by any stretch but his job security will be decent assuming he can stay injury free.
I mentioned Matt Scharenberg (Def. $182,000, 33 be AF. $124,600 DT) last week and whispers are that he is firming strongly for Thursday night versus Port. After a couple of losses, the Pies are coming off a six-day break and Scharenberg is in ripping VFL form. Put him on your watchlist.
Feel free to ask me a question below and don't forget to add me on Twitter @JeppaDT for all things Fantasy and more. Happy trading!