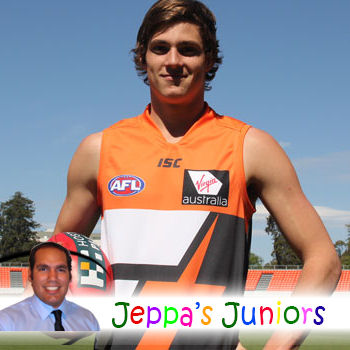 If you ask Mrs Jeppa, my levels of happiness evolve around family, food, West Coast winning and my Fantasy and Dreamteam scores for the week. My family is great, I always have a full belly and West Coast were flying high on Friday night…enter mood swing Saturday and Sunday. In Fantasy, fielding 14 players (not due to poor bye planning by the way) saw me push out a horrid 1366. Dreamteam was worse given I stumbled to 1354 from 15 players! Thankfully, I'm loaded up for the last of the bye rounds as I imagine the majority of coaches would be.
The outlook is bright on the rookie front. Plenty of well-rested rooks are set to resume their encouraging form and a few newcomers have put their hand up this week also.
Three Gamers 
KEEPERS
In both of Carlton's wins this season, Patrick Cripps (Mid. $416,000, 30 be AF. $421,200, 16 be DT) has been enormous. The likely 2015 NAB Rising Star put in an amazing four-quarter effort against the Power on Saturday finishing with a game high 31 possessions, 3 marks, 12 tackles, 128 Fantasy points and 3 Brownlow votes. If only Cripps/Carlton had the Round 13 bye, many of us would still own him…well done to those that kept him.
Angus Brayshaw (Mid. $421,000, 61 be AF. $425,500, 67 be DT) is the only other keeper from Round 12. The future superstar didn't take a backward step against a powerhouse club in Geelong and the praise for him in his first 12 AFL games has been tremendous. 12 kicks, 8 handballs, 1 mark, 6 tackles and 78 Fantasy points were his numbers this week. Hold.
DON'T PANIC
I think most of us would agree that Trent Dumont (Mid. $216,000, 34 be AF. $230,300, 64 be DT) can definitely play; he's just not getting the appropriate game time at the moment. For the fourth time in his six games this season, Dumont copped the green vest but still had an impact in his short time on field. 8 possessions and 27 Fantasy points from 25% time on ground is an excellent return so how bout giving him a full run, North!? If you own him, keep the faith because a breakout game is on the cards.
Billy Stretch (Mid. $212,000, 20 be AF. $176,600, -16 be DT) didn't dominate the stats but I thought he contributed enough to hold his spot in the short term. I was most impressed when he displayed a cool head to slot a goal at a crucial stage in the fourth quarter. Stretch scored just 51 Fantasy points this week but his breakevens are low enough to earn a bit more moolah for owners.
Bulldog veteran Dale Morris will replace Fletcher Roberts or Joel Hamling (Def. $182,000, 9 be AF. $162,800, 7 be DT) this weekend. Naturally, Hamling owners will be hoping that he holds his spot but to be honest, it's a 50 / 50 call. I was against trading in Hamling for his job security concerns but if you do own him and he's named on Thursday night then there's no need to worry with his current breakevens. Wait and see.
TRADE, TRADE, TRADE
If I haven't categorised a player from Round 12 under 'Keepers' or 'Don't Panic' then trade them out as soon as you can but when appropriate.
There are plenty of bitter coaches out there that kept Kamdyn McIntosh (Def/Mid. $334,000, 84 be AF. Def. $334,400, 111 be DT). Four possessions and 20 Fantasy points against West Coast is an incredibly poor return and he now needs to be traded as soon as possible. Thank you for your services Kamdyn.
Two Gamers 
There's plenty to like about Sam Colquhoun (Def. $248,000, 14 be AF. $197,700, -25 be DT) and he's just warming up. The half back / wingman is a Hinkley favourite and many forget that he played in both of Port's finals in 2013 when he was fit and firing. Against the Blues, Colquhoun was prominent with 12 kicks, 10 handballs, 3 marks, 4 tackles, 1 goal, 81 Fantasy points and he came very close to a chance to win the game off his own boot…mark disallowed. He was named as one of the Power's best in Round 12 and he won't be getting dropped any time soon as a result. If you don't mind spending big on your defender rooks, Colquhoun is your man. I jumped the gun and traded him in early for Dreamteam…that's how much I rate him.
Matthew Kreuzer (Ruc. $266,000, 39 be AF. $333,000, 68 be DT) was very underwhelming. The big fella had some good moments in the game but could only manage 8 touches, 2 marks, 17 hitouts, 1 tackle and 42 Fantasy points. Given his high price tag and where we are at in the season, I think it would be silly to trade him in. There are better cashcows available.
Toby McLean, 67 (Fwd. $210,000, 35 be AF. $117,900, -11 be DT) and Hugh Beasley, 45 (Def. $136,000, 8 be AF. $102,900, -17 be DT) are risky picks. Both have shaky job security but they are cheap as far as Dreamteam goes. Not recommended with Fantasia, Pearce, etc. on the table.
Young Alex Neal-Bullen (Mid. $183,000, 23 be AF. $117,900, -15 be DT) kicked three goals against Geelong but only managed 48 Fantasy points. After his 34 Fantasy points the week before, I'd be staying clear of him. Two green vests in two games from Michael Luxford, 16 (Fwd. $120,000, 41 be AF. $124,600, 36 be DT) is enough to put me off. Avoid.
One Gamers
Jack Steele (Fwd/Mid. $249,000, 10 be AF. $117,900 DT) proved last weekend that his debut was well overdue. The midfielder was prominent in the centre square for the Giants and he held his own against the hardened bodies of the Roos. Steele's stat line read 6 kicks, 11 handballs, 3 marks, 2 hitouts, a whopping 10 tackles and 92 Fantasy points. His side step is a pleasure to watch and he was named in the Giants bests for all his efforts on Saturday. Any rook playing a prolific midfield role like Steele has to be at the top of your pecking order. If your bye structure suits, don't hesitate bringing in this dual position forward, mid. He's a big talent.
In a time of need, Jake Kolodjashnij (Def. $126,000, 14 be AF. $124,600 DT) failed to produce. I wasn't expecting Kolo to be a complete write-off but he looked nervous on debut and failed to have any impact. 7 touches and 35 Fantasy points isn't doing anyone any favours. Unfortunately, I traded him in for Fantasy and it looks like he'll sit as my D8 for a while.
Expensive GWS talls in Caleb Marchbank, 45 (Def. $281,000, 59 be AF. $197,900 DT) and Rory Lobb, 43 (Ruc. $173,000, 24 be AF. $176,100 DT) need another week to prove their worth. They're unlikely to be Fantasy and Dreamteam relevant but let's wait and see what they produce after their week off before ruling them out completely.
Please note that if I haven't mentioned a rookie priced player above, it means I don't rate them. Remember rooks are classified as players under $250,000 in Fantasy and/or Dreamteam.
Bye Round Sleepers
Unlike last week there are plenty of well-rested rooks prime for the picking. Alex Pearce (Def. $173,000, -10 be AF. $165,000, -16 be DT), Shaun Edwards (Def. $185,000, -2 be AF. $124,600 DT), Orazio Fantasia (Fwd. $195,000, -19 be AF. $156,200, -61 be DT), Elliott Kavanagh (Mid. $200,000, -13 be AF. $148,600, -65 be DT) and Andrew Boston (Mid. $235,000, -18 be AF. $200,800, -33 be DT) are all worthy options still affordable in both Fantasy and Dreamteam. Considering job security and scoring potential, my top three 'sleepers', in order are Boston, Kavanagh and Fantasia.
Many still own Adam Oxley (Def. $398,000, 47 be AF. $389,400, 4 be DT) and Adam Saad (Def/Mid. $350,000, 62 be AF. $339,300, 62 be DT). Both Oxley and Saad are likely to continue their recent hot form.
Blake Acres (Mid. $224,000, 19 be AF. $258,000, 44 be DT) and Henry Schade, 57 (Def. $212,000, 29 be AF. $202,700, 14 be DT) should feature In Round 13 also.
Keep Your Eye On
Nick O'Brien (Mid. $120,000, 22 be AF. $124,600 DT) – has been knocking on the door for a few weeks now. The Bombers on baller is untouchable in the VFL, averaging an amazing 37 possessions, 12 marks, 4 tackles and 149 Fantasy points from his past two games. Obviously these numbers won't translate into the AFL but any rookie priced player capable of winning the ball this much needs to be considered. With Colyer out for the season and Chappy down on form, O'Brien may force his way into Essendon's 22 but as a running midfielder, he is a high vest risk.
Shaun McKernan (Ruc/Fwd. $197,000, 24 be AF. $248,400 DT) – The rookie listed ruck, forward is clear to return to Essendon's senior list this week and he's a worthy candidate after some excellent VFL form. McKernan has been named in the VFL bests in 5 of his 7 games. He's no slouch in the ruck and he's more than capable of kicking a goal or two. No Bellchambers, no worries. Expect an average between 60 and 70 Fantasy points.
Riley Knight (Fwd/Mid. $120,000, 22 be AF. $124,600 DT) – A midfielder that can run all day who was named as an emergency for the Crows in Round 12. Lucky for us, he's listed as a dual position forward, mid. Furthermore, Phil Walsh appears to rate him (source). The running machine has consistently had 20+ possessions in the SANFL for the past month and his demeanour suggests that he wont hold back when gets an opportunity at AFL level. Another to cop his fair share of vests but at least he's cheap.
Feel free to ask me a question below and don't forget to add me on Twitter @JeppaDT for all things Fantasy and more. Happy trading!