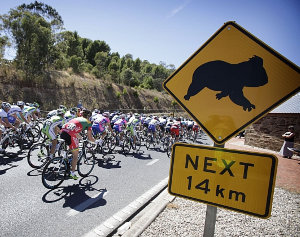 My strategy article has taken a bit longer than expected. But I'm on the ground in Adelaide and have done a lot of research.  Lets get into it.  Lockout is mid morning Tuesday Australian time.
Bonus Points and Sprinters who can climb
Last year Simon Gerrans won by 1 second over Cadel Evans.  This year the race should be tight again.  There are only 6 stages, and 2 hilltop finishes to separate the contenders.
The TDU has an important difference to many other races – riders get bonus seconds for placings in intermediate sprints and at finishes.  So riders after the GC win will have to ride at the front of the peleton, rather than just somewhere in a big bunch that all gets the same time.
So ideally we want riders who are good enough climbers to stay with the lead selection, but still have enough zip to be at the front for intermediate sprints and the final dash to the line.
To Kittel or Not To Kittel
Marcel Kittle is the dominant sprinter in the race, and he has the best leadout train.  If he gets to a finish he should win.
However, last year he won the prologue and then was unsighted after that.  He just couldn't stay with the leaders – sometimes finishing 10 minutes behind.
My feeling is that if he gets dropped, he will stay dropped.  His team won't continually put themselves into the hurt zone this early in the season for a relatively inimportant race.  And no-one else will help them.  It was important to win the prelude for their new sponsors, and for Kittel to show his rivals he is in form.  However, his support teamates were obviously struggling at the end of that race after only a short high speed chase.
If Kittel gets dropped I think a couple of riders will stay with him to keep him safe at the back.  But then Giant will let Tom Domoulin ride for GC/stage wins, rather than try to bring Kittel back.
Game Mechanics
We should be able to pick good squads of riders for this race.  Many of the most expensive riders are not here, so we probably won't need many really cheap riders and can have quite deep squads.
Twelve trades should also be enough as the terrain doesn't change dramatically, until stage 6.  Make sure you save some trades for that final urban crit sprinters race.
Now we have some strategy ideas, let's look at …
The Stages 
Click on the various profiles to make images bigger.
Stage 1 – Tanunda to Campbelltown – 133km
The feature of this stage is the Checkers Hill KOM.  The climb is short but steep – average 9%, peaking at up to 20% near the top.  The peleton will fracture on the climb and the leaders will charge for home from that point.  It is still 28km from the finish, but it is rolling with some tight bends.
In my view Kittel will get dropped on the climb and miss the finish.  He might even be dropped before as 25km/hr crosswinds are forecast.
The first stage is important as the winners also get points for being initial jersey leaders as well.
Stage 2 – Unley to Stirling – 150km
This stage has the same finish as last year – the 3 laps of Stirling with the uphill finish.  The climbs at the start are different and somewhat difficult, but they come so early they are unlikely to be decisive.  We should see a decent break though – taking intermediate KOM and sprint points.
I expect a large group will contest the finish with sprinters who can go uphill taking it out.  Again I doubt Kittel will be there.
Stage 3 – Norwood to Paracombe – 143kms
This is an interesting stage.  We should see a fast pace – sprinters will want to contest the 3 intermediate sprints and teams with GC riders will be trying to keep the break on a tight rein.
Then there is a very steep climb up to Paracombe for the finish – expect GC contenders to come out to play here.  Again Kittel won't be in the finish, and he rarely contests intermediate sprints.
Stage 4 – Glenelg to Mt.Barker – 144kms
This should be a sprint finish and it would be a chance for Kittel to win.  However, the Fleurieu Peninsula stages are often wind effected causing big splits.  A 20km/hr southerly winds is forecast for Friday and my expectations will be there will be wind splits in the peleton and Kittel will be in rear group again.
Expect to see an early break featuring contenders for the KOM, and eventually a large group sprint between those who are alert and organised enough to stay at the front.
Stage 5 – McLaren Vale to Willunga Hill – 152kms
This is the stage where the final GC battle will be played out.  There is a long flat circuit followed by 2 climbs up Willunga Hill.  A breakaway group will pick up the intermediate sprints, but then the final finishing points will all go to GC contenders.
Stage 6 – King William Road Circuit, 90kms.
A city street circuit but more difficult than the prologue.  There is a small hill at the North Adelaide end and a 180 degree bend at the southern end.  So again Kittel might find it tough.  The GC jersey will have been decided, but those in contention for other jerseys should make the race.
Who to Pick
My advice is to avoid Kittel as he won't make many finishes.  Also I would avoid Porte before stage 3 as I don't think he will ride near the front enough to pick up fantasy points for us.
So my suggestions are to start with a team from the following –
Sprinters who can climb
– Heinrich Haussler, Gianni Meersman, Giacomo Nizzolo, JJ Lobato, Neil Van Der Ploeg
All rounders who can get to the line quickly
– Daryl Impey, Nathan Haas
Opportunistic rolleurs
– Tom Domoulin, Mick Rogers.
KOM Contenders and long breakaways
– Adam Hansen, Domenico Pozzovivo, Tiago Merchado, LL Sanchez, Will Clarke
I think Evans and Porte will not come into consideration until Stage 3.
Repeating Links from first article
The link to the game is
The code for the DTTalk ProCycling League is 75482, this is a private league but any number of players can ask to join.
For more information on the Tour Down Under race and stages go to this link
http://www.tourdownunder.com.au/the-race/tour-details/stages
There is also a race tracker app for your mobile so you can keep track of your riders in the race.
http://thetourtracker.com/tour-down-under-race-coverage/
ProCyclingStats.com is the best site to research the abilities and historic performance of various riders in the TDU startlist.  Just click on any riders name and you will see their performance history.
If you have any questions or comments post in the comments below, or contact me on twitter @NixTrader