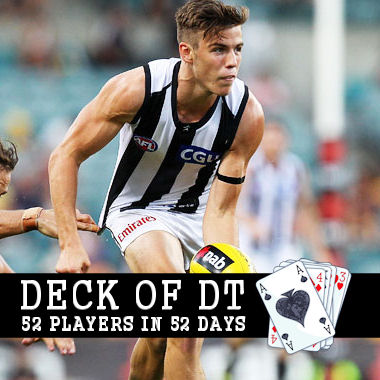 Name: Paul Seedsman
Club: Collingwood
Position: Defender
AFL Fantasy: $352,000
AFL Dream Team: $361,900
Bye Round: 12
2014 Average: 64.1
2014 Games Played: 9
Predicted Average: 80 – 90
Click here for DT Live Profile.
Why should I pick him?
This time last year Seedsman was coming off of a 79 point average, 2nd season which included scores of 143 and 121.
He had shown Collingwood he was exactly what they needed in terms of a rebounding defender to replace Heath Shaw and had locked himself firmly into their best 18 and our Fantasy Backlines.
Then injury hit! But more on that later…
Seedsman has a very Fantasy friendly game, as a rebounding defender he is regularly utilised and highly regarded by the Collingwood players when transitioning from defence to attack. Very skilful by foot, loves to run and carry and features among the top in the team for average meters gained.
When allowed to play this role, his higher scores can be attributed to his preferred kick to handball ratio.
Take a look at the stats for his first 3 games of last year.
Round 11 – 12 kicks, 6 handballs, 73 points (started as sub)
Round 12 – 14 kicks, 4 handballs, 80 points
Round 13 – 13 kicks, 9 handballs, 83 points.
Add in an average of 2.5 tackles per game and we can see a fantasy gun in the making.
Collingwood were already looking for Seedsman to take on the rebounding position left vacant by Shaw last season, but now with Lumumba leaving the need has intensified, so I don't believe Job security will be a massive issue here. Just has to keep his body right.
On that note, coming in from an injury interrupted season last year, Seedsman started his 1st day of preseason before Christmas, joining in the first 2km time trial with the younger players and is looking hungry. Showing no signs of carrying injury.
Seedsman's fantasy potential will only keep growing as his confidence does. He already takes on the play, using his pace at every opportunity, even ranking 3rd in the AFL per average for running bounces last year.
His price may seem like he's in that awkward mid price range, but considering he's priced at 64.1 I'd say he's underpriced right now. If we take out his sub and injury effected games he already should be sitting at a 70 point average.
As a defender I'd already be happy with that as a minimum, but honestly he's locked in my back line already and I'll be expecting 80's and up!
Why shouldn't I pick him?
So here's the part where I start listing the reason's why you wouldn't select Seedsman.
This time last year he suffered an unfortunate hip injury during the preseason which required arthroscopic hip surgery, keeping him sidelined till round 6. He made his return via the VFL but didn't get to play AFL till round 11, though he still scored 73 even with the vest.
He then played till round 18 until suffering an Abductor injury, leading to a week off then another 3 weeks back in the VFL. Making his return once again with the vest in time for the Pies last game of the season.
While that would seem like a horror season by anyones standards, it has unfortunately been the story of Seedsman's AFL career thus far.
A calf injury mid season in 2013 also saw him miss a few games and work back through the VFL. Then in 2012 while finding his feet at AFL level he was concussed and spent 7 games in the VFL midway through the season.
The upside to the injuries (if there is such thing) is that these have all been bad luck/impact type injuries, opposed to the soft tissue types. Meaning that as long as Seedsman's rehab went well then they have a low likelihood reoccurring. Collingwood choosing to ease him back through the VFL after each injury is a positive sign for that.
Another possible downside is that, while his rebounding game is very fantasy friendly, occasionally he is asked to play a lock down role. In these cases his scores has seemed to suffer, most noticeably against Hawthorn last year, where he only managed 43 points while trying to contain Schoenmakers. While we hope that Collingwood just allow Seedsman to play how he's most effective, there is a chance he'll still be asked to play that lock down role on occasion, especially with the next variable in play…
Varcoe. I've never liked Varcoe as a fantasy player on his own (his scores have never been reliable) but now I'm worried about how his presence can impact Seedsman's score. As mentioned before, with the loss of Lumumba, Collingwood will be looking for a replacement run and carry player. While I'd hope they'd use this period to allow Seedsman to develop further into this role, Varcoe already has a lot of experience in this role and they've obviously drafted him for a reason. This will be worth keeping an eye on during the NAB Challenge.
Deck of DT Rating
Jack – Paul Seedsman is just someone who continues to teases us. Hasn't necessarily proved himself yet but has certainly done enough to warrant a spot on our watch lists. This year however is a bit different. With a lack of options in our defence this year I honestly think mid price defenders may be where we could be taking a punt.
Best case scenario is Seedsman has a breakout year and you were on him first while everyone else scurries to trade him in.
Mid range scenario is he averages between 70 – 80, you use his earn cash to upgrade him or he comfortably sits between D4 – D6 bringing you an average score each week.
Worst case scenario is he under performs or is injured and you trade him out…
I'm thinking the risk vs reward on this player is leaning in favour of reward, at this stage he'll be a lock for me.
Loading ...
Any questions or comments? Drop them below or…
FOLLOW ME ON TWITTER:  @Anthonydsmith86 and don't forget to hashtag #DeckofDT