Luke Hodge – Deck of DT 2015
One of the most gladiatorial footballers in the modern era is also a fantasy star. Ben looks at the two-time Norm Smith Medallist today.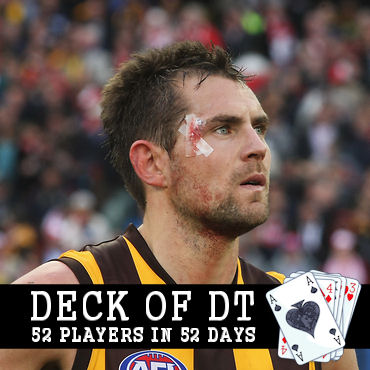 Name: Luke Hodge
Club: Hawthorn
Position: DEF/MID
AFL Fantasy: $555,000
AFL Dream Team: $548,400
Bye Round: 11
2014 Average: 97.1
2014 Games Played: 19
Predicted Average: 92
Click here for DT Live Profile.
Why should I pick him?
One of the most gladiatorial footballers in the modern era is also a fantasy star. Two time Norm Smith medallist Luke Hodge had his third best fantasy season average last year and is now ranked as the most expensive back heading into 2015. Considering that he went above 100 in 47% of his games last year, including 4 scores above the 120 threshold, the 'most expensive' tag is certainly deserved! Couple that with only 2 scores below 70 and you've got numbers consistent with the best fantasy backs of the last decade.
Whilst preseason gospel is notorious for pumping up every players tires, it still came as a welcome relief to see Hodge perform all of the various conditioning exercises to this stage. In an absolute rarity, Luke has managed to avoid post-season surgery which should also be a great help to keeping this warrior on the park. With the Round 12 and 13 byes heavily stocked with backs of interest, Luke's Round 11 bye should prove to be very important to many bye structures. Simply put, Luke will be a top 6 averaging back and paying the top price may well be worth the peace of mind. As the Drawing Board numbers (over on
DT Live
) currently stand, just over 28% agree.
Why shouldn't I pick him?
The reasoning for not picking him is quite simple, injuries. For the past 7 season straight Hodge has not managed to play out a full season, having missed 31 games of H&A football in that time. In 2014 he battled a variety of knee, ankle and sickness complaints and this trend is unlikely to cease anytime soon. Given Luke is now the wrong side of 30, coupled with the fact that he's maintained his brutal style of football  throughout his 261 games, Hodge will miss games in 2015.
As I suggested in the Brendan Whitecross article, there's a lot of competition off that half back line. When considering the depth in that position it's an absolute no-brainer that Luke will be rested this season. How many rests he receives is the big question, but this'll clearly deter many from picking him.
Another issue for many will be the fact that Hodge doesn't have real potential to increase his average from last seasons. He has no upside and in all likelihood, he's going to drop off in his average after such a herculean year in 2014. Whilst you'll still be purchasing a top 6 back, for that price it may be worth waiting for a drop off in price.
Deck of DT Rating
KING. Hodge is a fantasy beast and this season will prove no different. Whilst the price may be steep, at least you can bank on a solid 90+ seasonal average and a fairly consistent production of 100+ scores. Whether you start with Luke or not, he'll come under consideration at some stage during the season. For non-owners it'll be difficult to watch if he gets on a run like he did between Round 14-21 where he smashed a 105 average. Whilst buyers must beware the injury concerns, sometimes playing it too safe can lead to your downfall as well. Back your gut on this one fantasy nuts!
Loading ...
FOLLOW ME ON TWITTER: @b_gogos for all thing AFL Fantasy (and more). Got something to say about the deck? Use the hashtag… #DeckofDT.