Fantasy Good Food Guide
Which teams are pigging out, and which teams are setting up an all-you-can-eat-smorgasbord for their opposition? Find out here. Nix tells you which teams have upcoming bookings at the best nosheries …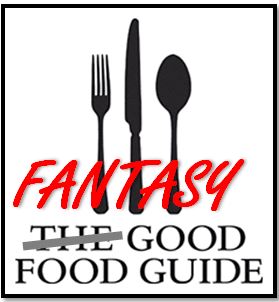 At first I thought a split round was going to be better than a bye round.  But I found it difficult to make good trades with half my players locked up or in an unknown situation.  It's good to be back to normal.
Round Review
It will probably surprise many people with lots of high scores around, but round 18 was the lowest scoring round of the year in terms of total points, although hundreds were a bit higher than the minimum.  There were about 1,000 points less scored than a normal 18 team round of 28,000 points.
In fact it has been quite a while since the last round that was above average.  We're due, hopefully it happens for the finals.
The 2 most surprising individual games came from the 2 normally lowest scoring teams, Brisbane and St.Kilda, smashing the Gold Coast and Freo.  St.Kilda in particular went postal with 10 tons (equal 2nd highest for year) and 1,954 points (5th highest for the year).
Fantasy For and Against Tables
The updated table of average fantasy points scored by each team is below.  I've split the FOR and AGST sides into separate tables this week.
Reminder that the columns headed Ts/Ks is the ratio of individual tons (100s) to team fantasy kilos (1,000s of points), for each team.
I've added a new column "Conc." for concentration.  This is an attempt to measure which teams have the same players scoring hundreds, and which teams have lots of different players scoring hundreds.  It measures the total number of hundreds scored by a team, divided by the number of players who have scored at least 1 hundred in that team.
Some points of interest from the Points For table:
Essendon, Hawthorn and Port remain at the top although all 3 are drifting back closer the following teams.
The next group down to Collingwood are all close together and swap around a bit.  Collingwood is slowly drifting down.
If we ranked it on hundreds Collingwood and North would be green teams, and Hawthorn and North would come out of the top group.
Gold Coast is the teams whose points are most different to their AFL ladder position.
I expect the teams with higher Ts/Ks ratios such as Essendon, Port, Sydney and Collingwood will provide more consistent fantasy premium options because they need less team points to produce tons.  Conversely teams with low ratios such as Melbourne and Gold Coast will be less consistent producers of tons.
Teams with the highest Concentration ratios – Sydney, Essendon, Geelong, Port and Richmond all have several players who are good fantasy options.  Conversely Melbourne, Carlton, St.Kilda, Freo, Brisbane and Hawthorn have the lowest ratios.  This suggests these teams are likely to have only 1 reliable fantasy option, if that.
Now we will look at the Points Against table.
Some points of interest from the Points Against table:
St.Kilda and Brisbane are still at the top as the most generous teams although after last week they have come down a bit.
GWS, West Coast, Melbourne and Collingwood are the next 4.
If we ranked the standings on 100s conceded, instead of points, the standings would be quite different.  GWS and Collingwood would be close to the bottom.  Gold Coast and Freo would be blue sky teams.
 Hawthon and Geelong and Carlton remain the least generous teams.  Essendon had a brief excursion out of the bottom group with some poor games, but have moved back down again after turning their form around.
Teams with high Ts/Ks ratios such as St.Kilda, Brisbane and West Coast will be more consistent in giving up tons, even when these teams play well.  Conversely games against Port, Collingwood, Essendon and Geelong, with the lowest Ts/Ks ratios should be treated with caution.
Do we need a Doggie Bag or a Packed Lunch?
So which premiums should we bring in that will go straight to the head of the table and start carving?  Also which of our non-keeper players with questionable appetites might struggle when faced with a few weeks of slimmer pickings? The following table shows which teams are likely to get extra (or less) points compared to if they played the average team.  I've also added a separate second table to show the likelihood of getting extra 100s.
These tables show all 5 remaining Fantasy games.
Some points of interest:
Adelaide is clear at the top of both tables.
In the points table – the teams presenting the most fantasy opportunity are Adelaide, Richmond, Collingwood, Geelong and Sydney.  Of the high scoring teams Port, Essendon and Freo are lowest.
In the 100s table – the teams with best opportunities are probably Adelaide, Geelong, Collingwood, Richmond and Essendon.  Of the high 100s scoring teams North and Port are the lowest.
These projections are applicable to both AFLFantasy and RDT.  However, Fantasy coaches are more able to take advantage of changing player scoring levels, and subsequent price changes, simply because they have more trades to exploit the situation.
Caution – there is often different selection behaviour in Fantasy Finals.  In previous years we've seen team dynamics take over and influence player selections in the last few fantasy finals rounds, for example:
Teams battling to get into AFL Finals, or a more favourable spot, will be going flat out and play their best team.
But
Teams with a secure spot in the AFL Finals are likely to rest star players.  This tactic appears to have benefited Hawthorn and Freo in past years so we should see it repeated, particularly if playing away and players would have to fly interstate.
Teams lower down ladder and outside of AFL Finals contention will play their kids, send star players for early surgery and give retiring club veterans farewell games.
So in my view the team scoring percentage methodology that is the basis of this article will be more reliable and useful in the rounds leading up to the finals, than in the last few rounds of the fantasy finals.
That's it for this week.  Please make comments below or hit me up on twitter @NixTrader.
Buon appetito