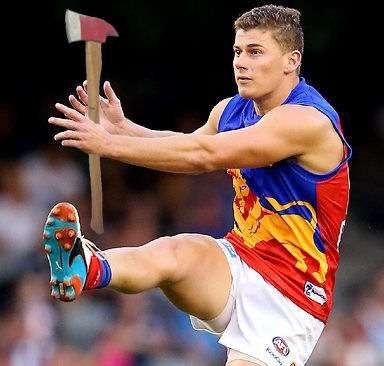 Welcome back to Daniel's Dilemma! Another week, another dilemma and the under performing premiums in our forward line are creating havoc for our fantasy sides this time around.
Coaches were made to wait before they struck gold, with some sides nearly breaking the boundary of 2400. A number we haven't familiarised ourselves with in the last month very often.
Popular midfielder Tom Rockliff busted out the biggest fantasy score of the year, recording 172 points against a rampant Fremantle side. This huge score was nearly backed up by Melbourne midfielder Bernie Vince, who was 3 points shy of Rockliff's effort as North Melbourne dominated their neighbours by 41 points.
Though with the highs came the lows and Kade Simpson was the victim of a brutal Tomas Bugg tag which held the Carlton half-back to only 26 points against GWS. The Giants ended up toppling Carlton in an intense 8 point win, their fourth of the season.
For us AFL Fantasy coaches, the problem lies within the forward line where usual suspects Patrick Dangerfield and Dayne Zorko kept up their horrid form of late, the latter being the target of many trade buttons this week.
In what was a hideous week for the front line troops, we had to shift our attention to the higher ranked Lieutenants, Dustin Martin and Luke Parker who scored 128 and 103 respectively.
The dilemma this week though is what we do with players such as Zorko and Dangerfield? Do we hold strong and try to steady the ship, or will the enemy prove too strong in the war and leave us miserable over the weekend?
To begin the rebuilding stage from the previous round of disappointments, we can positively say that there is light at the end of tunnel and luckily we have a wealth of options at our disposal.
A this point in time, Dayne Zorko sits at $392,564 which means if you have a spare dollar or two, now could be the time to break the bank to improve your squad.
On the other hand, Patrick Dangerfield has lost nearly 37k from his starting value and now is priced at $497,954, which implies that a straight swap to a performing forward premium is definitely and option, though you would make a handy $186,501 if you downgraded to Stefan Martin. 
Another solution could be a possible downgrade to a rookie that has been performing well (as mentioned above), with the idea that we can take this risk in playing a rookie for a week to then upgrade our forward bench players to premiums.
For example, downgrading our underperforming forward line premiums to Stefan Martin or Shane Kersten not only generates a heap of cash but leaves you in a calm state of mind knowing that either or can perform admirably for your team in Round 15.
With this money in the bank, the week after we can upgrade our lacklustre bench players in Ambrose or Rohan to somebody like Robbie Gray which improves our forward line and leaves you looking very sturdy on the bench.
Of course you may not want to, but sticking with these under performing players could potentially be the best option. After a gastro inflicted 14 against North Melbourne in Round 9, Zorko has failed to live up to the hype after a promising start to the year. Bar an impressive score the week after his sickness of 114 (which he owed us anyway), he hasn't turned around his form slump since then. Though, with North Melbourne, Richmond and West Coast the next three games for Brisbane, we may well could see the return of the old Zorko running free through the middle of the ground collecting cheap possessions on the way. This may be unlikely with the time he is spending in the forward line, but it's an option that you should strongly consider. Zorko hasn't scored over 100 in 3 weeks, though this could be a result of the poor form that Brisbane are in of late.
Patrick Dangerfield also has the luck of the Irish in terms of teams he loves to score against coming up. Adelaide have a huge derby against Port this weekend, a game which Dangerfield loves to turn the screws and put on a memorable show in which we've seen in the past. The next fixture for Adelaide is a trip to Spotless Stadium against GWS, where Dangerfield racked up a massive 149 points last time they met, his biggest score thus far. To end the 3 week bracket, the Crows play Hawthorn at Adelaide Oval. Dangerfield has average 102 when playing at home so far this season, but without a ton in 5 consecutive weeks and signs that he could be spending much more time in the front line, the future does not look bright for the fantasy star.
Whether these two stars can turn around their form is unknown, what we do know is that there are other stars racking up huge fantasy scores that must be picked up quick smart, before we miss the boat.
Unfortunately, picking troops to lead the army against the enemy has arisen many predicaments and discussion throughout the DT Talk community. Selecting the most fearful and determined cadet could keep you strong as finals approach rapidly, keeping in mind that a player of any class can drop in form suddenly. This unpredictability is what makes this game great and remaining on your toes is vital to coaching a successful AFL Fantasy side.