Hawks v Dees practice match report
Billy Bass ventured to Casey Fields to see the Hawks absolutely smash the Demons. He took his DT notepad and put together this article for us! Thanks legend!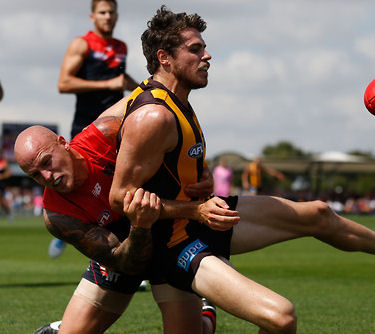 G'day DT Talkers,
This is the first time I've had a go at writing any sort of article so please bear that in mind as you read!
My day started off poorly as the 25-minute drive turned into an hour, thanks to a crash on the freeway, roadworks and the footy traffic. This meant that I missed the first 6 or 7 minutes of the game.
Both teams played a high possession, chip chip style of footy that lends itself nicely to us fantasy players. Both teams were prepared to switch multiple times across half back and the wings to create a loose man that could run and carry. It was a very windy day, making it difficult at times for the players. One thing that I must mention about Hawthorn is their versatility. Aside from a couple of defenders, all players rotated through multiple positions during the game, meaning that no one was out of the action for a long period.
Mitchell (80) did as he pleased all day, both across half back and in the middle. Lock. He, along with Birchall, Hodge, Suckling, Burgoyne and potentially Rioli will all rotate across half back, meaning it will be impossible to predict who may get a forward tag from week to week. Birchall (59) in particular seemed to roam free and racked up plenty of possessions. Suckling (83)was almost unsighted in the first half but got going in the second. I was surprised to see him score so well, which is probably a good thing. Hodge zoned off his opponents all day and picked up a lot of intercept possessions. He's had a full preseason and could be a nice POD.
Gunston (111) played the early part of the game as the main target in the forward line and was the beneficiary of some silver service from the midfielders. He also spent time on a wing, particularly in the last quarter and ran the game out well. It's not out of the question for him to be a top 10 forward this year. His partner in crime, Roughead (164), was everywhere as well. He played the same role as last year with stints as a ruck rover. He is a massive physical presence around the packs. Personally, I will be having one of these boys in my team this year, maybe both by the end of the season.
Mcevoy and Hale rotated between ruck and full forward all day. I just can't see Mcevoy (71) averaging over 90 this year, which is not what you want from your R1. There's also the lingering shadow of the red vest that could come the way of either big man.
Shiels (106) continued his dominant preseason, playing in the midfield all game. At times he looked to be following Vince, but it wasn't a tight tag. If he plays this role and continues to find his own footy, which we know he can, then he will be an inspired pick. Langford (76) played a similar role to Shiels, rotating between mid and half forward, sticking close to Tyson around the packs. He has played 3 full preseason games and I think he is almost locked in for Round 1, meaning he should be locked into our teams.
Wanganeen (57) and Heatherley  (28) both played limited minutes. Heatherley will likely get a couple of games early due to Lake and Shoenmakers being out of the team, but he is a lock down full back and won't score well at all. Don't get sucked in if you see him named. Wanganeen is unlikely to play as Rioli and Burgoyne will both come back in for Round 1.
On the Melbourne side of things, their scores will be quite deceiving due to the margin of the game. The first half was a pretty good contest; it was just that their kicking skills let them down time after time, meaning they couldn't apply any scoreboard pressure. Jones (59), Vince (76), Tyson (64) and Michie (64) were the preferred centre square onballers, with very few stints forward. They were all given light duties in the last quarter, indicating their importance to Melbourne. Tyson and Michie are still locks and Vince might be worth looking at, although he will most likely be the main tagging target.
Watts (59) played all over the ground, mainly as a wingman that drifted back to create a loose man. The closest thing he went near all day was his shadow! He is playing a very fantasy friendly role if you have the guts to go with him. Dunn (59) took the kickouts and zoned off his direct opponent, which I'm sure every opposition coach would be happy to see, as he butchered nearly every possession he had. He is more of a risk than Watts, maybe worth a look in draft leagues. I believe he may actually be keeping Georgiou (19) out of the team come Round 1. We will have to wait and see with that.
Toumpas (40) started like a house on fire and then was barely sighted after quarter time. Grimes (53) played as a lock down defender on Breust, indicating that he doesn't seem to have a lot of fantasy value. Howe was the main forward target and looked lively when the ball was in his area. That will change when Clark, Dawes and Hogan are fit.
Jay Kennedy-Harris (24) only played the second half and barely touched it, mainly because the ball didn't make it forward of centre. His scores will fluctuate with Melbourne's performances and he would only be a F7/8. He also played the VFL game straight after, assuming for some more game time. Georgiou only played the second half as well. He had Gibson in the last quarter, who kicked 2 goals on him in 10 minutes. As I said earlier, I'm not convinced of his spot come Round 1 and he also needs to be elevated from the rookie list. Hopefully he plays and we can stash him at D8. I was unable to confirm whether he suited up for the VFL game.
There were a number of players who were named and either didn't play or played very little minutes – Sewell, Ceglar, Litherland, Wanganeen, Hallahan, Woodward and Viney. Most played the VFL game that followed, but it looks unlikely that any of them are in their teams Round 1 plans.
There you have it. I must say it was strange watching a game of footy without listening to the radio or having the opportunity to check stats. All of my thoughts are exactly that, and I chatted to supporters to gauge their opinions as well.
If you have any questions then chuck them in the comments and I'll do my best to answer them for you. Follow me on twitter @byronrick, I'll share my fantasy thoughts there as well throughout the year.