Power v Saints Trial Game
The Power and Saints finished off their pre-season at Alberton Oval with the Power taking out the game by 9 points. But there was plenty of DT relevant talent on show. Jump on in and have a look at my thoughts from today's trial game.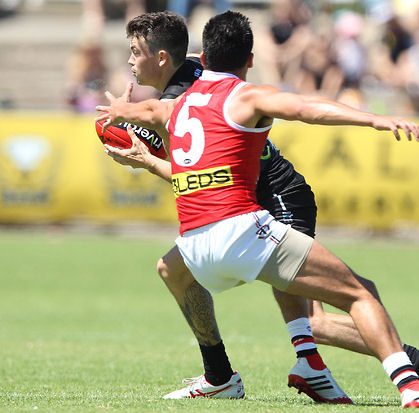 On a picture perfect day in Adelaide I headed down to Alberton Oval to see the Power in their last preseason hit out and also to check out some of these young Saints that I have heard a fair bit about.  There was only a slight breeze and it wouldn't have been anything to worry either team. The Saints got off to a hell of a start, they were all over the Power who, for the third time this season made a very slow start to the game.  The Saints led by 26 at quarter time and Hinkley had to do something fast!  After quarter time the Power lifted and were able to get the margin back to a respectable level of 10 points at the half thanks to some much better work at the centre clearances.  Port lifted another gear in the third quarter to lead by 5 at three quarter time (could have been 11 but a goal as the siren went stopped that).  In the last quarter the Power looked to blow it apart but the Saints pegged things back and left the final margin at 9 points.  The overall feel of the game told me that that was about the right margin as both clubs fought it out to the end.
Port Adelaide
Jared Polec – This guy is exactly what we hoped for pre season, once again he put in a great performance and is a complete lock for your team.  In the first quarter he was sweeping across the last line of defence and then went on to spend time in the midfield and up forward.  So basically he was everywhere.  He racked up 87 AFL Fantasy points from 22 possessions (11k 11h 6m 3t).
Jarman Impey – Played another great game and according to coach Hinkley he may just have played himself into a round 1 spot.  He managed 19 touches (16k 3h) and played predominantly in the backline.  He managed 71 AFL Fantasy points from those touches.  He seemed to get a lot of the ball in open field and ran with it.  He did seem to suffer from the heat a little in the last quarter (it is about 31), but certainly showed why the Power were so keen to get this guy in.  He is a very driven guy who knows what he wants and goes and gets it from what I am hearing.
Tom Clurey – Played across half back and also spent time matched up on Riewoldt.  He did his first round chances no harm whatsoever.  He was solid in defence but I am just not sure how he goes in that team if Trengove and Carlisle are back for round 1.  Hinkley has said that he is a chance for Round 1.  I think he would be a risky pick, but I have been known to be wrong before!  From a fantasy point though he only had 4 touches and 3 marks.  Certainly not enough to fit him into your side.
Matthew Lobbe – Many people are pinning their hopes on the Powers big man this year, and to be honest I was one of them.  I say was because I still don't like what I have seen in the pre-season from him.  Today he didn't take the first tap and spent most of the first quarter up forward and Renouf started in the middle.  Will the Power go with a two ruck setup?  I don't know but if they do then get Lobbe out of your team.  I think I did read that he was in negative territory scoring wise at the half which is not what you want to see from your number one big man.  At centre bounces when he finally got in there he was doing ok, but I wasn't happy.  He had 7 disposals from 20 hit outs.  Probably not enough for a big score.
Chad Wingard – Chad had a very quiet day today, he didn't do a great deal in the first half with only two possessions and finished the day with 16 touches (7 and 9) and 10 contested possessions.  He seemed to be around the ball a lot as I thought he had done more than that, but it wasn't the case.  In the second half he got a bit more of it and kicked a very nice goal in the last quarter.  I don't think it is anything to be worried about.  Interestingly he started across the back of the square for the centre bounces in the first quarter which may have been a plan from Hinkley to give him a bit of a change of to see some other guys in different positions.
Brad Ebert – He had a typical Brad day.  24 touches (14 and 10) and 114 AFL Fantasy Points.  A few times his disposal was lacking and he had the odd fumble or two, but overall I thought his game was up to us high standard.  Not sure he is a value pick in AFL Fantasy, but certainly someone you should have your eye on in a Draft league.
Matt White – Had a solid performance from what I could see but it was only 8 touches.  Very happy with his game and some good run through the middle.  Did come off at three quarter time with a knock to his knee.
St
Kilda
Apologies if I have not put as much into the Saints info as at times it was hard to work out who was who with their white numbers on the red background were sometimes difficult to make out.  I could really only comment on what I saw and hence may have missed a few touches for some guys as I am writing this before official stats are available and only have limited stats from twitter and a match report to go on.
Tom Hickey – As much as Lobbe disappointed me, this guy impressed me.  He was good at the hit outs and gave a good contest and he also got a bit of it around the grounds (I am sure that when the stats come out they will make a liar of me) but I think I saw enough to say that he is a good value pick for you.  Longer was a late withdrawal and this performance only cemented Hickey's spot as the main man at St Kilda.  He is in my team and will be staying there.
Lenny Hayes – With Dal Santo gone from the midfield at St Kilda this year, Lenny had plenty of room to work and did he work!  His clearance work in the first half was fantastic, he got a fair bit of it I thought and was one of the main reasons the Saints got off to a great start.  26 touches and two goals helped there!  Again, I don't know if he provides enough value for an AFL Fantasy team, but certainly in a draft league you should have him high on your draft board.
Jack Billings – He was in the Green vest in the first half (not a good sign to start with!) and came on at half time.  He seemed to get enough of it to be handy and probably is pushing for round 1 selection.  He had a bit of class about him on the few occasions I noticed him.  The main concern that I had was that he was the starting sub.  If he shakes the vest and gets picked for R1 then he is definitely worth a spot in your team.
Jimmy Webster – Was playing in the backlines and once again was handy without being a superstar.  I don't know his stats but I don't know if they were the level we would have been hoping for.  He will play R1 in my opinion so given our lack of rookies he is probably going to be worth a spot in your team.  I would like to see his stats from today before I pass judgment on todays performance.
Luke Dunstan – This is a guy that I think is going to be  great get for the Saints.  He should definitely play round 1.  He had 20 touches, 8 clearances and a goal for a total of 76 Fantasy points.  He looked silky smooth and ready for the big leagues.  He should be a lock in your team.  He certainly will be in mine and I reckon that Jeppa will say the same thing later on this week.
Nick Riewoldt – Kicked 2 goals for the day and spent a lot of time leading up the ground to help out.  Not a spectacular day from Rooey but he did try and get his teammates into the game.  He did have a little scuffle with Tom Clurey in the last quarter which seemed to be a sign of frustration from the Saints big forward.  I am not sure that I am prepared to part with top dollar for him, but I certainly see him coming into my team at some point during the year.
Shane Savage – He also finished the day with two goals and seemed to get a few touches in the middle.  I don't know his official stats at this stage, but I don't know that I saw enough for him to be a selection in my team, but once again I am going off of the amount of time I saw him with the ball in his hands.  Check out the stats when they are available (once again will probably prove me wrong!)
Overall a good performance from the Saints and a little more polish and midfield clearances needed from Port.  If there are any changes needed once I see the stats I will update and let you all know.  Until then though, these are the observations of a me from the boundary line.  Hope that it helps you make your team selections.  Give me a follow on Twitter @pkd73 and I will tweet out when I update for the stats.