Swans v Eagles – NAB Challenge (27th February)
On a wet night on the 27th of February, two half strength AFL teams played each other. It's still only NAB so who cares about the result, how did our potential fantasy players go!?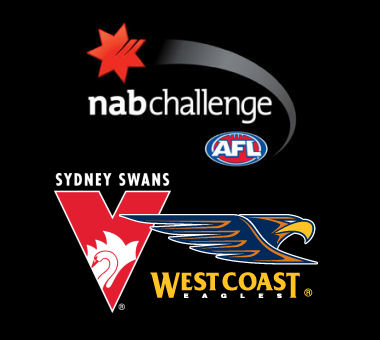 Sydney Swans v West Coast Eagles.
Blacktown. Friday 27th February, 2013.
Click here for AFL Match Centre.
With both teams leaving much of their best 22's out for this game, we had the chance to see the future of both clubs in action.
Promising result for West Coast taking out the win 37 – 72.
With so many players from each team missing and playing during an incredibly wet night, we can't read too much into results as structures and roles will differ.
But lets take a look at the fantasy relevant results. As always I'll include each players score in comparison to their Time On Ground percentage.
WHO FIRED?
Mark Hutchings – ($480,200- MID) Backed up last weeks ton with another. This guy just goes about his business as he pleases with no one paying any attention to him. Will never receive the number one tag, honesty I don't think he'd even be in the top 5 for the tag, but if he keeps flying under opposition clubs radars and producing numbers like these then we may have to seriously consider him! 124 points from 72% TOG!
Andrew Gaff – ($378,700 – MID) Here is a player who I think should seriously be considered. Hampered last year as he found it difficult to break tags. But after another year in the the system he's looking bigger and if he's learnt to shake a tag he could be ready to explode. Has an elite tank which let him run all night. 111 from 76% TOG
Xavier Ellis – ($135,500 – MID) Wore the vest tonight but still managed an impressive 75 points from 67% TOG. Floating around the backs of packs and waiting for the release handball see's him get a lot of the ball. Only concern is if he'll be match fit enough to play a full game by Round 1? Honestly at this stage, after these performances, I'd say he's in the best 22, question is only whether he's wearing a vest or not.
Chris Masten – ($533,400 – MID) Also wore the vest but still knocked out a very respectable 89 points from 65% TOG! Plays a very friendly fantasy game involving a high kick to handball ratio, loves to push forward for a goal and is very rarely tagged. Can't see him averaging under 100 this year.
Gary Rohan – ($138,400 – FWD) 80 points from 83% TOG. Lock him into your fwd line and watch this cash cow fatten! Played well as a second target today, taking advantage of the space that Buddy leaves after leading and drawing multiple players. Finished with 3 of the Swans 5 goals.
Jeremy Laidler – ($135,500 – DEF) Reignited hope for us again tonight as a cheap rookie defender for our benches after last weeks impersonation of 'Where's Wally?'. Here's hoping tonights effort of 75 points from 76 minutes is enough to snag him a round 1 spot!
Harry Cunningham – ($135,500 – MID) Definitely did his chances of 2014 game time no harm with 92 points from 83% TOG. Worked hard all game to cover the ground but most impressive was his 7 tackles. We know that defensive pressure is something that the Swans covet so certainly put his hand up to be noticed tonight.
WHO FALTERED?
Lance Franklin – ($426,500 – FWD) Oh Buddy… only 31 points from 70% TOG. Yes it was wet and opportunity wasn't abundant in the swans forward line tonight. But he was pushed up onto the wing to find the ball and only managed to give away a few head high free kicks while there. Not the greatest debut in the Swans colours. They'll be hoping he can watch the tapes back and learn.
Lewis Roberts-Thomson – ($146,700 – DEF/FWD) It's a bit harsh having LRT in this section as we should never expect great fantasy numbers from the man. But at his price he seems to be tempting quite a few coaches. Keep in mind he's one who is at this price for a reason, that reason being that scores like tonight are an average return. 31 points from 69% TOG
Josh Hill – ($318,400 – FWD) Here's another player who's honestly probably delivered what we'd expect, but i've still seen him sneak into a few teams as a POD. In the 3rd quarter of tonights game, Sydney did not score while West Coast had 10 scoring shots. This would usually be party time for most forwards. Hill finished the game on 22 points from 80% TOG
Luke Parker – ($459,000 – FWD/MID) Didn't 'falter' exactly but finished the game on 26 points from 18% TOG due to an eye injury forcing him to sit the rest of the match out. Haven't heard the extent of the injury yet but if he's named round one then you'd still lock him in.
HONOURABLE MENTIONS
My honourable mentions are players who scored well and should be on your watchlist. Keep an eye on these guys in your Draft Leagues.
Craig Bird $387,300 – FWD/MID (119 points 68% TOG)
Heath Grundy $292,700 – MID (134 points 100% TOG)
Sharrod Wellingham $391,900 – MID (86 points 69% TOG)
Brad Sheppard $274,700 – MID (68 points 66% TOG)
So that's all I have to say on this game. Anything to add feel free to comment below. Anything you disagree with feel free to blast me on twitter! @Anthonydsmith86