Dogs v Dockers – NAB Challenge (26th February)
In a game that should be deleted from the history books, Matt has taken a look at what little we can scrounge from the latest NAB Challenge clash at the Etihad.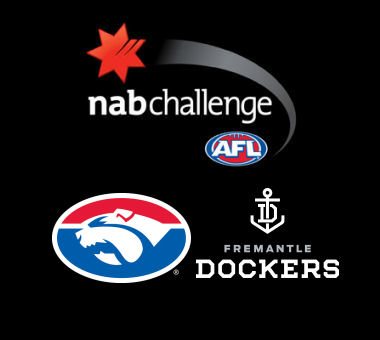 Western Bulldogs v Fremantle Dockers.
Etihad Stadium. Wednesday 26th February, 2013.
Click here for AFL Match Centre.
We're now closing in on the end of pre-season, so team selection is becoming even more vital. Unfortunately Fuller was missing again, so this is concerning. We might have to wait until Jeppa's next rookie wrap for another D8! Fyfe was left out, nothing to worry about there. There was however a couple of new faces that needed to be watched closely. Both squads went in with strong line-ups, so there was plenty to learn.
As I do not believe anyone could stay awake for more than half of that game, I've done the painful research for us. Here are the key players that stood out!
WESTERN BULLDOGS
Honeychurch – I'm left on the fence after his performance. Unfortunately he was subbed in the final quarter, but I saw enough of him to be encouraged. His 10 point first half wasn't great, however he showed some good signs in the third term. I wouldn't be brave enough to start him, however if he gets a run in the Bulldogs final practice match then don't write him off for a position at F8. He ended up with 30 from 40% TOG.
Minson – Wilbur left me a little bit disappointed. After Lobbe's disaster yesterday I had brought in Minson, however he was dominated by a rather large talking point which I will get to soon. Yes it's pre-season and I'm sure Big Will is in for a huge season, however 65 from 77% TOG doesn't match the 490k price tag. He remains a safe, bankable option.
Boyd – 95 from 84% game time, not bad from Boydy but my stance remains the same from last week. Avoid.
Liberatore – He recovered his score in the second half to end up with 87 from 76% game time. I think we will have to get used to his inconsistencies this season. His performance was nothing to scoff at, however his big scores will be matched by some poor ones. To increase his average to above 105 (which would make his value worth it) requires extreme consistency, and at 21 that's a big ask. Very risky.
Jong – Jong will be restricted to a tagging role this season, and that will mean inconsistent scoring. Possibly worth the 155k in RDT if he can get in the first team but you would think Picken has the edge there. 39 from 61% TOG doesn't get me too excited.
Higgins – 58 from 49% TOG, why did this have to happen! I will never even consider him, however if you're willing to take the risk on his brittle body then he showed enough scoring potential to warrant selection.
FREMANTLE
Sandilands – BOOM! Lock him away behind the steel vault, I honestly reckon he has to be in our teams in both formats. However he certainly doesn't have to be starting, he's sitting at R3 for me and I'm happy to have him there. With a lack of ruck rookies he is the perfect cash cow whilst providing great back-up. If he goes down with injury, it's not a massive issue. If you want to start him however, you're playing Russian Roulette with your season. Getting rid of an injured Sandilands for another starting ruck requires 2 trades, plus a lot of time and points lost. Either way his value is too good to ignore, he dominated one of the League's best ruckman in Minson. 122 from 74% TOG says it all.
Barlow – If Hussey can be called Mr Cricket, then Barlow should be called Mr Dream Team. Consistency personified, a safe bet for a solid 105+ average. 93 from just 74% game time was a great hit out.
Pavlich – Quite a few people are rightly considering the Pav after an injury interrupted season last year. He's had a strong pre-season and looks to be in fine form, albeit with some wayward kicking. He scored 95 playing 86% of the game, around the same mark you can expect him to play throughout the season. An option more suited to Fantasy, his 393k price tag makes him a strong contender as a POD in our forward lines. I see no reason he can't return to an average of 90, at least high 80's, even though his best scoring days are behind him.
Duffield – 72 from 88% TOG is not surprising from the Duffman. He will have the same role as he has in past seasons, and I can't see him adding to his average. Avoid.
Walters – A lot of people are considering these midpriced blokes, and fair enough to. Walters score of 105 from 81% TOG showed that he is capable of scoring big enough to warrant his 400k price tag. It's just such a risky pick at that price, and if you go picking too many gambles simply because "We have 44 trades" then I'm not sure you're doing it right, you need to make the most of them! His score was inflated by 4 goals and he will have his down games, just like any small forward. I can't see him reaching the heights of guys like Stokes just yet, so personally I would be avoiding. If you play it safe elsewhere then maybe it's worth the gamble!
Crozier – I think some people have been considering Crozier as a midpriced forward option. You can abruptly stop this consideration as his 24 in 57% TOG shows how up and down he will be, regardless of the talent.
Dawson – Finally, I can confirm to any newcomers that Zac Dawson IS NOT good value at 182k. In fact you could pay me 182k and I still wouldn't start him in my team. Glad to clear that up.
In the best of the rest, Macrae stood out with 30 disposals, 10 marks and 5 tackles leading to 129 points in just 74% TOG. He looked great and will get a run through the midfield this year, but we must remember it's only pre-season. Griffen is still to return and he is only 19, sure he could breakout like Wingard but those talents are few and far between. It all depends what you want him to average, he would be a shout to average 85 and make you 100k, but that next step to premium territory is still a big one. Koby Stevens had a big game with 120 points from just 73% game time, however he showed us last year he's capable of the occasional big score. Consistency is his next step, and that can't be guaranteed. Cooney had a good game but I wouldn't even consider him at over 500k in midfield. Wallis netted a nice 102 from 73% TOG, however I wouldn't be seen dead with a tagger in my team. If he breaks that role then certainly take a closer look, 11 tackles inflated his score. Dahlhaus had yet another good game, finishing with 92 from 73% TOG. Another 20 touches and 6 tackles has him right up the top of my breakout contenders, and at 380k up forward we should at least have him on the watchlist. Mundy strolled around and collected 27 touches and 89 points in 68% game time. Not sure he will lift his average enough to warrant selection.
In other news from the game, you'll be shocked to hear that Gumbleton has once again done his hammy. May this serve as a warning to all Higgins suitors. No other notable injuries were sustained.
There was a lot to learn in the ruck department, however there won't be many big re-shuffles elsewhere. Lyon remains a fantasy wildcard, and without any form of confidence in him I would be getting a 10-foot pole and avoiding most Dockers with it. Keep an eye out for the last few pre-season reviews of NAB's 18 games in 18 days, the boys are doing a great job!