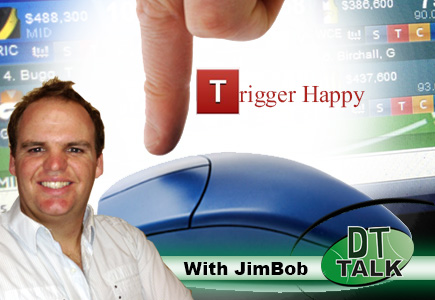 The weeks are getting less and the scores are getting bigger. Finished teams and sideways trading galore. Someone gets suspended? Trade them out. Someone else gets suspended? Trade them out and trade back  in the previous suspended player!
Carnage Watch
Lady Luck was kind to us last week. There were late outs but apart Sam Mitchell, most of the fantasy relevant players  dodged those bullets and there were likely fewer FMDT's were yelled at screens around Australia. We left the cursing to the Australian Cricket team.
This week the teams have once again been kind to us with no major outs apart from injured/suspended players so it's all about strengthening your team if you dodged those bullets. Late outs? well the top 6 teams all have very-to-relatively hard matches so any late outs are likely to be genuine and with Collingwood dropping a game last week, they need a win and % more than Cameron Ling needs a soul, so won't play silly buggers with the team.
Defenders
See ya later Brett Goodes and Pearce Hanley. With a small amount of change both can be turned into any other backman you want.
Trent 'The Cannon' McKenzie $399, 300 b/e 59. Tbetta's boy. Has been super consistent  throughout the season with only 2 scores under 80 ( and his lowest in round 14 – the round I last recommended him). Only owned by 4% of coaches at the moment so also a good POD.  I personally brought him into my team in round 6 as a bridging trade and he's still there.
Ricky 'Dicky' Henderson $391,100 b/e 13 A late season bolter with a role change – battled a vest  or 2 earlier in the season but now has a 3 rd average of 109. Even if you dont keep him long term, he'll make you some cash at least. Buyer beware – playing Freo at Paterson's Lockdown so hope he doesn;t disappoint. Also has fwd DPP and a handy link with Staker.
Richard Tambling – Never thought he would grace my pages – but there you go. At $200k and a b/e of -22 he's a genuine cash cow. Will he keep playing? who knows or cares! makes $34k this week and averages 78 in his 2 games. Another Brandon Ellis?
Blayne Wilson $108,500 b/e -62 – Looks like my boys are going to put the cue in the rack for 2013. Beau Waters has been shipped off for surgery and an early holiday, I don't think we'll see NicNat again, so might be time to consider a rookie Wilson. On the bubble, Wilson looked far from our worst player against the Saints before he was dropped in rd 11 so may get an extended run this season. Absolute gold having a D8 playing.
Midfielders
No significant outs in teams means little trading here. Adam Carter  is the most traded in Mid and like Wilson, may get an extended run in the eagles first team. Jeppa explains it way better than me.
So Carter comes in and the resulting cash gets spent everywhere else but the mids……
Rucks
Like I suggested last week, Naitanui has a nagging groin complaint and has been given the flick this week. I'm not sure how much more we will see of him this year, So I suggest you also give him the flick ASAP. Brodie Grundy ($107,200) plays his 1st game this weekend which may be enough to spend the extra $18k  than an $89k rook. A sideways trade to Ben 'Big Boy' McEvoy ($362,900 b/e 75) wouldn't be the worst trade ever.
Forwards
Bartel out. Stevie J in. simple.
As per usual I will advocate trying to find a way to hold the other JimBob.  Yes he has had a lean patch, but last time he went without a ton in 3 games, he then went to ton up in 4/5 games after. Has scored the 3rd  most points of any forward too. He was due a rest anyway.
Operation #GetStevieJ is getting a bit on the nose now. If we wasn't averaging 120 he may be on a few 'never again' lists. Likely has the record for the 'most trades used on a player' this year!
Nick Riewoldt $466,300 b/e 86  has to be considered if you need to upgrade a forward this week. Second most points and second highest average. Looking ahead, he doesn't go too well against his next 3 though, averaging 68 against Geelong (May have been an injury affected 29 in there),  67 against Brisbane and 88 against Hawthorn (all averages in the last 3 games vs each team). Joe Daniher ($143,200 b/e -52) has finally been picked, but I think everyone has already traded him in…..
Stubby's Holders and Folders
Jimmy Bartel – It's only one week! he would of been rested anyway! – HOLD
Tom Mitchell – in the top 10 traded out? He's great M9 cover! HOLD
 Nic Naitanui – Those 2 dreaded letters "OP" are being bandied round again – in cotton wool for you mate – FOLD 
Brent Macaffer – While i have been advocating he be held the last couple of weeks,  his last 2 rounds of 66 and 48 hasn't really helped my case. A Good trade option if you are trying to  hold Bartel – FOLD
The Ty Vickery Award
The contenders this week…
Jarryd Roughead was a popular in due to playing the bulldogs in Tassie. Some even thought about whacking the C on him. 79 points just didnt cut it. no 100 in 3 games now (close with 96 though)
Nick Malceski – The Eski was a popular in to help strengthen backlines coming off back 2 back 100's. Thought he was going to run riot against the eagles at Paterson's playground, but instead got a leg injury and a frustrating 64.
but the winner is….
It was only a matter of time until this man gets this gong! While Stants didn't exactly stink it up with 80 points, he had big expectation to go big against the young Giants and would of caused a few headaches for coaches if they whacked the C on him! Only his 4th score under 100 for the year so has actually been pretty consistent. I still don't trust him.
Running Review
Another solid week for The Running Man with 2333 and up to 1313 overall. Plenty of POD's coming to the fore with good scores with McKenzie, Masten and Cotchin. This week will be holding Bartel, downgrading Sauce Jacobs to a $89k rookie and using the cash to upgrade Hrovat to Scooter Selwood. Happy to bring him in straight away as he wouldn't of stopped running with his thumb injury so will be up to speed straight away. Liking Pendles as captain this week, but may go to Swan after a couple of Friday night drinks…….
Good luck this week.
Give me a follow on Twitter @jimbobholder