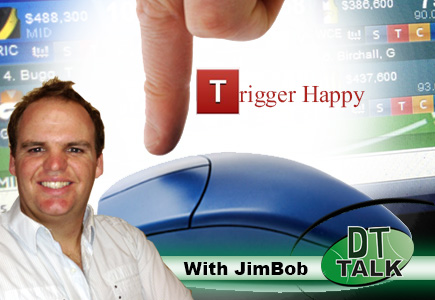 Big week in Trigger Happy land this week, as unlike last year, it's round 15 and the article still has a slither of relevance! God bless you 2 trades per week!
Most coaches have something close to a set team, and now it's about making sure you can maximise points on the field. While this week has been fairly kind to us in terms of players out, I still believe that there will be plenty more carnage in the coming weeks, as teams manage their players towards finals and 2 trades a week just won't cut it. A good example will be my team which I will use as a case study later. Anywho, trades are still gold so make sure they don't go to waste! I still think there is merit on making sure you have a squad of players and some solid bench options on each line who could potentially save your derriere!
Defenders
Plenty of defenders continue to roll out of our teams, but it's more due to a decent downgrade in Mitchell Clisby. Our D6/7's in Vlastuin and Goodes are popular outs while the kid with 2 surnames Jackson Thurlow is the most popular out and my BFF Birchall is still being filtered out of teams. Gibbs and Ibbotson continue to be popular ins – anyone else worth considering?
Hamish Hartlett  $383,000, b/e 70 – As predicted earlier in the season, Port Adelaide player's fantasy scores seem to follow their winning streaks throughout the season. Can they keep it up? HH has averaged 92 in his last 3 and is pretty cheap….
Bob Murphy $429,100 b/e 92 Looks like you can teach this old dog new tricks! Hasn't gone under 75 in his last 7 games and a 3 game average of 97. One player if you dare to be different, or don't take notice of players age when trading (or drafting).
Corey 'Boris' Enright  $440,700 b/e 113 Boris has been sneaky this season. Very sneaky. One of the first backmen picked in past years, many thought his best fantasy days were behind him, but I think not quite yet. Enright has flown somewhat under the radar this year and while his average of 92 is very solid, his consistency rating (CR) of 8.9 is outstanding! It's the best of any defender averaging over 90.
Midfielders
Despite being the largest % of players in our teams, all is pretty quiet in the midfield for once. The joey Brad McKenzie comes streaming into teams to sit on the pine at M10 and Old Man Boyd leaves most teams with the third jaw/cheek injury in as many weeks (Jaws III). Ryan Griffen seems an apt replacement and one of the most popular trades of the week.
Ryan O'Keefe $516,000 b/e 103: 116 over the last 5 rounds? And he has Melbourne and GWS coming up? wowee! averaging 7 tackles a game this season which is fast becoming a important KPI for any DTer in my team. Side not is that GWS didnt let NM get a DT ton last week. A new trend or just a fresh team after the bye? we'll see this week.
Jobe Watson $459,800 b/e 70 – After a few er, lean games, Jobe returned to form last week in emphatic fashion, quicker than you can say boo. Has not had that 'Classic Jobe' consistency this year (18.6) but you get the feeling the more pressure that is put on him, the better he will get. Well priced for what he can give you.
Andrew Gaff $319,b/e 1: Straight out of the bargain bin this one.  Has been a huge disappointment this season in both DT and real AFL but has produced some decent scores in the last 2 games (108 and 97). Averaged 86 last year and many thought he could take the next step. Has recorded a ton on the crows, just don't expect him to lay many tackles, with just 20 for the season.
Rucks 
Coaches are starting to farewell 'The Blitz'. What started as a bit of a giggle of M3 at the start of the season turned into a pretty decent cash cow. A break even of 67 would be touch and go for Blicavs this week, and the inclusion of Dawson Simpson into the team would not help his cause at all. Farewell Blitz, I think we may see you again in a few years.
Jarryd Roughead ($453,800, b/e 72)  has been mentioned in these pages before, but with some question marks over him continuing to dominate. Well he put that to bed over the last month. Hasn't gone below 83 since round 6 and now has the second highest average of any ruckman.
Forwards
Nick Reiwoldt is a surprise out this week, and could catalyze the trend of players getting managed until finals. Perth is the most isolated city in the work after all.  At least the  saints came out and said he was just rested, and didn't make-up an injury like an ankle or something. Stevie J is still a week away and boy how long is a week in football?  If you are looking for an upgrade in the forward line this week, make sure you have Johnson, Bartel , Martin, and Stokes  before considering anyone as they have proven to be the most consistently high-scoring forwards for the season.  Once Reiwoldt is back in next week, it gets pretty slim . A lot of coaches are talking about giving Roy's boy Rockliff the flick , but to who? taking out an inconsistent forward to bring in another inconsistent forward   doesn't seem like a good trade to me . I'm sorry but I just can't bring myself to recommend Colin Sylvia.
Stubby's holders and folders
Brent Macaffer – If Joe Daniher was playing and you wanted to make some cash I would say fair enough, but he isn't. Macaffer has great job security and will be a great F7 for the remainder of the season and with a 5 round average of 81 he is going nowhere in my team – HOLD
Nick Reiwoldt – Has only been rested because the trip is too long! HOLD
Nick Vlastuin and Brett Goodes – Thanks for your services guys, but Mitchell Clisby has more upside. See you a couple of years – FOLD
Shaun Burgoyne – back to his Mr Fix it ways, I knew he was too good to be true – FOLD
The Ty Vickery award
I never thought I would see this bloke in here. Everything pointed to Swanny having a massive game last week but he looked more like a pig than a fantasy pig. Was the 4th most traded in person and a popular captain choice but was just piss-poor timing really. Let's all hope Swanny can bounce back.
Running review
The last week for The Running Man was genuinely horrible. Having to patch up the long-term injuries of Scooter and Birchall, I had no choice but to hold Johnson and Barlow. I was still confident of a good score with McKenzie (D6), Vlastuin (M8) and 'my boy' Ben Kennedy (F6) as my last players on each respective line. Fast forward to Sunday night and I have a paltry score of 1944. Jelwood got tagged out of the game, BK was a sub and Vlaustin was a late out. I was lucky enough to have Hrovat as an emergency for a very valuable 64 points. At least I didn't put Swanny captain. While this can all be put down to mostly bad luck, I still think there is a lot of merit to make sure you always have as many players available all the time and mitigate any damage. With Barlow and Vlastuin missing in the midfield my M10 had to play. If he didn't I wouldn't of even cracked 1900. This week I am looking to bring in Clisby and Stokes for Vlastuin and Staker. As I am bereft of Sydney Swans players I'm not yet sure on my captain choice. Crowley's * job on Jelwod is still haunting me from last week and with Barlow having a game off I'm not too sure. Maybe I just keep calm and lock Swan?
Big week in actual AFL this week and hopefully also turns into big fantasy scores.
Looking forward to meeting a few peeps next Thursday at the live show, come up and say hi and tell me how $hit my trading philosophies are!
Alternatively tell me on twitter  @jimbobholder