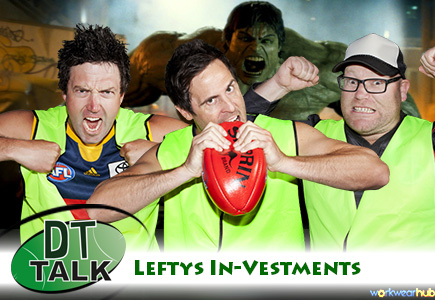 Welcome to Lefty's In-Vestments for round 15, where I will have a crack at picking the dreaded green vests for this weeks games.
And yes I was wrong on my call of Gia as 100% being the green vest. I did take some solace in the fact that they coached so badly Melbourne managed to beat them – playing a defensive game against the Demons?? Really??
I was ok with my effort last week as I picked  6 of the green vesters with my first picks and  2 with my second pick (8/18). I guess I think 50% is pretty good with this segment so I cant be too worried if I am around that number. Those who went Hrovat to Hunter would be filthy…..
There were only 4 late changes on the weekend, with Vlaustin going out the main one of DT relevance. Rumoured injured all week and never likely to play – then why the f#ck name him?
So here we go – Round 15
Adelaide Crows
2013  Subs – Martin, Porplyzia, Vince, Porplyzia, Laird, Wright, Lyons, Porplyzia, Porplyzia, Martin, Porplyzia, Henderson, Wright
Lefty's #1 Sub –Laird
Lefty's #2 Sub – Porpz
Brisbane Lions
2013 Subs – Beams, Karnezis, Polkinghorne, Paparone, Docherty, Green, Black, Mayes, Green, Docherty, Docherty, Harwood, Harwood
Lefty's #1 Sub –Harwood
Lefty's #2 Sub – Mayes
Carlton Blues
2013  Subs – Joseph, McLean, Buckley, Joseph, Betts, Cachia, Cachia, Menzel, Bootsma, Bell, Yarran, Lucas, Yarran,
Lefty's #1 Sub – Yarran
Lefty's #2 Sub – Armfield
Collingwood Magpies
2013  Subs – Dwyer, Seedsman, Fasolo, D. Thomas, Goldsack, Kennedy, Mooney, Kennedy, Kennedy, Didak, Oxley, Oxley, Kennedy
Lefty's #1 Sub –Krak
Lefty's #2 Sub – Kennedy
Essendon Bombers
2013  Subs – Zaharakis, Kommer, Colyer, Winderlich, Myers, Hocking, Lovett-Murray, Howlett, Melksham, Hams , Hams, Merret, Myers,
Lefty's #1 Sub – Hams
Lefty's #2 Sub – Myers
Fremantle Dockers
2013  Subs – Sutcliffe, Sutcliffe, Sutcliffe, Neale, Suban, Sutcliffe, Crozier, Mzungu, Suban, Sutcliffe, Crozier, Crozier, Michie
Lefty's #1 Sub –Sutcliffe
Lefty's #2 Sub – Mzungu
Geelong Cats
2013  Subs – Horlin-Smith, Stokes, Caddy, Caddy, Hunt, Horlin-Smith, Schroder, Hunt, Hunt, Christensen, Duncan, Stringer, Murdoch
Lefty's #1 Sub –Stringer
Lefty's #2 Sub – Murdoch
Gold Coast Suns
2013 Subs – Matera, Brennan, Russell, Russell, Hutchins, Hall, Matera, Russell, Russell, Horsley, Hutchins, Hutchins, Boston
Lefty's #1 Sub – Boston
Lefty's #2 Sub – Russell
GWS Giants
2013 Subs – Adams, Hoskin-Elliot, Reid, Miles, Bugg, Williams, Williams, Shiel, Hampton, Townsend, Whitfield, Williams, Townsend
Lefty's #1 Sub –Whitfield
Lefty's #2 Sub – Townsend
Hawthorn Hawks
2013 Subs – Anderson, Savage, Gunston, Savage, Savage, Simpkin, Simpkin, Puopolo, Duryea, Cheney, Simpkin, Ellis, Simpkin
Lefty's #1 Sub – Simpkin
Lefty's #2 Sub –Puopolo
Melbourne Demons
2013 Subs – Blease, Rodan, Toumpas, Davey, Davey, Kent, Davey, Bail, Bail, Tapscott, Tapscott, Nicholson, Byrnes
Lefty's #1 Sub –Davey
Lefty's #2 Sub –Byrnes
North Melbourne Roos
2013 Subs – Anthony, Jacobs, Wright, Anthony, Anthony, Hine, Wells, Gibson, Wright, Hine, Sierakowski, McKenzie, Macmillan,
Lefty's #1 Sub –Macmillan
Lefty's #2 Sub – Hine
Port Adelaide Power
2013 Subs – Mitchell, Mitchell, Mitchell, Gray, Gray, Stewart, Mitchell , Mitchell, Broadbent, Mitchell, Gray, Pittard, Wines
Lefty's #1 Sub –Neade
Lefty's #2 Sub – Blee
Richmond Tigers
Last  Subs – Nahas, Ellis, Ellis, Ellis, Nahas, White, Foley, White, White, Lonergan, White, White, White
Lefty's #1 Sub –White
Lefty's #2 Sub – Vlastuin
Saint Kilda Saints
2013 Subs -Dennis-Lane, Schneider, Ray, Ross, Saunders, Murdoch, Webster, Siposs, Webster, Webster, Hutchins, Saunders, Webster, Dunnell
Lefty's #1 Sub –Dunnell
Lefty's #2 Sub – Saunders
Sydney Swans
2013 Subs – Armstrong, Bird, Bird, Morton, Jetta, Lamb, Lamb, Bird, Lamb, Mitchell , B Jack, Lamb, X Richards
Lefty's #1 Sub –B Jack
Lefty's #2 Sub – Lamb
West Coast Eagles
2013 Subs – Embley, Dalziell, Cripps, Dalziell, Cripps, Naitanui, Dalziell, Sheppard, Hutchings, Embley, Cripps, Dalziell, Tunbridge,
Lefty's #1 Sub –Dalziell
Lefty's #2 Sub –Cripps
Western Bulldogs
2013 Subs – Smith, Stevens, Smith, Stringer, Macrae, Wallis, Cross, Smith,Gia, Gia, Gia, Gia, Hunter,
Lefty's #1 Sub –Tutt
Lefty's #2 Sub – Gia
So there you have it – my views on the likely vests for round 15 and a list of who has had the vests so far this year
My number one vest pick for the weekend – Freo C Sutcliffe
Good luck – and feel free to tweet me when I get it right/wrong over the weekend
*Next week I will be posting this on Friday as I will be at the Perth Live show at 43 Below on Thursday night- hope to see you there