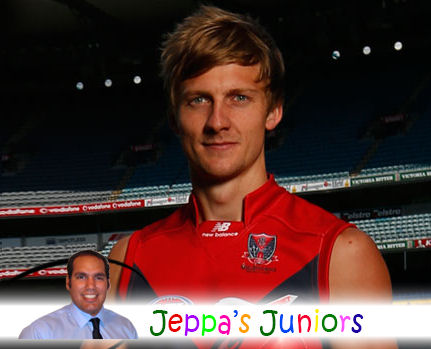 Good quality rooks look to be long gone so it's time to take a couple of calculated risks. At this stage of the season I feel that it is reasonable to sacrifice the last spot in each field position for a rookie that may or may not score well and play regularly. For example, if you have Tommy 'Gun' Mitchell as your M9 then you can take a punt and pick up a Brad McKenzie or Lachie Hunter as your M10. A potential dud at D8, M10, R4 & F8 is low risk with two trades per week so happy downgrading!
Three-Or-More Gamers
KEEPERS
Back to back tons from Dean Terlich (DEF, 112, $380,100 & BE 33) has many coaches reconsidering his position in their backlines. A few weeks ago I was content to leave Terlich as my D7 but in the last few rounds, he's averaged 95 and more importantly, it appears that Neil Craig has given him a licence to push up the ground. Do not hesitate starting Terlich on the field this week and in the short term. Jaeger O'Meara (MID, 100, $421,200 & BE 66) just keeps on keeping on. In Round 14, the young maestro had 14 kicks, 18 handballs, 5 marks and a tackle against the Crows. If you managed to keep O'Meara over the bye rounds, well done.
Tom Mitchell (MID, 89, $288,100 & BE 16) was again named in the bests for the Swans in a wet and slippery contest against the Blues. Mitchell has averaged 103 to date and that is likely to be improved upon given that he faces the Dees, Giants and Eagles over the next three rounds. Mitchell has performed so well that this week, I'll be starting him on my field ahead of Luke Ball! Long term however, Mitchell is my M9.
A surprise performer from the weekend was Brad Crouch (MID, 121, $277,200 & BE -14). His 31 possession (14 contested), 6 mark and 6 tackle game against the Suns saw him earn a rising star nomination and deservedly so. Crouch's recent hunger for the contest and the football will see him increase significantly in value over the next few weeks. Ollie Wines (MID, 108, $332,900 & BE 45) also looks to have found another gear. He started the game in the green vest but came on at the four-minute mark of the second quarter after Cassisi went down with a hamstring injury. Wines scored 108 dreamteam points in less than three quarters and had 61 in the last quarter alone! I'm sure his owners hope he goes on with it.
Other notable performers from Round 14 include Mark Hutchings (MID, 91, $248,800 & BE -13), Luke Brown (DEF, 78, $240,500 & BE 30), Josh Thomas (MID, 93, $371,200 & BE 70) and Sam Dwyer (FWD/MID, 85, $314,500 & BE 74). Hold these blokes if you have them.
DON'T PANIC
Tom Nicholls (RUC, 68, $246,100 & BE 14) had his worst game of the season scoring only 68 but he is still the number one ruckman at the Gold Coast. Stick with Nicholls as your R3 till season's end.
TRADE, TRADE, TRADE            
As per usual, if I haven't categorised a player from Round 14 under 'Keepers' or 'Don't Panic' then trade them out as soon as you can.
Two Gamers
Mitchell Clisby (DEF, 72, $89,300 & BE -84) is my calculated risk this week. Neil Craig showed a lot of faith in Clisby after he gave him the job on the dangerous Dahlhaus. Not only did Clisby keep Dahlhaus quiet, he linked up regularly with teammates and finished with 18 possessions, 5 marks and 3 tackles. Clisby isn't clean by hand or foot but he's a competitor, he works hard and he has earned a spot in the Dees' defence. With reasonable job security and a price tag of only $89,300, Clisby is in my opinion the best downgrade option this week but don't expect an average higher than 68.
After a stellar debut, Lachlan Hunter (MID, 19, $102,700 & BE -39) was very unlucky to receive the green vest last weekend. He came on just before three quarter time and played a part in the Bulldogs' 9 goal last quarter against the Dees. With Daniel Cross out of favour, Brendan McCartney looks to be adopting a strong youth policy so I think it's fair to assume that Hunter will play most of the remaining games this year. Another vest affected two gamer is Brad McKenzie (MID, 82, $108,500 & BE -66). After a green vest in his first game, McKenzie was given a full run against the Giants playing on a wing. He's got great skills, runs hard and makes good decisions but North's midfield depth is up there with the best. McKenzie is competing with players like Ben Cunnington, Ben Jacobs, etc. who will work their way back to senior football at some point. On a positive note, McKenzie looks like he can score big so trading him in this week could pay nice dividends. If you had to pick between Hunter and McKenzie, I'd lean towards picking Hunter…job security has to outweigh any scoring potential.
Dawson Simpson (RUC, 96, $175,200 & BE -40) was a force in the ruck against Freo and he should hold his spot this Saturday night against the Hawks. Simpson had 6 kicks, 7 handballs, 6 marks, 3 tackles, 34 hitouts and a goal but its his strength and ferocity at the contest that is most pleasing. Geelong has a ruck conundrum at the selection table this week with Simpson, West, Blicavs and Vardy all available for selection. Personally, I think Geelong will go with Simpson, Blicavs and Vardy this weekend but after that who knows. I don't think it is wise spending $175,200 on an injury prone ruckman with job security issues so It's a pass from me on Simpson.
Brandon Jack (MID, 40, $89,300 & BE -11) has a heap of potential and I have no doubt that he'll be a great player in years to come. He's been in and out of the team to date so it would be foolish to trade him in considering the calibre of the Swans midfield. Matthew Taberner (FWD, 44, $107,300 & BE -17) will be dropped for Pav this week so don't bother.
Don't forget about Joe Daniher (FWD, 44, $143,200 & BE -52) who could make a return this weekend after Bellchambers' poor showing against West Coast. I've spoken about him before and I rate him as a player but who knows when he's going to be protected/rested/managed next? When in doubt, look elsewhere.
One Gamers
There were seven first gamers in Round 14 and none of them took my fancy. Matthew Arnot (MID, 56 & $108,500) is the most likely of the seven but he was a late inclusion for popular 2013 'junior' Nick Vlastuin. Arnot is a solidly built, in and under type who has been biding his time in the VFL. From his 8 VFL games this year, Arnot has been named in the bests five times and averaged 12 kicks, 10 handballs, 4.5 marks, 5 tackles and 0.8 goals a game. Arnot could be a very handy back up midfielder but Richmond has a lot of midfield depth and I can't see him breaking into the 22 on a regular basis. Let's see if he gets another game this weekend.
Dockers' pair Tom Sheridan (MID, 64 & $108,500) and Viv Michie (FWD, 49 & $108,500) were given a chance to shine against the Cats with Michie starting in the green vest. Sheridan played on a wing for the majority of the game and didn't do too badly with 15 touches, 1 mark, 4 tackles and a goal. Michie came on just before half time when Duffield did a calf and was very hard at the footy. Michie left everything out on the field and finished with 49 dreamteam points in just over a half of footy which is a fantastic effort. There's a lot of potential in Sheridan and Michie but with Barlow and Mundy set to return this week (source), Ross Lyon will likely cut both.
John Ceglar (RUC, 66 & $99,300) was picked ahead of fellow rook Sam Grimley in Round 14 after a good month in the VFL. Even though Ceglar played a reasonable game (7 kicks, 2 handballs, 2 marks, 3 tackles and 22 hitouts), Max Bailey is available for selection this week after overcoming his recent bout of knee soreness (source). If you are looking to downgrade Blicavs this week may I recommend a left field suggestion in Liam McBean (FWD/RUC & $102,700) who you can sit at R4 and interchange with Cox, Roughy etc in your forward line when need be. Please note that McBean is very unlikely to see any senior action this year!
Andrew Boston (MID, 7 & $89,300), Simon Tunbridge (DEF/FWD, 6 & $108,500) & Xavier Richards (DEF/FWD, 3 & $89,300) received minimal playing time after they all started in the green vest and played no more than a quarter of footy. Don't be foolish and trade these kids in this week without seeing them in action for a full game.
Keep Your Eye On
Jonathan O'Rourke has played 4 consecutive games in the NEAFL and was BOG last weekend so expect him to see some AFL action soon. O'Rourke comes with a hefty price tag ($179,200) but there are limited rooks about that can rack up the footy like this kid. I eagerly await his debut!
Got a question? Ask me on Twitter @JeppaDT