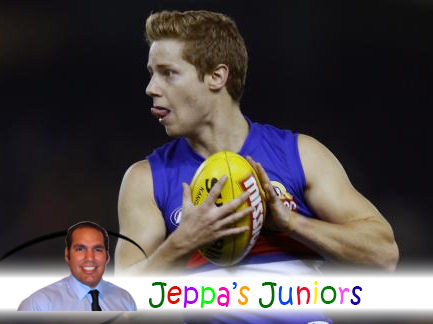 Round 14 was supposed to be the week where we were going to rely on very few rookies but unfortunately the DT Gods didn't get the memo. As it stands Stevie J, Scooter Selwood and Grant Birchall are confirmed outs with Brett Goodes, Nick Vlastuin and Michael Barlow all in serious doubt. Yep, FMDT.
Let this week's carnage remind us that we need to continue to trade in rookies with respectable job security and great scoring output. All players traded in from this point onwards will likely remain till season end so choose wisely!
Three-Or-More Gamers
KEEPERS
Not a lot of excitement from the three or more gamers in Round 13. Dean Terlich (DEF, 100, $357,400 & BE 56) was the only rook to hit the ton and he looks to be given the licence to push well up the ground. Terlich has had 20+ possessions in his last three games and in my opinion, he'll be a very valuable D7 in the second half of the season. Tom Mitchell (MID, 81, $214,800 & BE -88) had his lowest score but an 81 is nothing to quiver about. There's no doubt that Mitchell has asserted himself on a half forward flank for the Swans but it's ludicrous to expect 100+ scores from him every week…he's a future M9, plain and simple.
Mark Blicavs (RUC/MID, 84, $309,100 & BE 20), Michael Talia (DEF, 69, $260,400 & BE -8), Brent Staker (DEF/FWD, 65, $207,100 & BE 33) and Jackson Macrae (MID, 76, $313,900 & BE 40) are playing well and earning decent coin so hold on to these rooks for now.
DON'T PANIC
Brett Goodes (DEF/MID, 58, $338,600 & BE 78) and Nick Vlastuin (DEF/MID, 32, $357,700 & BE 116) screwed us good and proper in Round 13 with their mediocre scores but in their defence, both received knocks to the wrist and shin respectively that hampered their performances. Due to a poor bank balance, I will be upgrading one of these DPP defenders to Bryce Gibbs this week and since Goodes has a lower breakeven, I'll be parting ways with Vlastuin. Ideally, I'd like to keep both rooks as my midfield and defender reserves for a few more weeks yet so if you cant trade them out this round then don't panic, you'll just lose a little money.
Less popular rooks that are scoring reasonably well and still have decent breakevens include Jimmy Toumpas (MID, 75, $163,300 & BE -24), Dane Rampe (MID, 65, $253,800 & BE 25) and Jake Stringer (FWD, 50, $212,000 & BE -10). Don't trade out these guys just yet but make sure they're on your bench and not on your field.
TRADE, TRADE, TRADE            
As per usual, if I haven't categorised a player from Round 13 under 'Keepers' or 'Don't Panic' then trade them out as soon as you can.
Special mention to Nathan Hrovat (MID, 15, $141,300 & BE 23) who had the opportunity to make his mark at AFL level but failed dismally. Not only did Hrovat struggle to find the footy last weekend, every time he got his hands on it, he more often than not turned it over. Mitch Wallis will likely replace Hrovat in the seniors this week.
Two Gamers
With Shannon Hurn out with injury for potentially the rest of the season, Blayne Wilson (DEF, 48, $108,500 & BE -63) is likely to be a permanent part of the Eagles back six. Wilson was reasonable against Hawthorn last Friday night but there's obvious room for improvement. He only had 8 kicks, 7 handballs and 3 marks and at times panicked in the one on ones. I doubt Wilson will be a big dreamteam scorer. In his two AFL games thus far, he's only had the one tackle and looking at his WAFL stats this year, he's averaging 1.13 tackles per game! With a couple of decent first gamers making their mark in Round 13 and this week's injury crisis looming large, it looks like I'll be passing on downgrading to Wilson. If you are in a better position than me, rest assured that Wilson will be a decent D8 but I predict an average of only 63.
Under no circumstances are you to trade in David Astbury (DEF, 19, $144,300 & BE 52)! Astbury doesn't win a lot of the footy and he's been subbed off in both of his games this year. If you need a defender downgrade then look to Wilson or Clisby.
One Gamers
Lachlan Hunter (MID, 86 & $102,700) appears to be the most promising of the newest crop of 'juniors' coming through. Hunter's got the footy smarts…he knows where to run, how to crumb and most importantly he makes very good decisions on the field. He received praise from his coach (source) after finishing with 19 possessions, 5 marks, 3 tackles and 1 goal playing between the forward pocket and half forward. I suspect that Hunter will score better against the Dees this weekend so hold no fear if you want to jump on early. He's the rookie pick of the week!
Mitchell Clisby (DEF, 70 & $89,300) is a mature age defender from North Adelaide who loves to run and carry the football. Neil Craig appears to be a fan of Clisby and so am I. He had 12 kicks, 12 handballs, 3 marks and 1 tackle in the game against the Saints and more importantly was named in the Dees best players! I liked the way he backed himself when he had the footy in his hands as well as his gut running to space when he didn't have the pill. Clisby is a rookie listed player and thus comes at the basement bargain price of $89,300 but I'd wait and see what he produces this weekend before trading him in.
Brad McKenzie (MID, 54 & $108,500) was a late replacement for Ben Cunnington in the game against the Dockers and he surprised many after scoring a massive 54 dreamteam points in a quarter and a bit of football. The 18th pick in the 2011 draft did enough to suggest that he'll get another game this weekend so we've just got to wait and see what he produces from a full game before making a decision. Please keep in mind that the Kangaroos have a strong midfield thus McKenzie's job security will always be a problem and he is the perfect green vest candidate.
Aside from playing on in the dying stages of the thriller up at the GABBA, Dawson Simpson (RUC, 57 & $175,200) played a pretty good game. He was fierce in the ruck and kept Luey relatively quiet up until the last quarter. Like McKenzie, Simpson was a late replacement for Nathan Vardy and in my opinion is third in line for the number one ruck position at Geelong. His hefty price tag is another negative and I seriously doubt that he'll get a spot in my team this year. Lastly, Matthew Taberner (FWD, 42 & $107,300) won't be sticking around in the Dockers' senior side much longer with Pav likely to return in Round 15 so stay well away from him.
Bye Round 'Sleepers'
Joe Daniher (FWD, $143,200 & BE -52) looks set for the biggest challenge of his short career this Thursday night against West Coast. Mitch Brown will probably go to him and I'll back Daniher to win most contests when he's on the move…if it's a body on body situation, Brown will come out on top. It's a big game for Daniher because if he plays well then I see him playing out the season but if he plays poorly he'll be working on his game in the VFL. I can't bring myself to trade Daniher as young key forwards have burnt me in the past, instead I'll stick with Westhoff and Staker as my forward reserves and look to downgrade elsewhere.
Jaeger O'Meara (MID, $408,100 & BE 66), Tom Nicholls (RUC, $189,400 & BE -69), Brent Macaffer (FWD, $369,300 & BE 77), Jaryd Cachia (MID, $298,500 & BE 38), Josh Thomas (MID, $347,500 & BE 34), Ben Kennedy (FWD/MID, $237,700 & BE 13), Kyle Martin (MID, $186,000 & BE -56) and Tim Sumner (FWD, $134,400 & BE -17) should all return to action this weekend and continue on from their recent good form.
Got a question? Ask me on Twitter @JeppaDT