Leftys In-Vestments Round 13 – Carnage Tre
Lefty is here to do what he does best… pick the guys who will be in the green vest! He finished with 8 out of 12 picks last week. Read on for his Rd 13 wisdom.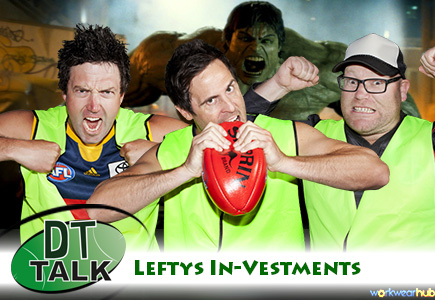 Welcome to Lefty's In-Vestments for round 13, where once again I will have a crack at picking the dreaded green vests for this weeks games. I was really happy with my effort last week as I picked 5 of the green vesters with my first picks and 3 with my second picks (8/12). Ellis owners would have been happy with his dodge of the green vest and he seems to be safe from the kermit suit…for now.
Like every Thursday night I have assessed the team line ups, looked at the previous green vests for each team, and tried to work out the most likely starting sub candidates.
So here we go – Round 13 (and the last of these bloody MBR's thank god)
Adelaide Crows
2013  Subs – Martin, Porplyzia, Vince, Porplyzia, Laird, Wright, Lyons, Porplyzia, Porplyzia,Martin, Porplyzia, Henderson
Lefty's #1 Sub – Bye
Lefty's #2 Sub –
Brisbane Lions
2013 Subs – Beams, Karnezis, Polkinghorne, Paparone, Docherty, Green, Black, Mayes, Green, Docherty, Docherty
Lefty's #1 Sub – Docherty
Lefty's #2 Sub – Polkinghorne
Carlton Blues
2013  Subs – Joseph, McLean, Buckley, Joseph, Betts, Cachia, Cachia, Menzel, Bootsma, Bell, Yarran, Lucas
Lefty's #1 Sub – Bye
Lefty's #2 Sub –
Collingwood Magpies
2013  Subs – Dwyer, Seedsman, Fasolo, D. Thomas, Goldsack, Kennedy, Mooney, Kennedy, Kennedy, Didak, Oxley, Oxley
Lefty's #1 Sub –Bye
Lefty's #2 Sub –
Essendon Bombers
2013  Subs – Zaharakis, Kommer, Colyer, Winderlich, Myers, Hocking, Lovett-Murray, Howlett, Melksham, Hams , Hams, Merret
Lefty's #1 Sub –Bye
Lefty's #2 Sub –
Fremantle Dockers
2013  Subs – Sutcliffe, Sutcliffe, Sutcliffe, Neale, Suban, Sutcliffe, Crozier, Mzungu, Suban, Sutcliffe, Crozier
Lefty's #1 Sub –Crozier
Lefty's #2 Sub – Suban
Geelong Cats
2013  Subs – Horlin-Smith, Stokes, Caddy, Caddy, Hunt, Horlin-Smith, Schroder, Hunt, Hunt, Christensen, Duncan
Lefty's #1 Sub – Caddy
Lefty's #2 Sub – Hunt
Gold Coast Suns
2013 Subs – Matera, Brennan, Russell, Russell, Hutchins, Hall, Matera, Russell, Russell, Horsley, Hutchins, Hutchins
Lefty's #1 Sub – Bye
Lefty's #2 Sub –
GWS Giants
2013 Subs – Adams, Hoskin-Elliot, Reid, Miles, Bugg, Williams, Williams, Shiel, Hampton, Townsend, Whitfield, Williams
Lefty's #1 Sub – Bye
Lefty's #2 Sub –
Hawthorn Hawks
2013 Subs – Anderson, Savage, Gunston, Savage, Savage, Simpkin, Simpkin, Puopolo, Duryea, Cheney, Simpkin
Lefty's #1 Sub –Savage
Lefty's #2 Sub – Simpkin
Melbourne Demons
2013 Subs – Blease, Rodan, Toumpas, Davey, Davey, Kent, Davey, Bail, Bail, Tapscott, Tapscott
Lefty's #1 Sub – Clisby
Lefty's #2 Sub –Toumpas
North Melbourne Roos
2013 Subs – Anthony, Jacobs, Wright, Anthony, Anthony, Hine, Wells, Gibson, Wright, Hine, Sierakowski
Lefty's #1 Sub – Anthony
Lefty's #2 Sub – Wright
Port Adelaide Power
2013 Subs – Mitchell, Mitchell, Mitchell, Gray, Gray, Stewart, Mitchell , Mitchell, Broadbent, Mitchell, Gray
Lefty's #1 Sub – Gray
Lefty's #2 Sub – Pittard
Richmond Tigers
Last  Subs – Nahas, Ellis, Ellis, Ellis, Nahas, White, Foley, White, White, Lonergan, White
Lefty's #1 Sub – White
Lefty's #2 Sub – Conca
Saint Kilda Saints
2013 Subs -Dennis-Lane, Schneider, Ray, Ross, Saunders, Murdoch, Webster, Siposs, Webster, Webster, Hutchins, Saunders
Lefty's #1 Sub –Webster
Lefty's #2 Sub – Simpkin
Sydney Swans
2013 Subs – Armstrong, Bird, Bird, Morton, Jetta, Lamb, Lamb, Bird, Lamb, Mitchell , B Jack
Lefty's #1 Sub –Lamb
Lefty's #2 Sub – Morton
West Coast Eagles
2013 Subs – Embley, Dalziell, Cripps, Dalziell, Cripps, Naitanui, Dalziell, Sheppard, Hutchings, Embley, Cripps
Lefty's #1 Sub – Dalziell
Lefty's #2 Sub – McGinnity
Western Bulldogs
2013 Subs – Smith, Stevens, Smith, Stringer, Macrae, Wallis, Cross, Smith,Gia, Gia, Gia
Lefty's #1 Sub –Hunter
Lefty's #2 Sub – Hrovat
So there you have it – my views on the likely vests for round 13 and a list of who has had the vests so far this year
My number one vest pick for the weekend – Western Bulldogs L Hunter
Good luck – and feel free to tweet me when I get it right/wrong over the weekend