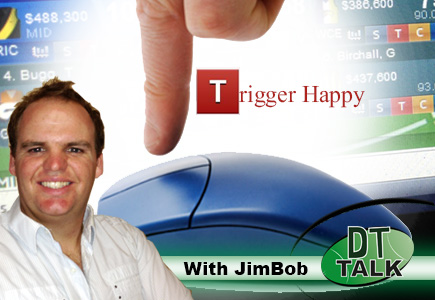 Well the bye rounds are finally here and for one I am not pushing the panic button just yet. The teams have been fairly kind to us and we should all have the magical 18 players on the park.
Multi bye rounds
I thought I would go a bit unique this week and discuss something that hasn't been talked about much…..it's these things called the 'multi bye rounds'
New rules from last year means  means we can throw last years strategy out with Beau Waters as 'Never Again', so while it's going to be a dam sight easier to have a competitive team on the park,it's still going to be somewhat of a learning curve and we hope that we have similar rules for DT next year (unlike the AFL).
Anywho, last week I made up this nifty little bye management spreadsheet to help me visualise my team each week over the next 3 rounds. It's pretty simple really. Any player you trade in or out this week, just replace them in rd 12 and 13 and see how it impacts on your team. It has absolutely no Rocket Science involved, but colour coding each player in to their respective bye round really helped me see how a trade this week will impact my team afterwards. As for many, my problems lie in round 13 so making sure I had a chance to get 18 on the park was pretty crucial and at this stage, with a bit of luck, I might be able to pull it off- just. In case you're wondering yes, it's my exact team and strategy for the next 3 weeks! If you are a visual person like me, I hope it can help you out.
Defenders
Well there is very little to talk about in regards to defenders this week. While there are plenty of popular defenders out such as  Ibbotson, Hanley and Duffield, none are worth sideways trading out to fill a whole for a week, as they become a problems in the next 2 weeks. . In fact, the only defender that's in the top 10 traded in or out this week is Bryce Gibbs($409,300 b/e 93) with coaches jumping on at his bottomed out price. We all know his scoring potential and can utilise his DPP during the next 2 weeks so a great move. Still be aware of the aaaalllll other round 13 players as I am trying to get them out of my team, not bring them in.
Midfielders
Interestingly, 80% of the top 10 players traded in this week have rd 13 byes! Be careful it's not a band-aid solution! I can't fault bringing in players like Swan, Stanton or Ball but just make sure you have a even spread of players and are not counting the donuts in rd 13!
Tom Mitchell ($108,500) Well this Cygnet lived up to his hype! even with a green vest he almost managed to crack the ton in his first game! unsurprisingly, he's the most traded in player this week. This is a good trade on so many levels. 1 – he has a handy rd 12 bye and will be playing in rd 13 (hopefully) and is 2- likely to make you a heap of cash from a maxed out Wines, Jones or Evans,  which can allow genuine upgrades next week. 3 – he keeps the cash generation ticking along nicely to be able to finish off your team after the byes. Get him in, and get him in NOW.
If you are looking to upgrade and have a plethora of rd 13 players a couple of rd 12 bye players like Kieren Jack ($521,800, b/e 134), Scott Selwood ($491,200, b/e 100) and Chris Masten ($504,300 b/e 91) have all been talked up in here before and are still really good options for long term prospects in the midfield.
Rucks 
Mark Blicavs –  YOU HAD ONE JOB. Play round 11. That's all we wanted. It's even more cruel as you were just starting to hit form….
Fortunately we have a saviour in the form of sun Tom Nicholls (108,500) who made his debut last week and scored a very handy 76 points. and looks a good replacement for the injured Leuenberger. Now this could be a good band-aid trade as it wouldn't matter too much if he didn't play after the byes, he can just rot at R4. At least his did his job.
Matthew Kreuzer ($353,500 b/e 26) This bloke just won't go away! The Kreuz is an ideal swap for Leuey, and is coming off a 119 last week. Kreuz  played ruck and foward, but was pleasing to see 8 tackles next to his name. which is always encouraging for consistent scores. Once again a rd 13 bye so beware!
Forwards 
Jimmy Barrrrtel ($499,000 b/e 90) Bartel is starting to come good on what we all originally picked him for! That's dominate in our forward line! has a 5 round average of 113 and has started to get his points a bit more even throughout the game, rather than the 'junktime Jimmy' that was around at the start of the season – it's a lot less stressful to watch! While I have been harping on about the danger of trading in round 13 players, it has to be noted that rd 12 players are very popular in the forward line so just make sure of the spread if you have one/all of Johnson, JJK, Stokes, Cox, NicNat, Reiwoldt and Goodes. On the plus side, he has DPP so if you can find a way to swing him into the mids, then you should be cherry ripe.
Ben Kennedy ($153, 500 b/e -22)  'BK' finally got rid of the vest last weekend and rewarded his owners with an 87 point game. If only I had him on the field. Hopefully the performance willmean bucks will give him an extended run now! BK is a genuine band aid solution if you need a forward to play for 2 weeks and flick him before his bye in rd 13 for the likes of Neade, Mayes or Dwyer. Has DPP to the mids so you may be able to hold him. Always good to keep the cash generation going too.
Stubby's Holders and Folders
Rockliff – Has been confirmed he will be back next week against the Dockers so don;t hit the panic button just yet! HOLD
Evans – The young demon has maxed out and if you are in a luxurious position to have a 18+ squad this week, then culling him for someone like Mitchell or Hrovat (if you want to know why you would trade in a player who isn't playing, read the bullets ) – FOLD
Dwyer, Viney, Mayes and Neade – you need people playing over the next 3 weeks. some/all of these players aren't guaranteed to get a game soon so will effectively have multi-bye rounds – get rid of them! – FOLD
Franklin – 'Cloke V.2013′ can't even beat up on the little kids! Whats Roughead and Breust doing stealing all his goals? We didn't pick you to be a team player! Get selfish! a super luxurious trade if you can afford it  – FOLD 
The Ty Vickery Award
The condenders…..
Pearce Hanley – Was in some hot form on a wing and got a tag from Macaffer and spudded it up quicker than you can say 'potatoes'. Has a week to think about what he has done. Hopefully just a blip on the radar but lets hope it doesn't have the same effect as it did to Birchall
but the winner is…..
 Bloody Buddy. Was bought in to pick on the little kids of  GWS and Melbourne and somewhat failed. Only some junk time against GC gave him a respectable score. Surely he will come good after the bye? won't he? At least he is cheap so the level of risk is a bit lower. I for one am staying well away until i see a double ton.
Running Review
A Solid week of 2079 last week despite a Stevie J captaining blunder and players like Murphy, Staker and Motlop performing less than desirable. Back into the top 3000 so it's not all bad. Am quietly confident about the bye rounds as I hope I can make some ground up on the leaders with a full team each week, while upgrading some mid price players as I go. Evans and Lonergan depart my team and I welcome in Mitchell and Hrovat with $391k in the war chest. Locking in GAJ with the C.
How's your team looking for the bye rounds? have you got a plan of attack?
Discuss it all below!
As always give me a follow on Twitter @jimbobholder