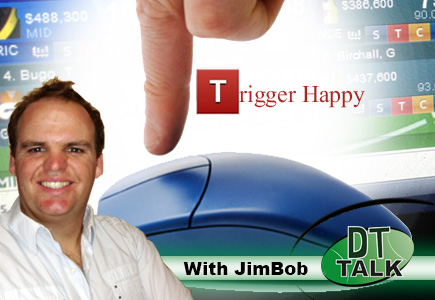 Just when you thought 2013 was going to be better than 2012 – think again.
The Carnage begins……..
Last week, we could afford rather luxurious trades like ditching a rookie because another one was projected to make $2000 more, or that under-performing gun who hadn't yet delivered back to back 100's. Oh how long a week in football is. Round 3 brought us injuries to popular players like Kreuzer, Patton, Varcoe and er, Dixon, while our rookies rewarded us by getting suspended (Kommer) or relegated back to the  rookie list (Mitchell). It's not the most ridiculous thing to think someone out there could of had all 6 players. What's that? Whispers of Pendlebury and Cox not training? How many trades to we have again? Lets try and dissect this mess and see if we can come out the other side in tact.
Defenders:
All is quiet down back. Our guns are performing in general, our rookie backs are playing AND not getting injured. A score over 50 this week would be nice, but hey we have more ( and bigger) fish to fry. If you are like me, you would have that many bigger fish to fry, you could open up your own fish n chip shop. If you have the luxury of looking to get in a value back, you may want to consider –
Grant Birchall $480,700 b/e 57:  Looks like Bert can live without Ernie.  Birchall is currently the highest point scoring and averaging back. In the pre-season, coaches were worried that Birch would get even more attention with Suckling out and articles like this  floating around didn't help.  So far we haven't seen anything but his silky left foot disposal and a few goals on his way to a 109.6 average  Historically a consistent scorer, make sure you get him in sooner rather than later as he is a guaranteed top 6 defender.
Danyle Pearce $396,800 b/e 64* Looks like a change is as good as a holiday. Pearce has promised so much but has never quite delivered on his talent, but now could be his time. Looks to have some freedom on a back flank on Paterson's playground, Pearce has already eclipsed his highest season average (in 2007)  by 10 points per game. Yes it's early days, but I don't think it would be your worse trade this year.* Don't forget –  still coached by Ross Lyon
Hamish Hartlett $420,600, b/e 106 Is a likely top 10 back if his body holds up. A bit yo-yo like so far with 2 100s with a 30 in between but should be ok in the long run. In 4 years has only played a maximum of 16 games in a season so strap yourself in for a ride.
Want to know about good back rookies on the bubble? check out Jeppa's juniors
Midfielders
While some of the midfield guns like Dangerfield and Redden haven't hit the lofty heights expected of their coaches just yet, it is our cash cows giving us the unwanted headaches. Nick Kommer ($140,900, b/e -7) got a couple of weeks for trying to take Kepler 'Lurch' Bradley's head off  (making him prettier?) and Kane Mitchell (123,900, b/e 16) has been the sub 3 weeks running and gets relegated to the rookie list for his efforts. Maybe Hinkley asked him to get a haircut and he refused, so Hinkley 'cut' him in a different way? Aki and Jeppa advise us that Brad Crouch ($108,500 b/e 61) is the logical replacement for one of these two but if you have a bit of cash lying around, there are options.
Travis Boak $463,500 b/e 46.   This could be the year that Boak actually delivers on his potential. Now in his 7th year of AFL, Boak has teased us previously with an average of 95 in 2010 but never took that next step. Has started 2013 with 3 tons and is currently the 9th highest scorer in AFL. In a whole 2.1% of teams he will be a point of difference. I'm hoping the AFL (and DT) gods smile on him for showing some loyalty to his club and not chasing the dollars.
Jack Redden $508,600, b/e 119.  This could be a week early, but my crystal ball says he is going to smash it this week. Last year Jack took a few games to get going, but after round 5, he smacked out  11 tons and went under 90 twice ( one of them 89). Plays North this week where he has 126, 119 and 119 in his last 3 against them. It's almost criminal that he is only in 2% of teams. Sneaky captain choice?
Kane Cornes $508,800 b/e 57. Is Cornes returning to his heydays of 2006/7?  For the past 5 years he has been super consistent and averaged between 90 and 100 (bar 2011, where he will blame the coach) but has started this season averaging 121 – and he is a tagger! Is in a total of 1659 teams (0.77%!) and has scored more points than Pendlebury, Swan, Cotchin and Ablett. Might keep up this uber premium score but still has the responsibility of the opposition's best  midfielder. If you had someone like Dangerfield this could be a genuine sideways trade.
Chad Wingard is also a genuine pick that could advance your team and that opinion can be found here from Aki.
Rucks
 Matty Kreuzer continued his bad luck of injuries with a broken thumb and will be out for 4-6 weeks, which means  37,000 coaches  are looking for a trade. The Vanilla trade is getting Leuenberger in before he starts to rise in price, but there are other options.
Toddy Goldstein $432,700, b/e 89. Goldstein is loving the solo ruck life at North. One of only 2 rucks to be averaging over 100 (and 90 for that matter) he is a set and forget for the rest of the season. Will continue to do well even if a certain Majak Daw  plays in the team for a while.
Ben McEvoy $454,700 b/e 65.  This bloke has one of the biggest mortgages of a number 1 ruck role in the AFL and this is why he  is undervalued. Whose gonna steal the ruck time off him? Kosi? Ha! Started quietly with 57, but has had 107 and 97 in his last 2 which I think will be his closer to his output this season. Will be top 3 in the rucks by the end of the season, get him now while he is cheap.
Forwards
Now we get to the root of most of our problems for the week. The forward line.  Varcoe, Patton, Zorko and Pavlich currently occupy 4 out of the top 5 spots of the most traded out players this week.
The Hoff $463,600 b/e -20. Looks like we have found the next big thing since sliced bread. I don't care, I'm not buying it. It was round 2  in 2010 and I was a little more naive about DT. The Hoff smacked out 121 points against the eagles playing a free role and I thought 'wow look at this role change he's gonna be a gun!' After swiftly trading him, Westhoff delivered spud scores 61,69 73 and 48. To this day I have held a grudge and my pride will not let me get him in. It was even more disappointing that I had him at $1.10 favourite for the 'Ty Vickery award' last week and he gets 140. The only thing I hate more than Westhoff is the owners of him in draft leagues that gloat about their 'masterstroke' of a late pick!
Angus Monfries $382,600 b/e 40  It's like a Danoz Direct ad 'but wait there's still more!' (Port Adelaide players). Is another player who has flourished with a change of scenery and is currently 14 points higher than his highest ever average DT output in 8 years. Definitely undervalued at the 11th ranked forward for average.
Steven Motlop $332,000 b/e 28 Haven't seen this bloke mentioned anywhere just yet. Has been totally under the radar but screams breakout. Motlop has now played 29 games, entrenched himself in the best 21 at Geelong, and is currently 25 points up on last years average. An ideal replacement for Varcoe (whose admission actually may help him more)  and an easy step up to a premium in a few weeks if he doesn't become a F6/7
Stubby's Holders and Folders
As the trades have been dominated this week by injuries, it's pretty easy to justify whether to hold or fold a player. Out of the top 10 players being traded out, only Zorko and Karnezis is being traded for lack of performance.
Karnezis – Has snuck back in to the top 10 of the most traded out ( he was still in teams?) despite getting picked. Is only in a Sunday squad and named 4th on the bench. Big chance for the vest and wont make his b/e – FOLD 
Nick Kommer – Now sitting on the sidelines for 2 weeks and puts a stop to his cash making ability. Some see this as a problem yet I like to see this as an opportunity. Trade him out this week to Crouch, wait for someone else to make some cash for 2 weeks (Viney seems a good candidate) and then bring him back in to continue to make more cash! FOLD
Beau Waters – He's picked as a keeper and listed as 1-2 weeks away with his calf injury. I would back Beau to get back sooner rather than later and with plenty of bench cover down back I would wait this one out – HOLD
The Ty Vickery Award
The contenders:
Dyson Heppell: At 3/4 time against Freo, that 147 against Melbourne felt like it was a year ago. Covered well by Mzungu all night, HeppD put the cape on in the last quarter for a respectable 81 and a play a big part in the Dons win.
Shaun Higgins:  Came out with a bang and scored 115 points in round 1. Could of been a genuine option with all these trades, but did us a favour and got injured early so we didn't get sucked in. Reminded lots of people why he was on so many 'never again lists'
and the winner is…
Tom Liberatore!
Libba came out with a point to prove and keep the third year breakout theory in tact, averaging 120 in his first 2 and looked everybit the heir apparent to Matty Boyd. Then he gave any new coaches a 46. Has only played 36 games and probably still has a few shockers left in him, at least he made you $21k! expect him to bounce back this week where he had a 95 on Adelaide last year.
Running Review
Another solid week for The Running Man, scoring an unspectacular 2046 but kept above par and enough to sneak into the top 1000. Bringing in Wines was the vanilla trade but turned out pretty good. This week i have the problems of Kommer and Mitchell so am looking at bringing in my 6th ruck (Sinclair – I like his JS) for Karnezis and unsure if I will turn Mitchell into Mullet or Motlop.
I sincerely apologise for all the Port Adelaide players featured in the article, but they are all very fantasy relevant. They have started with a bang and thus the scores have been above par. It will be interesting to see if Port can maintain the momentum or not.
As always give me a follow on Twitter @jimbobholder