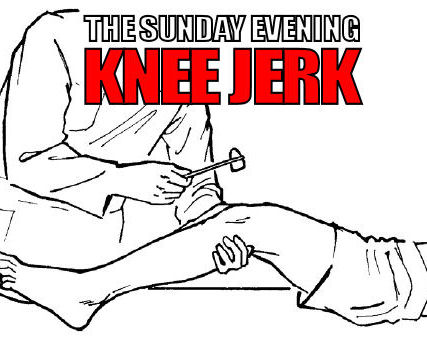 Well… we're back. This was honestly never intended to become a rage edition part 2, however shit has gotten pretty loose this weekend. Most of the rookies get the big tick, but that's as far as it goes. Things started well on Thursday with Gibbs proving a star down back for our teams. However throughout the rest of the weekend I had to take up a new profession. I've decided to become a potato farmer. I might team up with Roy, it's a booming market. Where better to start my training than by coaching a group of spuds and watching them run around like they haven't got a clue. Unfortunately half my crop got rained out and drowned, before deciding not to even turn up. It was mostly the expensive lot as well! Not only have a lot of us had some disastrous weeks, but we then have to put up with our mates bullshit about how they 'skillfully' escaped the carnage. Yeah right. Time to take a look at the **** stain that was Round 1.
The Legend
Whilst a lot of us had some seriously under-performing premos, most of our rookies were stars! One man that deserves a special mention is Wines (99). He was sensational in the middle of the park, not only winning the contested ball but picking up some +6's along the way as well. Then he can tackle! Absolute star, a rookie mid you can place on your ground without any fear. Well worth the extra cash. Viney (86) deserves an honourable mention in a dismal team, another mid rook that receives must have status in my view. Probably Melbourne's best player in his first game. Swallow (141) was incredible for North. In my opinion he is a legitimate 110+ option. Tackling machine! Gibbs (133) was brilliant in that last quarter on Thursday, he will be a star for our teams all year. Finally I can't forget Gaz (135)! He is easily the best player in the comp currently, some of the things he can do are just freakish. Just sick back and watch the show. When he goes forward don't panic! He'll just slot 10 instead. Superstar!
The Sunday Chop
Where do I begin? I'm honestly lost in options to chop. Who do we hold, who do we chop? It's going to lead to some tough decisions over the next week. Only 4 trades before price rises is a problem! However Bolton (51) is firmly on my chopping block this week. I was one of a few people who thought it would be a sick idea to try and abuse Sydney's easy fixtures early. Good one Matt! You peanut. Taught me a lesson though, don't do it! Robinson (21) was looking like a confused young boy for the first quarter, however he looked to be working his way into the game during the second. NEK MINNIT. Concussion. It will take a brave man to hold him, will he be back for next week? Tough one to call, he probably shouldn't be. Whitfield (47) was talked up as a ball magnet, but unfortunately he didn't turn out to be worth the extra 80k. I'd be chopping to Viney or Jones from Melbourne, both priced at $102,700. Longer (45) was a high class spud for my vegetable patch. To think he actually played well! Leuey please save me. I've had to cut many out, however Watts (16) was pretty impressive. I dunno who he killed to get it, but I want his invisibility cloak too! Now 60 points is usually considered a poor outing from a premium back (or draft pick). Maybe you'll take 50 from a speculative mid pricer. 30 is a one of a kind nightmare! But 16 is nek level bad… How is that even possible?! Unrecoverable, you could have picked Zac Dawson and outscored him. Darren Glass doubled him. Enough said.
The Clown
Dayne Beams. I love how you play your football. You are the next DT pig, we like to call you the piglet. However WTF was that! Apparently he was never going to play… why even name him for god sake. It was a positive start to my Sunday with my successful rooks, and I was just inspecting my numerous failures whilst getting impatient for my Collingwood boys to rescue me! However you couldn't even script his late withdrawal. Absolute fuckin piss take. You can do as much pre-season planning as you want, there's nothing you can do about a player getting named whilst being injured! A summary of my weekend right there.
What we've learnt?
Whenever you say things can't get worse, they probably can.
Fixture frisking is about as useful as an ejector seat in a helicopter.
Ablett is the best in the AFL business. Class. I giggled when he kicked his 4th… Is that wrong?
The pig starts slowly every season. We'll have to put up with his 120 shockers for a few more weeks.
Melbourne are one of the few potato plantations to be blooming better than mine. They are atrocious.
This season will be one of the most even of all time. There are at least 12 teams all showing fantastic improvement and will contest for 8th spot.
#FMDT may start to trend over the next few hours.
Watts will be a more consistent player than Naitinui at half back… Wait
Watts should also be reported for tanking
Unfortunately Robbo was disadvantaged when having to complete a concussion test… which he failed when not concussed.
This game sh*ts me
A lot of things in this game shit me. However it doesn't matter what kind of pre-season planning you put in place, how much better your team is than someone else's. If you cop a few late withdrawals, it's over. Not only that, but your overall ranking could be unrecoverable in just Round 1, leaving you playing catch up for the rest of the season. Which is fine, but that's why this game shits me.
At least we can start from a clean slate next week! I'll be backing most of my premiums to bounce back, if not there'll be some heads in boxes. Maybe even my own. I'll take myself off suicide watch for now, however anymore injuries mid-week and the elastic may snap! Well done to those who avoided the carnage this week and managed to put together a respectable score. I'm finished on 1893, which I suppose could be worse. Bring on next week! And rage trading! Cheers.
If you enjoyed my raging and want a hittable punching bag when sh*t goes tits up, follow me on twitter @MattCraigDT. My views are honest, mostly helpful and occasionally entertaining! Also hit me up with any suggestions for who you thought were the Legends, Losers and Clowns, plus what you've learnt the past week. I value everyone's opinion!