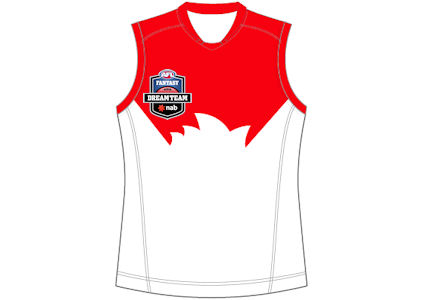 This series of 'club preview' posts are written by DT TALK regular contributors choosing their 5 players they have on their watchlist from the respective club. These aren't who we think will be the top 5 highest scoring players… and are not necessarily in order. They are just our opinions of the 5 players who we have on our watchlist heading into the 2013 season.
Okay, hands up if you've got a Sydney player in your Dream Team right now. Hmm, 83 of you. Right, and how many of you with your hands up actually meant to pick Brett Goodes but have mistakenly selected his Brownlow-hording brother instead? Right, 82. So the only person with a Swan other than the Dane variety is old Kenny Williams, the snow-haired, Powerade-soaked leader of the team song – and he's only got Jude Bolton in because he wants to have his babies.
Seriously, though, Sydney is only rivalled by St Kilda in the fantasy irrelevancy stakes this season, with not one Swan in the entire Deck of DT articles that adorned the off-season planning period. Like St Kilda, Sydney's redeeming quality is its draw – both in terms of a friendly start and a navigable bye round (12), in which Geelong is arguably the only heavy-hitter. So, let's have a look at the reigning premiers and see if opening their title defence against league newbies Greater Western Sydney and the Gold Coast can suck us into picking a few of them.
 CHOOK'S FIVE FROM THE SWANS
Tony Armstrong (def, $249,900)
Like that crazy nut job running the favourites tribe on this season's Survivor, I'm giving my crew nicknames and Armstrong has been branded Breakout Boy. After 14 games over two seasons at Adelaide, Armstrong played eight games for Sydney last season, including four as the starting sub. That dropped his 2012 average to 48.5 points a contest, but his average in the four games in which he didn't have to don the vest was 73.5. On these figures, few players in the league are as poised to pump up their scoring rate as Armstrong is this year. But can he deliver?
Well, recent showings suggest he can. On the weekend, Armstrong chalked up 89 points against the Gold Coast to be the Swans' third-highest scorer, behind only Jarrad McVeigh and Josh Kennedy. The week before that he had 92. And in a sign that he's purpose-built for fantasy success, 17 of his 23 possessions in the big win over the Suns were by foot.
Clearly, there are positives. The question is whether Armstrong can demand regular appearances for the reigning premiers, a side renowned for making players earn their selection. The serious knee injury on the weekend to fellow defender Alex Johnson must help his chances of not only cementing a spot in the Swans' best 22, if he hadn't already, but also in his quest to avoid the green vest.
Seriously consider.
Josh P. Kennedy (mid, $523,900)
A year ago you could count Adam Goodes and Ryan O'Keefe amongst the guns of the fantasy football world, but neither is inspiring much confidence these days now that Goodes has shed his Mr Durable tag and ROK has been stripped of his mid-fwd eligibility. That leaves the Swans without a Dream Team gun to speak of. The man most likely to assume that mantle is Josh P. Kennedy, or The (Possible) Premium, as Phillip might call him.
Where Goodes finally started missing games last year, Kennedy kept on keeping on. He does everything that you expect from a premium midfielder – tackle, kick goals – everything, that is, except score about 10 more points a game. The former Hawthorn rookie has lifted his average y more than 10 points each year he's been at Sydney, from 73.7 in 2010, to 86.5 in 2011 and to 101.5 in 2012. Can he do it again? Crutton Hutton says it's not an unreasonable expectation, and that's good enough for me.
For a bit of a pre-season perspective, Kennedy scored 65 points in the second round of the NAB Cup, but that was in just 78 minutes of match time, before busting out a 106 in last weekend's outing against the Gold Coast.
Consider.
Jarrad McVeigh (mid, $469,500)
One of the biggest scores of the pre-season has put Jarrad McVeigh in the picture for a round-one berth in your Dream Team. The 200-gamer ripped Gold Coast a new one when he racked up 131 points on the weekend and it could've been much more considering he kicked four behinds.
It was no one-off for McVeigh, though. Before sitting out week two of the NAB Cup comp, the club's co-captain amassed 95 points in the first round at a team-best rate of 123 points per 100 minutes. And before that, on the other side of the off-season, McVeigh brought up a big ton in the grand final, scoring 123 points against Hawthorn. In fact, his whole second half of the season was pretty impressive, averaging 102 points over his last 13 games, which includes the finals series. He has a Sistine Chapel-like ceiling, too, scoring 149 last year against a GWS side that he plays twice (again) in 2013. Some coaches are considering a strategy of picking McVeigh for the first two games alone, giving him the chance to dine out against the Giants and Gold Coast before shipping him out with one of their use-it-or-lose-it trades.
There's a case to be made for taking McVeigh for the long-term, but it's a pretty weak one. Yes, his average last year (90.8) was the best of his career, but marked only a slight improvement on 2011, when he averaged 88. He might look older, but only turns 28 this year so doesn't fall foul off any "no 30-year-olds" policy you might be enforcing around the clubhouse. Still, he's closing in.
Consider, particularly as a pinch-hitter over the first few rounds.
Lewis Jetta (fwd/mid, $392,000)
The Speed Addict, Lewis Jetta, makes the list simply because he was the equal most-selected Sydney player in the competition at the time of writing, finding himself in 7% of all teams along with fit-again youngster Tom Mitchell. The fact that there are 80+ players ahead of those two in the list gives you an indication of just how (un)popular Sydney players are with the general public – and I still think 7% is too generous. Perhaps the average person on the street thinks that you get fantasy points for running bounces or for making opponents look stupid, but that's not the case (as cool as it would be) and you have to wonder why Jetta has attracted more owners than the likes of Kennedy and Armstrong.
He broke out last year, jumping from a 44.3-point average in 2011 to an impressive clip of 76 last year. A similar spike this season would make him a must-have, but I can't see Jetta adding more than five or six points to that average and there are simply too many other safer mid-pricers to pick from in the centre and forward lines.
If I was in Jetta's corner, then I'd be pointing out the handsome 81-point haul he managed in the recent mauling of Gold Coast. But just about every Sydney player scored well in that NAB Cup game, right?
Shane Mumford (ruc, $425,400)
Well, just about everyone besides Shane Mumford, that is. Mummy scared off a bunch of possible suitors when he scored just seven points from three handballs and a hit out against the Gold Coast after wearing the green vest until the third quarter.
Mummy was being considered this year due to an attractive price brought about by an injury-riddled 2012. True to his nickname, Mummy spent a big chunk of the year wrapped in bandages, dropping his average from 91.4 in 2011 to 82.1 in 2012, which has resulted in a price tag of just $425,400.
A price reduction won't be enough to tempt me in to picking the hulking Swans ruckman, however. The change to the ruck rules in 2013 is unlikely to aid the likes of Mumford
Look elsewhere.
Best of the rest
While GWS weren't as generous with the points as some predicted last season, they weren't exactly stingy either, meaning games against them and the Gold Coast in the first two rounds of the season gives Dream Team coaches the chance to take a suck-it-and-see approach with Sydney players. If you see that they suck against both bottom-eight sides then ship them out. Hopefully, though, a crappy performance against GWS and GC won't have been as costly as a crappy start against too truly stifling sides.
Potentially, then, you could take a risk with someone like Kieren Jack (mid, $505,800), who averaged a more than respectable 97.6 in 2012, despite being asked to tag on numerous occasions. Importantly, in games against GWS last year he scored 115 and 127, with a 125 against round-two opponent Gold Coast. It will certainly be interesting to see if the captaincy will have any effect on the Dream Team scoring of this tackling machine.
Just the mention of his name will make many cringe, but Nick Malceski (def, $373,100) scored 84 points in less than three quarters of footy on the weekend. A little pricier is Daniel Hannebery (mid, $421,800), yet another ridiculously courageous kid recruited by the Swans. He had 106 points in the preliminary and grand finals last year, finishing the season with an average of 81.5. It wasn't the breakout season many predicted, largely due to eight games under 60, but I wouldn't be at all surprised if he took off this year. Craig Bird (fwd,mid, $354,300) is getting some love from fantasy coaches this pre-season, but I'm not sure the reward is worth the risk in his case. Dane Rampe (mid, $89,300) has put his name forward as a possible replacement for the injured Johnson, but there are a multitude of better rookies in the midfield this year. One of them would be teammate Tom Mitchell (mid, $108,500) , if he could just get on the park for an extended period of time. Mitchell joins Jetta as the highest-selected Sydney player at this stage, possibly on the back of rookspert Jeppa's pre-season prediction of an 80-point average this season.
Any Swans tempting you this pre-season? Let us know in the comments or hit me up on Twitter @ChookDT.