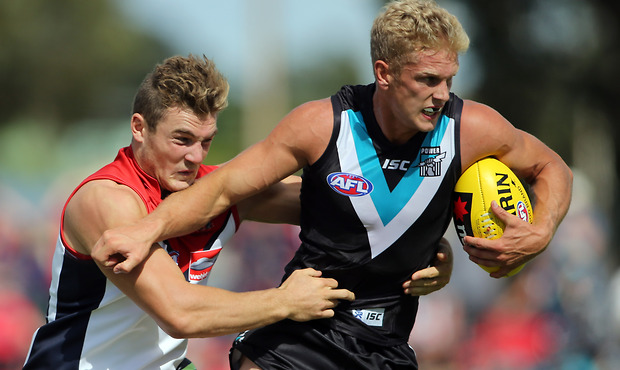 If you had told me a month ago that I'd be watching Port Power vs Melbourne – with even the slightest bit of interest, I'd say you were delusional.  Thankfully with the plethora of rookies on show it was actually a pleasure to watch.
No-one besides Power and Demons supporters could care less about the result of a match-up like this, which is why fantasy footy is so awesome. Suddenly we care!
So on this warm sunny Sunday, 3764 people came to the Renmark Oval (impeccably prepared I must say) to see Melbourne defeat the 'home' side Port, by 2 points in a good even contest. But who cares about that…onto the DT relevant stuff!
FIRSTLY it was disappointing that some of the players with the most DT relevance for Melbourne didn't play, despite being named….. such as Jimmy Toumpas, Jack Viney, Shannon Byrnes and Chris Dawes.
However the dominant display by all of Ports DT wannabes was very encouraging to say the least.
PORT POWER
Kane Mitchell (100 pts): Started on a wing and ran loose all day, and was the link up player through the midfield setting up nearly half of Ports forward advances. I'm calling it now…he will win over Ports supporters with his flowing locks and unselfish play and will take home the B&F! LOCK
Hamish Hartlett (98 pts): He should have over the 100 point mark but for some stupid reason super goals don't count to fantasy points? Did what he does best and should be a lock in your backline now that we can trade him out when he inevitably gets injured. Looked solid though and showed no signs of injury. LOCK
Sam Colquhoun (78 pts): I hope this young stringbean gets plenty of games because he has talent to burn. Took several strong overhead grabs and was everywhere. Has silky skills and looks like he belongs out there with the big boys (even though he's a bit thin – think Nat Fyfe).  WATCH
Oliver Wines (76 pts): Thought he had scored more than this as he was involved in A LOT of the play. Got his head down and got the hard ball, laid strong tackles and did most of the in-and-under work at the packs. Had a heap of clearances and if he stays fit, they'd be mad not to play him every week. Had an amazing 6-0 free kick count!
Aaron Young (74 pts): Not sure of his job security but with a lack of FWD rookies this year he may be an interesting POD. Looked very capable and mature, had 3 shots on goal and had 17 disposals with a  4-0 free kick count. His awkward price of $181,600 might turn a few off though.
Lewis Stevenson (64 pts):  Had 20 possessions and again, showed great poise and looked very much like he will be part of Ports starting 22. His handball to kick ratio may be a concern, he has no trouble finding the ball but gives it off to the running players as soon as he can. Still a lock for me.
Campbell Heath (63 pts):  Took a few kick-ins, but not sure if he is ahead of Jasper Pittard (who didn't play) in this regard. Didn't seem to do much but still had it 15 times with 6 marks. PASS
Jarrad Redden (60 pts):  Looks bigger and more dangerous than last year, may not be a DT prospect but could be a smokey in draft leagues. Only has Lobbe as his main rival for the #1 ruck spot and had 16 hit outs along with 16 touches ( a terrible 3-13 kick/HB ratio though).  He rucked for about half the game and drifted forward when Lobbe went into the centre.
Andrew Moore (57 pts): Had it 13 times and laid 5 tackles but is too pricey and won't find his way into anyones midfield with the calibre of rookies available. PASS
Jake Neade (53 pts): Just think Alwyn Davey…fast and exerts maximum forward pressure with ferocious tackles for a small man, can kick a goal and is an opportunist. With the lack of FWD rookies he will find his way into quite a few teams should he be named in Round 1, but he will be a slow-burner when it comes to cash cows. CONSIDER IF NAMED RD 1
MELBOURNE
James Sellar (101 pts): Don't …just don't! Had a day out with no Mitch Clark or Chris Dawes but won't get you this sort of return again. Not sure what his role will be when these two return. PASS
James Magner (98 pts): Won't write him off, but we all know what to expect if last year is anything to go on. Probably still a 60-70ppg game player. Had it 24 times but it was his fierce tackles (7)that bumped up his score. PASS
Dean Terlich (58 pts): Didn't do his chance of a round 1 call up any harm. Started as a loose man in defense (similar to what Jared Rivers used to play for the Dees). Took the kick outs a few times – and kicked it to himself like an aspiring DT'er should! Gave away 3 free kicks which impacted his score a bit, but they were all professional frees. Is a lock for me if he is named Rd 1, and should be a steady earner if he plays that style consistently.
Dean 'Dirty' Kent (56 pts): Was the surprise packet for me, kicked 2 goals and could have had a couple more. Looked VERY comfortable but unless he plays later in the season (as a downgrade target) he will be hard to find a spot for as he is listed as a MID. (there is nothing 'dirty' about his style of play, just the banter around the ground was amusing with his last name).
Colin Sylvia (47 pts): Looked tired and it's only the pre-season! His ankles and shoulders would be stretching the teams tape budget, and he gave away 3 sloppy frees. Is a PASS for me even at his cheap price. Watch him smash it now I've said that. We all know to expect the good with the bad if we pick him though. Will be a handy late pick in the draft leagues though.
Tom Gillies (44 pts): Looked solid but has an awkward price, even though he is a DEF. Will have to see a few more games, but I'm pretty sure he will be a PASS.
OTHER PLAYERS TO KEEP AN EYE ON… PORT: Broadbent (47 in a half), Blee (41) MELBOURNE: T.Davis (59) M.Evans (55) M.Jones (43)