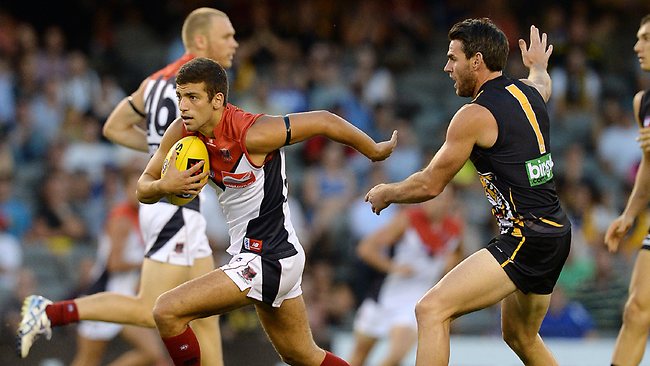 This was a NAB Cup round robin that many coaches were keen on as popular guns, mid-pricers and rookies were on show from North Melbourne, Melbourne and Richmond. Played out on a balmy evening at Etihad Stadium, the three matches offered a decent spectacle and while there were some fantasy concerns, a few stood out and a couple of surprises put their hands up for selection.
Results
NORTH MELBOURNE   1.4.5 (38) 
MELBOURNE   0.5.6 (36)
MELBOURNE   0.2.3 (15)
RICHMOND   1.2.9 (30)
NORTH MELBOURNE   0.7.6 (48)
RICHMOND   0.6.8 (44)
North Melbourne
The Kangas showed the potential for a fantasy-friendly game with plenty of chip-kicks across defence to hold possession before launching into their fast-breaking attack. While they may not necessarily have a designated quarterback, there are a couple of DEFs who are likely to benefit from their tactics.
Ben Jacobs (DEF $311,000).  Port's former 16th draft pick showed why many at Alberton were loathe to see him leave in the offseason. He is a ball magnet and got plenty of it playing from defence through the guts and appears to be an astute pickup for the Kangaroos. As the main playmaker of the night, Jacobs presents us with a very tasty option at his price.
Shaun Atley (DEF $311,200). Featuring mainly across half back and up the flanks, Atley showed excellent run and line-breaking ability. He'll garner lots of +6s with his link-up play and, like Jacobs, is another smokey DEF to seriously consider. However, the fantasy scoring may favour Jacobs if he plies his trade in defence and Jacobs operates in the middle.
Majak Daw (RUC $108,500). Did Majak Daw live up to the hype in his first AFL run? Well, yes and no. There's plenty of promise in this mass of muscle, with undoubted athletic ability and a vertical leap reminiscent of Nic Naitanui. Daw proved handy in the ruck and in the forward 50, but if he gets playing time this season he looks more like a slow burner than a high-performance cash cow.
Todd Goldstein (RUC $407,300). Ah Goldy, Goldy, Goldy… What happened since season 2011?!? After letting his fantasy coaches down in the latter part of 2012, he picked up right where he left off, looking well out of touch last Friday night. He laboured around the ground making very little impact on the game. Beware early Goldstein pickers: he looks slow and rusty, so keep a close eye on him in North's next NAB Cup outing.
Daniel Currie (RUC $102,700).  The Sydney discard was one of the surprises of the night, winning his fair share of hit outs and putting in constant follow-up efforts at stoppages. He easily outshone the club's #1 ruckman Goldstein, looking strong and sharp around the ground. Should Goldy be spelled or dropped, make room on your RUC bench for Currie!
An honourable mention goes to Will Sierakowski (DEF $108,500), who popped up around the ground to pick up handy fantasy points. With no AFL starts in his first season at Arden Street, his spot in North's best 22 is not cemented, though he may be a sneaky DEF cash cow if he gets his chances.
NM v MEL
McMahon 61, Thompson 54, Swallow 50, Wright 48, Atley 44, Jacobs 43, Delaney 40, Sierakowski 40, MacMillan 33, Gysberts 32, Harper 32, Hansen 30, Mullett 30, Gibson 29, Harvey 27, Daw 24, Tarrant 24, Petrie 23, Thomas 20, Anthony 13, Greenwood 13, Cunnington 11, Bastinac 5, Goldstein 5.
NM v RIC
Swallow 48, Harvey 42, Ziebell 34, Daw 33, Wells 33, Currie 32, Black 27, Cunnington 26, Petrie 22, Tarrant 20, Thompson 20, Mullett 19, LDelaney 18, Harper 18, Thomas 17, CDelaney 16, Firrito 16, Gysberts 15, McMahon 13, Atley 12, Bastinac 12, McKenzie 9, Sierakowski 7.
Melbourne
Debutant Jack Viney was upstaged by a fellow draftee as Melbourne went winless in the preseason competition. Jack Watts was a shining light – is he really AFL Fantasy-relevant?
Jack Viney (MID $102,700). This was one rookie that we wanted to watch and while Viney didn't disappoint, he didn't exactly set the fantasy world on fire either. He's a tough on-baller and looks a real grinding type who has the capacity to churn out 50-70 scores, but doesn't appear to be the next Toby Greene.
Jimmy Toumpas (MID $170,200). The biggest surprise of the night was young Jimmy Toumpas, whose game play looks AFL-ready after being seasoned in the SANFL in 2012. He has super-quick hands and knows how to find space, linking up play for a healthy accumulation of +6s. As an outside midfielder with an eye for goal, he should be strongly considered for one of your MID rookie slots, despite his price premium.
Shannon Byrnes (FWD $229,300). Looking somewhat rusty, Byrnes didn't overly impress in his debut for the Dees. There is no doubt that he will get plenty of game time up forward and adds pace and crumbing to the attack, but there is some query about what kind of output to expect from him in 2013. The popular preseason selection may have lost some lustre after his moderate performance.
Jack Watts (DEF/FWD $360,600). Watts' move to defence is permanent, with the bearded blonde setting up the Dees' play out of defence very effectively. He featured heavily against Richmond with 8 touches and a goal to cap off a productive performance. How this translates into the regular season remains to be seen, but his role off half back with the freedom to float forward could prove fantasy-worthy.
Dean Terlich (DEF $102,700). In a lean DEF rookie pool, Terlich stood out as a SANFL-seasoned, mature-aged player. In fantasy terms, his performance was acceptable enough to stash him on your DEF bench as a slow and steady earner with the expectation of modest production should he make their best 22.
Honourable mentions go to Dean Kent (MID $102,700), Michael Evans (MID $108,500) and Matt Jones (MID $102,700). The trio put in solid efforts, but are not locked into the Dees' best 22. Keep them on your watch list and monitor the Melbourne chatter closely as AFL R1 approaches. Jesse Hogan (ineligible) is definitely worthy of a mention. The big-bodied forward will likely be your first picked FWD rookie in 2014 with his strong marking, smart positioning and high work rate.
MEL v NM
Howe 45, Kent 39, NJones 37, McKenzie 33, Hogan 28, Nicholson 27, Evans 25, Sylvia 24, Dunn 23, Grimes 19, Blease 16, Viney 16, Watts 16, Frawley 14, Jamar 13, Rodan 13, Byrnes 12, Dawes 11, Garland 9, Pedersen 9, Gillies 8, Jetta 8, Magner 8, McDonald -1.
MEL v RIC
Watts 43, Toumpas 41, Grimes 31, Macdonald 29, NJones 25, McDonald 25, Dunn 24, Nicholson 24, McKenzie 20, MJones 19, Garland 17, Magner 17, Terlich 17, Sylvia 15, Couch 14, Jetta 14, Viney 14, Davey 12, Hogan 12, Pedersen 10, Sellar 6, Frawley 3, Howe 2, Spencer 1.
Richmond
There was plenty to like about the Tigers in their hit outs, playing near-full strength sides and boasting a midfield of riches. With a potent mix of steady heads and young guns, Richmond should be a team on the up in season 2013.
Dustin Martin (MID/FWD $437,100). Dusty looked lean and mean and was heavily involved across midfield and half-forward. His movement was slick and there seemed to be a bit more composure about his game. At the price point, he looks a bit of a steal as a fantasy FWD.
Chris Newman (DEF $365,300). There was talk about Newman moving into the midfield and playing up the wings and it came to fruition as he put in two very consistent games. As a flanker, the +6s flowed and if that is indeed his role this season, he becomes an attractive DEF option. Like Jacobs and Atley, there is points-potential from this mid-pricer.
Nick Vlastuin (DEF $147,700). Playing in both defence and midfield, Vlastuin showed plenty of grit, particularly in Game 2 when he spent a good portion of the match on the ball. He can find it and while he may get pushed back to a defensive assignment come R1, he looks to be a dependable DEF rookie and worth the extra spend.
Chris Knights (FWD $254,500). Running around the forward half, Knights looked in good nick and presented a better option on the night than Byrnes as a low-cost FWD. He appears to be a good fit for the Tigers' bustling forward group, but may not punch out 80+ scores every week in a forward pocket.
Honourable mentions go to Ivan Maric (RUC $505,400), Trent Cotchin (MID $570,200) and Brett Deledio (MID $568,600). While it is unusual to feature guns at this point, these three look set for a big season. Ivan is a monster, enough said! Deledio particularly impressed with his burst and will again challenge Cotchin in the fantasy stakes while offering a point-of-difference. The midfield pair spent most of the second game on the bench as Dimma let the kids loose, so don't read too much into their scores against North Melbourne.
RIC v MEL
Deledio 41, Martin 36, Petterd 35, Grigg 33, Houli 33, Maric 33, Newman 33, Ellis 29, Riewoldt 28, Cotchin 27, Nahas 27, Jackson 24, Vickery 24, Vlastuin 23, Tuck 18, Conca 17, Batchelor 15, Astbury 14, Morris 13, SEdwards 11, Rance 11, AEdwards 8.
RIC v NM
White 37, Ellis 36, Riewoldt 36, Newman 35, Edwards 32, Arnot 28, Jackson 27, O'Hanlon 26, Vlastuin 24, Tuck 23, Dea 22, Morris 21, Knights 20, Conca 19, Vickery 19, Derickx 17, Martin 17, McGuane 14, Batchelor 12, McDonough 11, Griffiths 10, Deledio 8, Cotchin 6, Rance 4.
There you have it folks, more food for thought as Round 1 of the regular season looms. As usual, the NAB Cup only gives us an indication of the regular season with no guarantees for our mid-pricers and rookies, so don't abandon your strategy yet! Keep a close watch and a keen ear on the remaining preseason matches and clubhouse whispers as you shape your starting squad.
Many thanks to Andrew for his time and effort in collaborating for this review – give him a follow @grinpowderdiah for fantasy banter, especially if you're into FPL!
CATCH ME ON THE TWEETVINE: @TeeTeeDT