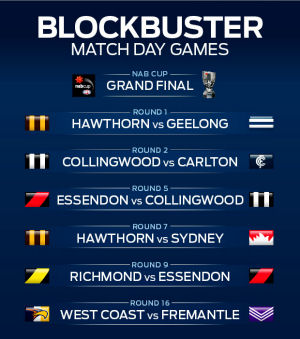 This morning it was announced that there is another sub-game of the AFL Fantasy franchise from the AFL; Match Day.
The simple premise of this format of the game is that you pick 8 players (2 defenders, 3 midfielders, 1 ruck, 2 forwards) from one of the 'blockbuster' matches… and highest score wins.
The matches for these mini-games are:
NAB Cup Grand Final
Round 1 – Hawthorn v Geelong
Round 2 – Collingwood v Carlton
Round 5 – Essendon v Collingwood
Round 7 – Hawthorn v Sydney Swans
Round 9 – Richmond v Essendon
Round 16 – West Coast v Fremantle
Prizes are yet to be announced.
Personally, I'm a little worried on this format with it only being one game. 44 players to choose from makes the 'talent' pool pretty shallow considering half of those blokes won't be considered. It'll be a big luck thing. But I guess I will enjoy it to do some research on the games and find a diamond in the rough. I'll see it as a bonus thing to look at on those rounds without taking it too seriously.
I would have made it a round or even just a day… just to mix the teams up a lot more.
The best part of it is that we get to have a crack for the NAB Cup Grand Final to whet our appetite before the real AFL Dream Team season starts the following week.