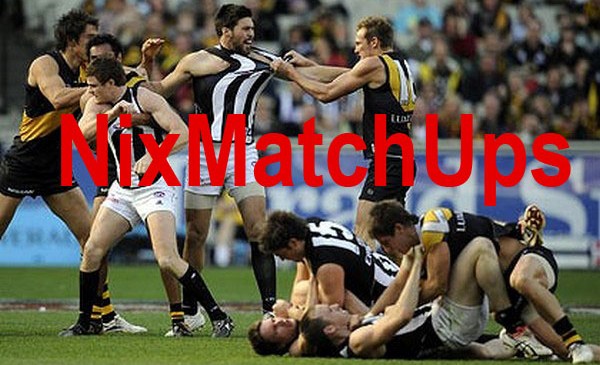 Greetings all, welcome to the grand final versions of Nix DreamTrader and NixMatchUps.
Nix DreamTrader is updated but no difference from previous versions.  So no further comment necessary.
It's all about head-to-head Matchups this week as each coach tries to get his team to peak just one more time.
For NixMatchUps the biggest change is an improved "Selection" tab – just what your Match Committee needs.  This now includes:
Comparisons of all 30 players in each squad, so you also know the bench options each of your opponents can use.
The average scores over the last 3 rounds for all the relevant players, as well as the averages / forecasts.
Various rankings for the team of each player – such as how many total DT points, 100s they normally score, plus more.
Various rankings for the opposition team of each player this round – such as how many DT points or 100s they usually concede, or have over the last 3 rounds, and whether the aggregate DT points across both teams is high or not.
Other changes from last week:
I've added another chart to compare your team's Actual performance against your Forecasts – so you can see which of your players delivers or doesn't.
I've updated the Instructions a bit more, although nobody has reported any problems using it which is good.
Links are below …
NixMatchUps contains lots of sorting macros – this might create some concern from your virus checker or corporate firewall.
EDIT: WordPress has added a 2 or 3 to the NixMatchUps file because there are already other files with the same name on this blog, so it will download as NixMatchUps3.xlsm.  After you download the file you have to change the name back to NixMatchUps.xlsm (i.e. remove the 3 or 2).
Naming the file anything other than NixMatchUps.xlsm  will stop the programming macros from running.  This is actually a protective thing because it prevents the macros mangling some other spreadsheet you might have open at the same time.  They will only run on this one file name.
If you still have a previous round's version of NixMatchUps and want to keep it, I suggest you save it in a different folder rather than change the name of either file to something other than NixMatchUps.xlsm.
EDIT 2: I have replaced the NixMatchUps file.  I mistakenly uploaded an earlier working version instead of the final one ready to be published.  The working version contains some outdated information, that was removed and corrected in the final version.
So that's it … good luck to everyone for the big game.  Thanks to Warnie and the other lads at DTTalk for their support.  Thanks also to the users who took the time to send thanks or provide feedback, this is always appreciated.
Nix
Any questions post here or on twitter @NixTrader