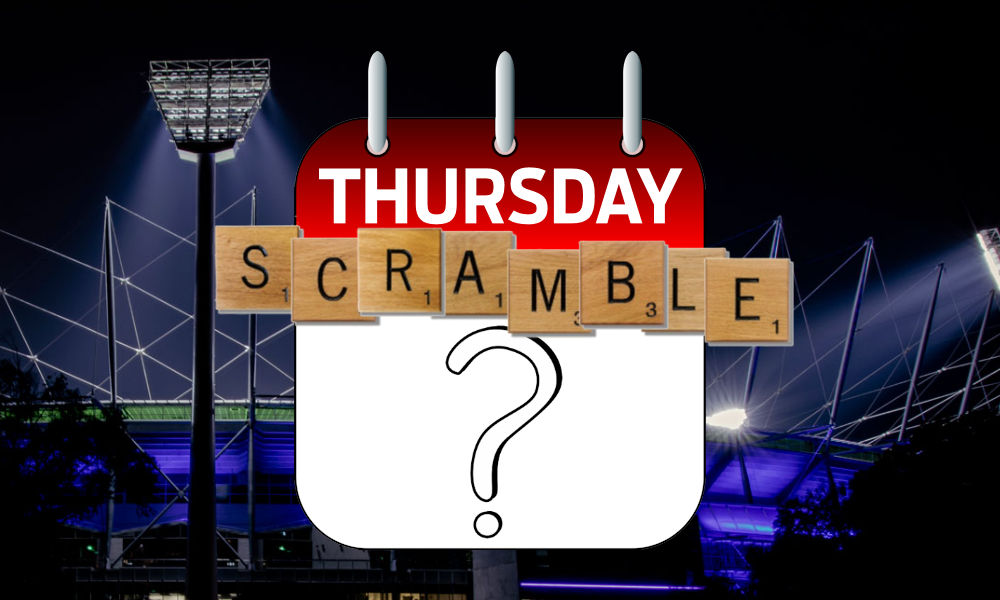 What a season we have had, the longest yet and one of the more challenging we have ever had. Well if you have made it this far you are either in line for a hat, in line to win a GF or just a complete fantasy nuffy like the rest of us!  So for one last time this season….. Let's Scramble!!
Final Round Flyers and Divers
We've seen it before and we will see it again. Someone goes absolutely nuts in the final round of the season. We all remember Nick Riewoldt scoring 200 in a final round game. So who is it going to be this time around? For weeks now we have all been speculating that it will be Tex Walker. He kicked 10 goals against the Eagles earlier in the season and with the Coleman on offer and his team now out of the race for the finals, they will be feeding him the ball as much as they can. So I still think that he will have a massive score. And if he does get his nose in front then look for the Blues to do the same thing for Charlie Curnow. But I don't think his score will be quite as big.
Now I know that the Dogs were awful last week, but even still Bont had a big game. Now if you have a look for this week the Cats are going to be without a heap of players as their injury list has grown and they are also out of contention now. So look for Bont to have a big one. Similarly English is another one that I am expecting to have a big outing given the lack of rucks left down at the cattery.
Zac Butters at home against the Tigers should also be one to watch. He has been in great form and will be looking to get the Power into the top two. Look for him to have a big score.
As the boys mentioned on the Pint Cast this week, just watch out for Super Hewey as we have a couple of big names coming back into the Carlton side in Walsh and Cerra. So just beware that he may not put up the big numbers that you have been seeing recently.
Could you take a flyer and trade out Timmy Taranto? Maybe, he did have a great score against the Power early in the season, but for the Tigers, they have missed finals, they had a big game to farewell a couple of champions last week and they are travelling to Adelaide Oval. He was averaging 124.7 before the bye and since then he has gone at just 96.1. That is a huge turn around and he could be a big move you could make to boost you up the rankings.
Don't Fail to Plan
As the old saying goes a failure to plan is a plan to fail. All year we have been hot on this but this week with the GF going on it is even more important. We have seen some late outs recently and the most prominent was LDU last week. That little debacle meant I had to keep Mills which I can tell you did not impress me at all!
But, if there is a hint of concern about a player, just make sure that you have an alternate plan in place. Don't leave it til the last minute because you are likely to make a poor decision when there is pressure on!
Similarly make sure you have a plan if you are going to loop players off the bench or your VC, nothing worse than having a great score sitting there that you can't use.
Just on that, don't overthink things too.  For example, last week I had Devon Robertson sitting there in SuperCoach with a 75, but I chose to play Callum Mills who got me a rubbish score that I can't even remember. So just because Mills is a name, it doesn't mean he is going to beat that bench score.
Things to Remember
Make sure you trade your retired players out! There were three that played their last game last week, don't make the mistake of just setting and forgetting
Don't trust teams that have nothing to play for. They will either go nuts or not even turn up, problem is we don't know which will do what.
Don't stress too much over the weekend, there won't be too much you can do. Just sit back and enjoy the ride and remember, it is just a game.
Hey I just want to thank all of you that have stuck with me again this season to read my ramblings. I really appreciate each and every one of you that read this each week. Also a great thanks to Warnie, Roy and Calvin for allowing me to have this platform again this season to try and help you all with your teams whether they be AFL Fantasy, Dreamteam or SuperCoach.
As always I do apologise that I can't jump in the comments and help out as I just don't have the time during the day to do so due to work commitments and by the time I would reply someone else from this awesome community has already done so (probably with better advice than mine). I hope you have all had a brilliant and fun season. I hope you all get up for a win in your Grand Finals (unless you are playing me of course!) and that you enjoy the weekend.  And if your team is in the real footy finals, I hope they go well (unless they are playing Port of course!).  Enjoy the off season and I look forward to hopefully catching up with you all again next season.  Cheers and Thanks again for having me in season 2023.