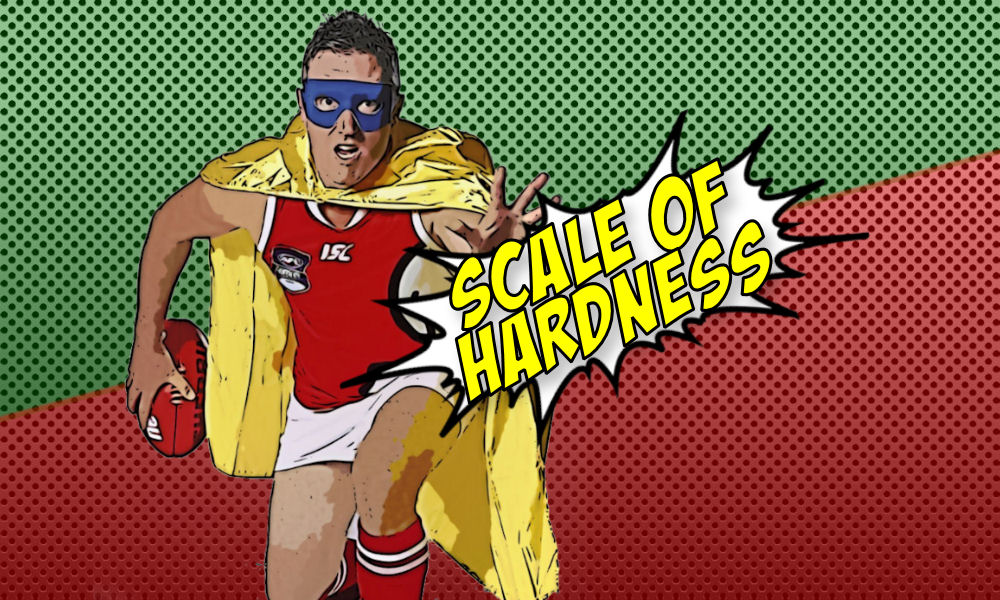 Welcome legends to another edition of Cal's SCALE of Hardness… the last one that will appear on DT Talk for 2023. Thanks for those who have embrace the masterpiece and don't forget that this can be accessed weekly over in our Patreon space. Thanks again for those people who have signed up to be involved with this as well in 2023. Without you guys, this would not be possible and not a weekly article.
Also… for our Patreon members… over the off-season, we will be pausing your subscription but we will still be providing those legends with free podcasts, videos and fun where we can. A little different than normal, but possibly more fun that ever.
DT TALK WATCH-ALONG
This will be fucking awesome… Now that the round 24 fixture has been released, we are pleased to announce that our final Lockout Lift LIVE stream of the year will be a watch-along of the last game of the Fantasy season – that is … Carlton v GWS Giants at Marvel Stadium from 6:10pm AEST on Sunday 27 August exclusive for our Patreon legends.
We'll be chilling out, slamming cans… oh and watching the footy and we want you to be right there with us! Every stat to finish the 2023 season with a couple of beers and a heap of fun. It's not too late to join the fun, grab a beer and hang out with legends!
It's not too late to join the fun, grab a beer and hang out with legends!
DEFENDERS and MIDFIELDERS
DEF Easy run: Melbourne, Richmond and Geelong
DEF Hard run: West Coast, Sydney and Adelaide
Plenty to look at here, but also at the bottom I focus directly on a few replacements for Nick Daicos. Before we get to that though… we do need to talk about James Sicily. Coming off 160, the Dawg is popular in the trade market and sits as the #1 most traded in with approx. 12,000 coaches getting on board. The key for the Dawg is marks… and this is what the Bulldogs have been giving up…
RICH – Short 95 (7m), Balta 74 (7m), Vlaustin 70 (8m).
GWS – Whitfield 134 (9m), Taylor 79 (8m)
ESS – Laverde 138 (15m), Pidley 128 (14m), Kelly 113 (16m), McGrath 106 (10m), Z-Thatcher 84 (10m)
MID Easy run: Bulldogs and Fremantle
MID Hard run: GWS Giants and Melbourne
Let's talk about my boy Caleb Serong… and he is my boy! He is a very popular target this week and you can see why… so much green grass it isn't funny. He has now hit 11×100+ in his last 11 games and even had 127 against the Eagles in round three. A serious player for the week and for the round 24 clash against the Hawks and sits in my top-5 captains this week.
RUCKS and FORWARDS
For those going in the Luke Jackson direction, the scale 100% ticks it off. Bailey Williams and then Visentini are his next opponents and Williams ranks as one of the easiest with Phillips 77, Xerri 86/Goldy 79 and DeKoning 105 scoring well as his most recent opponents. It's hard not seeing him hit 100+ this weekend, followed by another great score against the Port Adelaide rookie who gave Rhys Stanley 105 in round 21.
REPLACEMENTS FOR DAICOS…
Obviously this is the biggest question of the week… so let's see what the scale can say about some popular targets.
JAYDEN SHORT (DEF/MID, $755) – He's back!
Coming off 95, Short is back and walks back into a nice match up this week, that could be 120+. Short has scored 123 and 95 under the roof this year and should be great again. St Kilda are still the #1 easiest to score against and Short offers instant reward this week (and next).
HAYDEN YOUNG (DEF, $740,000) – New role!
After attending 77% and 52% of the CBAs for the Dockers over the last two weeks for scores of 119 and 83, Young is now a Fremantle midfielder. His run coming up is the best of the bunch here and could average 100+ for the run home.
LOVE THE

S

CAL
E

?

People always ask me… "how can I be as cool as you Calvin?"… we the answer is right there. You can be the coolest cat in town and the hottest person the whole suburb by getting around the best selling T-shirt in Australia.  Imagine rocking up to your draft day next year with this bad boy… oh my… you'd kill it. Ok… click this link and you'll find shitloads better tops and stuff…