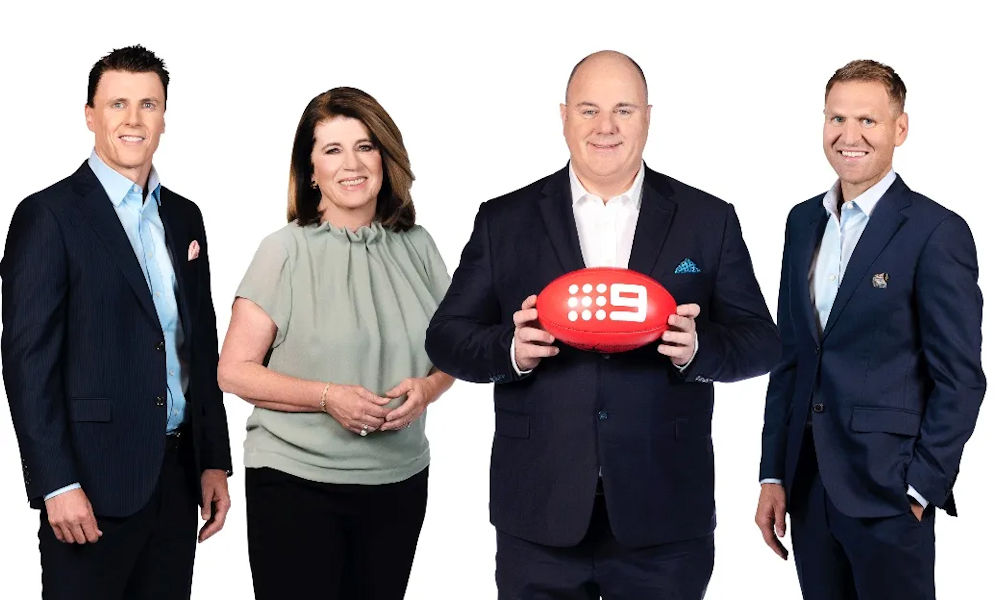 Howdy Fantasticals, hope you're all doing well and the sky blue dots on your screen have been easy enough to manage up to date.  Firstly, an apology.  I missed last week completely.  Our mate Uncle Covid ran through DoW House like a monster last week and I missed most games and didn't manage to come up for air until about Thursday, by which time I made the decision to do a double Dick piece this week rather than run out a rushed and ill-informed piece for you late in the week whilst much more important gear is going on.  My apologies, I let you down and for that I deserve a dong myself for both that week and this.
Round 11
But now to the catch-up.  I'll do a truncated version for Week 11 which is a bit of a shame because we have our first double Dick.  It was a rich week for Dicks with quite a few blokes running out there as though they had my virus dose.  I'll stick only to the top 3 dongs in an effort to catch up quickly but Bailey Smith and Cody Weightman deserve a special mention for their efforts that week.  Bailey because he was a hugely popular man with his newly minted DPP and he responded with a horrid 67 for his new coaches.  That was made to look even worse by the fact that his almost useless beanpole teammate Rory Lobb was close to him in scoring but actually out tackled Bailey by a score of 2 to 0.  How on earth does Lobbster out tackle a gun mid?  It beggars belief and Bailey was lucky to be out Dicked that week.  Cody gets a wrap for his horrendous and ongoing high diving efforts as does the hopeless umpiring fraternity which keeps paying him off.  We're apparently OK for umpires to watch as serial pest Jack Ginnivan's head is regularly ripped off but we continue to reward Diving Cody?  Rubbish stuff.
Also very lucky to avoid formal Dick recognition was Pasta Fiorini for his hugely poor 33 in this same game.  Only his mid-price and diving ownership and therefore importance kept him out of the votes.  I mean 33!  How do you play near the ball and let it escape you that much?
I will also single out James Sicily for his monster effort in this game.  He's had some dongs this season and rightly so but when you plonk a 165 on us and you also win the game, you get a well deserved pat on the back.  Unfortunately for owners whilst James Sicily was doing great work, Sic Dog also made an appearance and earned them both a week off.  But 165 is 165 so well done Jimmy.
Anyway, on to our top 3 and I am sure this will be controversial.  Getting votes again this week after being DoW last is Lil Liam Baker who ignored the Dick Bounce and went at 59 the week following a 55 DoW win which has completely ruined the averages thing I was banging on about last time.  He's only not higher on the DoW scale because of the conditions they played Port in but when you make me look as dumb as he did with regard to the newly minted Dick Bounce concept then you still get votes.  59 is crap work Liam and your coaches needed more.
Next is the man I am sure many would have wanted to see get the DoW, and he was very close.  Big Sean Darcy was going along ok at best in his matchup against the D's but then the ping heard around the Fantasy world happened and he was out, and likely out for a month or so.  Big Swaggy has been more than handy for his coaches this year and lived up to his Deck of DT recommendations for the most part as he's helped coaches spend money in other areas and not miss either Marshall or English too much.  However, to limp off with 34 against Melbourne undid so much of his good work as it cost his coaches coin as well as points and was a real kick in the guts to those poor folk.  An injured game doesn't preclude you from being Dicked no matter how unfair but Darcy just misses this round.  Part of the reason he didn't get the main dong is that the big dude's injury gives his coaches a ready-made cost saving and cash generating replacement for the month he's out.  Luke Jackson (108) roars in to calculations for a low cost bridge back up to a premo as he'll be R1 for Freo for the time Darcy is out and showed against the D's he can score well for those who need him.  In 3 quarters as R1 in the game he outscored both Speakano English (95) and RoMarsh (96) so is an option for sure.
That brings us to the Week 11 DoW and the controversy I am sure will follow.  This week's main man has been a regular in these parts and has won the DoW already this year.  For yet another paltry score of only 68 in such a big game where his coach, team and Fantasy coaches needed him, Patty Cripps gets the Week 11 dong.  I watched this game a couple of times and Patty gets because of the way he's going about it right now, and has been for a while.  He got rightly hammered here for his game against the Dogs and since then he's improved very little.  I'd like to say his 2-way running is half arsed but that would be an insult to half arsers everywhere.  If Patty doesn't get first hands on it at a stoppage, he jogs after whoever does and waits for the next one.  He is showing all the intensity of Donald Trump criticising himself.  No tackles, no kicks, no marks and no HB's in any decent amounts.  Whilst his team is mired in mediocre performances they've needed a big Cripps effort and he's responded by going missing for them and for his Fantasy coaches who thought there was value in a Brownlow medallist carrying some injury impacted scores from the year before.  At the minute I'd suggest it'd be easier to run away from Patty Cripps at a stoppage than it would be to run away from Billy Brownless when carrying a carton of beer.
Anyway, there we have the week 11 DT Talk Dick of the Week and it is our first double Dick with Crippa "winning" the award in Week 8 as well.  So what do we do with this Dick now?  I've been a proponent to hold Patty but I can no longer support his inclusion in your teams.  We're in Bye season so at some point now it's time to get out the sharp scissors and whack this Dick out of your team.  Upgrade or downgrade to someone who has a passing interest in points and reap the rewards.  Say G'BYE to Patty C.
Round 12
So now we are all caught up and we can dive into the Bye reduced round we just had.  Once again there was plenty of prongs and dongs out there doing their best and worst.  On the positive side of the ledger, large Timmy English was back to his greedy best on the weekend.  After a few softer weeks that ruined his tonne run and shed some of the cash on his head, Timmeh was monstrous once again this week with a beautiful 158.  At the other end of the height specrum, Caleb Daniel had a beauty with 136 but it was fellow stumpy Dog Adam Treloar who kind of stole the show in this one.  I tuned in in time to see Addsy chuck his mouthguard through a changeroom window as he went with the medics.  For all money it looked as though Trellers was done for the night, and maybe many weeks.  Good news for me as I was playing against him in a draft league game.  Imagine my surprise when 3mins later he's not only not injured but out there making a huge impact!  Is he so injury riddled now that he can't tell the difference between healthy and injured?  What on earth went on there?  His mouthguard hitting the window made such a loud noise Cody Weightman dived to the ground even though the ball was 100m away.  If Matt Stevic had been there he'd have got a kick for it too!  Great news for Adam though as he not only played out the game but pumped a great 130 out too.
The Carlton horror show was centre stage on Friday night yet again and yet again it was bad news for Blues fans.  Some better signs at times in this one as Harry M kicked straight a couple of times and that stupid noise they make when Adam Saad kicks the ball seems to be dying away so things were on the up, even Patty Cripps was scoring well for about 45mins.  Unfortunately, it didn't last and Patty went sleeping again and finished with another 68.  This week he was joined by usual points machine Sammy Walsh (55) who put in an absolute turd rattler for his coaches.  Sammy was lucky to avoid votes this week and I'd be betting large coin he bounces back this week.  He was so bad on the weekend it looked like he and Paddy Dow had switched jumpers!
Over in SA Port scored over 100pts in a half and it looked like we might get a scoreboard reminiscent of the 80's scoring days and see a team whack out 200pts.  Fortunately for the Hawks, in the second half they remembered they can grab the footy a bit and even grab those who have it when you don't so the scoring fell back modern levels and we missed out on seeing 30 goals kicked.  It's probably a good thing because I'm not sure we could have handled Jeremey Finlayson kicking 10 goals or so.  It seemed like he was getting angrier with each one he kicked.  He managed a career day though and given everything this bloke is going through, it was great to see him have a day out and collect 126 sweet points.  Frozen Butters and Sweet as Rozees  were good again with 129 and 121 respectively.  It felt like both could've got 150 but they took their feet off the pedals a bit I thought.  Who could blame them given the state of that contest at half time.  Not surprisingly the Hawks had a few blokes who should've done more.  Will Day may be tiring a bit and his 70 was a shame and continues his patchy current form.  J-Newcs has been an interesting PoD for some coaches as a steppingstone but 58 from him will see him on the way out from those teams I'd suggest.
The Territory hosted another game as the Golden Coasters were there for their 2nd week of back to backs.  Matty Rowell didn't like the taste of this grass and was down a lot with a 73.  Rory Laird too just scraped to a distasteful 81 and down again Pasta Fiorini was disappointing with a 60.  His card is marked for all coaches now I'd assume.  As far as PoD's go Darcy McPherson has been a revelation for his coaches this year.  He's launched some big scores for the year but he's had a horror fortnight.  He bottomed it out with a 42 this week and I'd bet there's no one in those ugly as sin GC jumpers looking forward to heading out of the NT more than D-Macca.
We were largely Dick free in the GWS Sunday game as everyone lifted their weight pretty much.  Timmy Taranto continues to the best guy who can't rank in Kane Cornes's top 500 with another great score of 130.  Callan Ward was special too with his 130.  Sadly though, we have to give a donging to Pipes Kingsley in this one.  Josh Fahey (17) has been a wanted man by Fantasy coaches everywhere as we look for Rooks to help us downgrade.  Pipes finally gave him a run a fortnight ago but he's subbing the poor kid to death!  The young bloke takes his own footy to NEAFL games and showed what he could do in this game too by pounding a long range goal that bought both people at the game off their seats.  Give the kid a proper run Pipes!  Sure he looks like he's 6yrs old but he's got a mule leg on him and we have nowhere else to go for cash.  Help us out will YA!!
Finally in arguably the game of the round we saw the Bombers fall over the line against a North outfit that looks a lot better since Clarko went for a break.  Great contest was had here and Zach Merrett looked like he was heading for a record score early days in this one.  68pts at qtr time was an amazing effort by Capt Zach and whilst he didn't scale historic heights his 155 was a pretty handy finish too.  What could have been if Stand-in Ratts hadn't decided to trry and win by putting someone on Zach?  At the shallow end of the output scale, Jack Ziebell put his hand up for a donging by not only pushing a lazy looking 73 on his coaches but also doing his best impression of a cooked Deer in truck headlights in the final stages of the game.  Jack's been decent this year but that game was as bad as anything else this year by anyone.
Over in Perth Dom Sheed (138) and Liam Duggan (137) went bunta for the Eagles in a game they pushed the Pies a bit.  Jordan DeGoey was horrible though and gave us only 58 points plus a month out after he picked on Eagles rook Elijah Hewett in a bump that was about as dumb as a boat load full of rotten prawns and as tough as a wet tissue.  Very Dick-ish by JDG and he was lucky to miss votes this week
But now we've arrived at those who did actually get on the DoW Dias this week, and what a special bunch of weeks these 3 had.  Poor young Jy Simpkin (7) was back on the DoW books this week after his unfortunate afternoon.  He was very unlucky to have his scone rattled badly enough to be subbed out before he even got to double figures in the points.  He'd have been very handy out there late for the Roos too but it was not to be for Jy.  As blows go it was a fairly innocuous looking one but if you watch closely after he gets hit Jy is most definitely seeing canaries flying circles around his dome after the hit.  His legs go one way and his weirdly out of proportion torso is having none of it for just a second there.  Thankfully no further damage to jaw or face but the damage done to Fantasy scorers was bad enough.
Also damaging to his coaches but without a head knock to blame it on was another regular around here in Brodie Grundy.  Brodes was clearly making sure he made it to the Kings Birthday game in this effort against the Blues but even taking it easy he should have pumped out more than the 47 he force fed the 7% of coaches still carrying him.  Grundy was sharing the duties with Big Maxy but they were both going up against the Lessor De Koenig and then pretty much the first 3 blokes standing near the race when the Blues ran out.  Silvagni was back at it in there and I think even Warnie got a run at some stage!  There's no way Grundy would be happy with 47 points against that line-up.  Had Mr Worldwide Marky Mark Pittonett been around then fair enough, but he was downing bourbons in the stands this week and not bashing into bodies.  Hard yards for Grundy owners but given the fact he was likely looking at this week's Pies game, I'd be tempted to hang on to him if I was an unfortunate owner.
So now we get to the main dance for the DT Talk Dick of the Week for Round 12, and this week we are off field for only the second time.  The status of AFL media is largely pretty bloody crap.  The long list of "journo's" that I try to avoid seeing or reading is growing each year and this is a sad state of affairs.  Some of the issues the league has had to face in recent times could have done with an insightful, researched and well thought piece or 2 from some well connected inside journo with some chops.  If only we had Trent Crimm formerly from The Independent.  Instead we have to deal with the Browne's, Cornes's, Barrett's, Rucci's, Sumich's, McClure's and Ralph's of the world.  To suggest that list would struggle to fill a DNA string with enough IQ points to successfully open a can of tuna would not be being unkind.  There's the odd one out there doing decent gear but it all seems to be in the recruiting/drafting area where not many want to get out of bed early enough to watch U/18 games so there's not the rush for the clicks so Cal Twomey and others can actually put some thought into their work.  For those wanting some decent reading material on the game we all really enjoy we have very little to choose from and instead we have halfwit click baiters chasing the next ambulance down the road or, in this week's case, diving so low in the gutter it would have embarrassed a rat at how careless the work was.
Caro Wilson has long plonked herself on a pedestal as the moral arbiter of just about anything she deemed gross or unsavoury.  She'll climb out of her coffin to offer an ill-informed and poorly crafted opinion on just about anything if she can get some virtue signalling benefit from it and put herself above the unwashed masses to preach.  However, when she puts 2 and 2 together to make 1967 and slanders 2 blokes and their families at an already struggling club, she's nowhere.  One quick phone call is all it would have taken to say "Hey Patty, did you stay with them team on the weekend?"  Simple shit really but apparently well beyond Her Highness of the Moral Clouds.  There's enough going on the Blues to fill some pages and get some clicks isn't there?  They're a gift that keep giving but Caro was too lazy to make 1 phone call to confirm something so mind-blowingly easy to confirm that she hammered some guys and their families for something they didn't deserve.  The AFL and wider sports media continually gives themselves and their colleagues a huge pass when crap like this happens but here at the Dick of the Week, we'll hope forever that at some stage the accountability we expect from players, administrators, coaches and even umpires starts to become apparent in the media industry too.  Gutless, inaccurate and pointless work from Caro Wilson gets her the Week 12 DT Talk Dick of the Week.  And if there's been a more deserving Dick this year I can't think of it.
OK Folks, sorry again for the week off, I won't let it happen again, unless something happens again of course then maybe it will.  I hope you enjoyed your Dick-free week and have had got your fill of Dick work this week as I've caught up.  Any designs for the DoWnlow medal will still be gratefully received as will any Dick work in your leagues.  Send anything at all to dicksofdt@gmail.com and like regular reader Dulcify you could win yourself an invaluable Fantasy resource for next year in a Morreira's Magic subscription.
Keep punching coaches and enjoy the easiest Bye week there is!