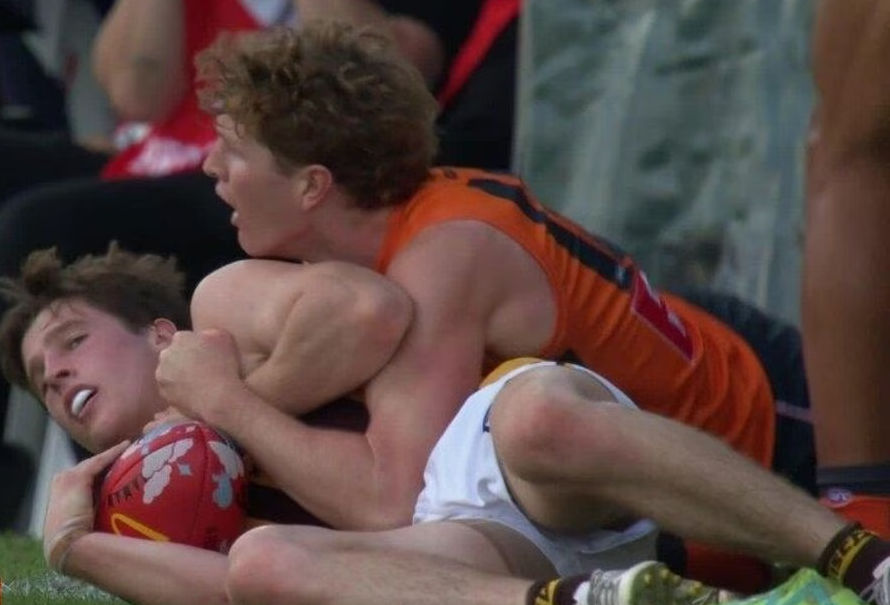 ZACH MERRETT
With Zach Merrett missing one week … who benefits and what might happen because of it?
Darcy Parish (76%), Zach Merrett (76%), Will Setterfield (74%) and Dylan Shiel (68%) are the main men … and only men the Bombers use in the middle. The next in line is Jye Caldwell and even Jake Stringer but between them, they have only been used a combined eight times this year.
But the biggest take-away for this week with Merrett on the sidelines = Essendon can not afford to tag Nick Daicos coming out of half-back. They are not going to park Setterfield there to do this job, they simply can not afford to and don't have the cattle to cover avoid in the middle. He was great on Oliver last week… but I can't see it happening now, it won't be Setterfield, but they might try someone else (Caldwell?). Wonder where he will feature in Calvin's Captains this week featuring on our patreon tonight and what ranking in my top-10 on Thursday?
Last year when Merrett missed rounds 3, 4 and 5… we saw a huge spike in the CBA numbers of Andrew McGrath who was in there 79%, 85% and 75% across those games for scores of 69, 103 and 70. If this happens again, it could be even worse for McGrath who plays the hardest midfield to score against… Collingwood.
How did those games effect Darcy Parish when Merrett missed? … well he scored 80, 112 and 88.
TOM GREEN
This hurts… it hurts 38% of Fantasy coaches, but who will it help?
No one, not even the rucks have attended more CBAs than Tom Green (87%) at the Giants this year. The main players in their engine room are Green (87%), Stephen Coniglio (80%) and Josh Kelly (71%) with not many others getting a look in.
Some did get a look when Kelly missed in round two though. In that game we saw a spike in CBAs from Harry Rowston and Callum Ward who stepped up to fill the hole. Expect his to happen again… and even Toby Greene (21% that day) to pinch hit from time to time as well. Finn Callaghan (18%) also had a little go as well, but resulted in just a 61 as the Giants went down to the Eagles. He needs marks and needs that wing.
WILL DAY
He has one week to go… so what do we see happening this week?
Leading into last round, Will Day was attending 70% of the Hawks CBAs. Last week with Day on the sidelines we saw a spike in James Worpel's and Jai Newcombe's numbers and even a slight jump in Conor Nash's. This week we should see the same thing.
Expect Conor Nash to go wherever Jordan Dawson is… which has been in the middle for the Crows. He had 90% of the CBAs last week and his score of 133 was elite. Nash surely runs with him, like his did to Tom Green last week.
With Day away, Worpel had a season-high 114 and Newcombe also had a season-high (119). Newcombe's CBAs have been down leading into last week, sitting at around 50%…. Both will be back in the guts again and should be great.
After weeks of 17% and 7% of the CBAs, Cam MacKenzie was used a fair bit in the centre last week (28%) even after coming in as the sub. He attended 52% on round one and produced a nice 75, a little bump in his numbers would also be handy after his sub-effected 20 last week.
He's had his rest and returns to UTas where he scored 92 in the pre-season and then 94 against the Roos in round three. He will get back in the middle and trading him this week might not be the best thing to do.
Check out more of our content over at our patreon. Over there you will find the extended Calvin's Captains, Roy's Rollin '22 and trade advice, Cal's Scale of Hardness, extra podcasts, a LIVE Sunday show, Jaiden's epic stats and much much more….