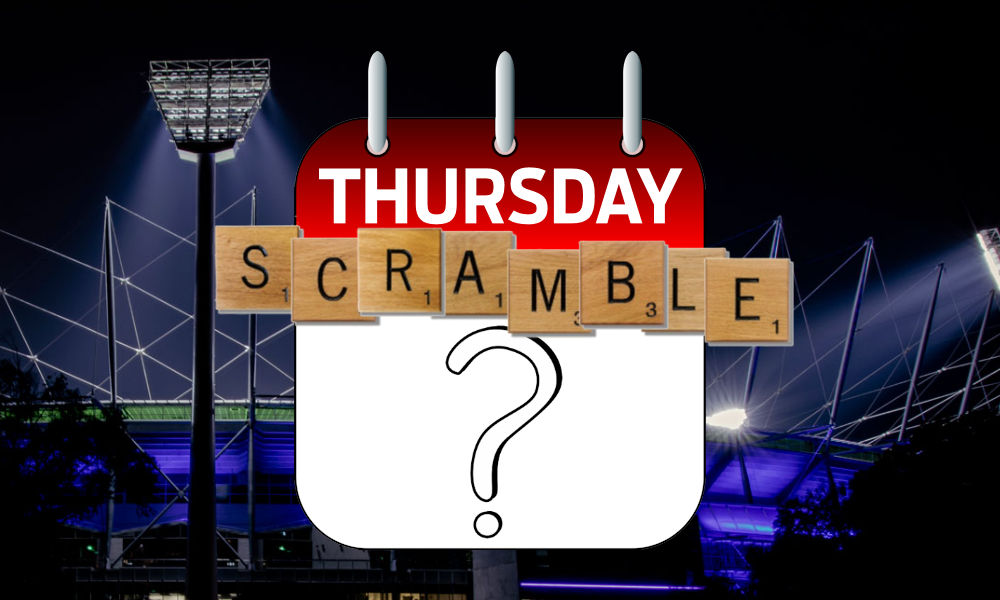 Congratulations, you have made it to the end of the season!!!  Hard to believe we are here already isn't it. Seems like just yesterday we were all trying to work out which rookies would actually get a game and of those which ones would actually be any good! Well we have all that behind us now as at least 1/8th of us are preparing for a Grand Final in our leagues (unless your league is already finished of course). So for me that is enough to say…. Let's Scramble!
The Return of the Tagger!
We thought that it was a dying art and that it was all done and we wouldn't see it again, but here it is, back again. And they are back in force too with many teams employing this tactic and some (like the Saints) using two of them sometimes.  I wonder if this was just a one off to pay hommage to Matt De Boer as he announced his retirement?  I think not.  So, what does this mean for us?  Well it means that we need to consider all options and it may mean that we trade out a premium or two just to be safe.  I got a couple of questions about this today so let's have a look at them.
If Harmes isn't named do we trade Neale back in for another tag target in Andy Brayshaw?

— John (@SinceIGotGAWN) August 17, 2022
Firstly thanks for all the questions this year John, been great to have you on board.  Now, this is a good one, With the Dockers playing the Giants, we will no doubt see Perryman go to Brayshaw and this spells trouble as Perryman has done some big jobs this year and we are very right to be concerned about his impact.  I think in this case I have to agree with your analysis there John and if Harmes isn't in for the Dees then you should probably look at moving on Brayshaw.  Add to that I think that the Lions have more targets for the Melb taggers than what the Dockers do with McCluggage and Lyons also in there.  So for this one, I think you move on Brayshaw.
Which tag target goes first: Brayshaw or Sinclair?

— Adam 'Warnie' Child (@WarnieDT) August 17, 2022
Great to get a question from the boss!  Better not stuff this one up hey!  But thankfully our every loyal readers were offering Dawg some advice and I tend to agree with it!  I am still on the move out Brayshaw wagon here. I think that once again the Saints have more people to tag including Steele and in my opinion Sinclair is more likely to get you a respectable score with a tag than what Brayshaw is. Sinclair seems to be more of the spread and run with the footy than Brayshaw has been and that would make him harder to tag and hence less likely to be imapcted by the tag.   This was also the view of Jake, Matthew Oliver and Wayneo who offered their advice to Warnie.
Looking at other players that are going to possibly be affected by taggers this week these are the other ones that I have considered.  We can't trade them all out so you may just have to pick which you think is the least likely to be impacted.
Aaron Hall – Lemmens did a job last week and could very well do it again on the North playmaker off half back.  The other one that could be impacted is LDU.
Rory Laird – Last week we saw Willem Drew go to Merrett for much of the game and it affected Merrett's output so don't be surprised if the Power send him to the Crows star.
Callum Mills – Windhager would be odds on favourite to go to Mills this week and is likely to really restrict the Suns star.
Jack Steele – I briefly mentioned above that Sinclair or Steele are likely to get a tag from Clarke this week so it is a bit of a toss of the coin to see where this one falls.
#AskDunny
I asked if I could help as you head into your GF and we have dealt with some of them above in the Tagger section so here are the rest of the questions.
Crisp or Andy Brayshaw out?

— Nathan (@NateoSC) August 17, 2022
Nathan, I would so love to say Crisp here as he has been a huge pain in my #$% this season and is really annoying me becuase I just can't find a way to move him on. However, given what we have discussed above I think it has to be Andy Brayshaw.  Crisp isn't going to get tagged (despite his scores looking like he has been) but I am really worried about Brayshaw's output with Perryman in his pocket all day.
Just trying to finish OR as high as as possible, would you consider a Tomahawk vs Eagles or Lynch vs Essendon?

— Johnny KO'd (@JohnnyKod9) August 17, 2022
Yeah good question Johnny.  I would certainly consider both of those this week. But if I had to pick one I think I have to go with Tomahawk v the Eagles at GMHBA.  He always performs well down there and his team mates will be feeding him the footy to try and get the lead in the Coleman and let's face it they are playing the Eagles who aren't travelling well and don't travel well. Lynch could have a good game against the Bombers but I think the Bombers will put up much more of a fight than they did against the Power last week.
Petracca or bray out?

— TimmyGun (@TommyG11183389) August 17, 2022
I think we have talked about Brayshaw enough to determine that he is the one that has to go.  Trac could have a big night.
Crisp or Daicos out ?

— Matthew #AtHomeYouMustStay Murphy (@MattM_78) August 17, 2022
Good one Matthew. I like this one and it is a tough one. Last week we saw that Daicos is very susceptible to a tag, but Daicos scored 65 with a tag and Crisp scored a 75 running free. For me that makes the decision fairly easy and that is that it is Crisp that goes.  Hard to believe that I am recommending holding the rookie, but I think he has shown us that he is far from a rookie scorer.  I say hold Daicos.
Play the Man or the Ball?
This round is one where we are one shot at it and what that allows us to do is either cover off an opponent or go different.  But there are times when you should and when you shouldn't employ that tactic.  For me, there is a simple rule on it that I would employ.
I have the better team and am favourite – In this circumstance I say play the man.  Where you have a difference and your opponent has someone that has the potential to go big, even though you have the better overall side this player could make things uncomfortable. So I would trade one of my uniques that is likely to score the lowest to cover off their unique that could go big and make it that little bit harder for you.
I don't reckon I have the numbers to win – Here we play the ball and potentially trade out someone that we have in common with our opponent and we bring in a unique that has a great match up and could have a huge ceiling and might just get you enough points to get you over the line.
You can employ the same tactics with your captain choices too.  If your VC fails and you are looking like you are staring down the barrell then look to take a different C from your opponent that might have one of those "out of the box" games.
Things To Remember
You've worked too hard all season to give up now.  Go for it this weekend and try for the win / best ranking you can get.
You don't have to love the guy you bring in, you only need them for one week so an injury risk player is worth a gamble if they could go large.
Enjoy the weekend, it is our last weekend of 9 games for another 6 months so enjoy the footy and make the most of it.
What a huge year it has been, they never seem to get any easier.  I want to personally thank all of you that have stuck with me all year and hopefully you have enjoyed reading what I have to say.
I really hope that I have helped you all (judging on where I finished in my leagues I may have helped a few of you too much) and that you have all had fantastic seasons.  Without you all none of this is possible. I am very priviledged to be able to provide this to you each week and for that I am ever grateful to Warnie, Roy and Calvin.  Also a big thank you to those of you that have sent in questions throughout the year, I hope I gave some good advice (I know I didn't with Cameron, but I am allowed one fail surely).  I love hearing your questions and sometimes they are things that I hadn't thought of which shows me that the knowledge of the entire community just lifts to another level year after year which is also evidenced by how hard this game gets every year!
Enjoy Round 23, hope you have a win or you get your best ranking you have had. And enjoy the off season.
Thank you all once again and we will see you all again next year.
Cheers
Dunny