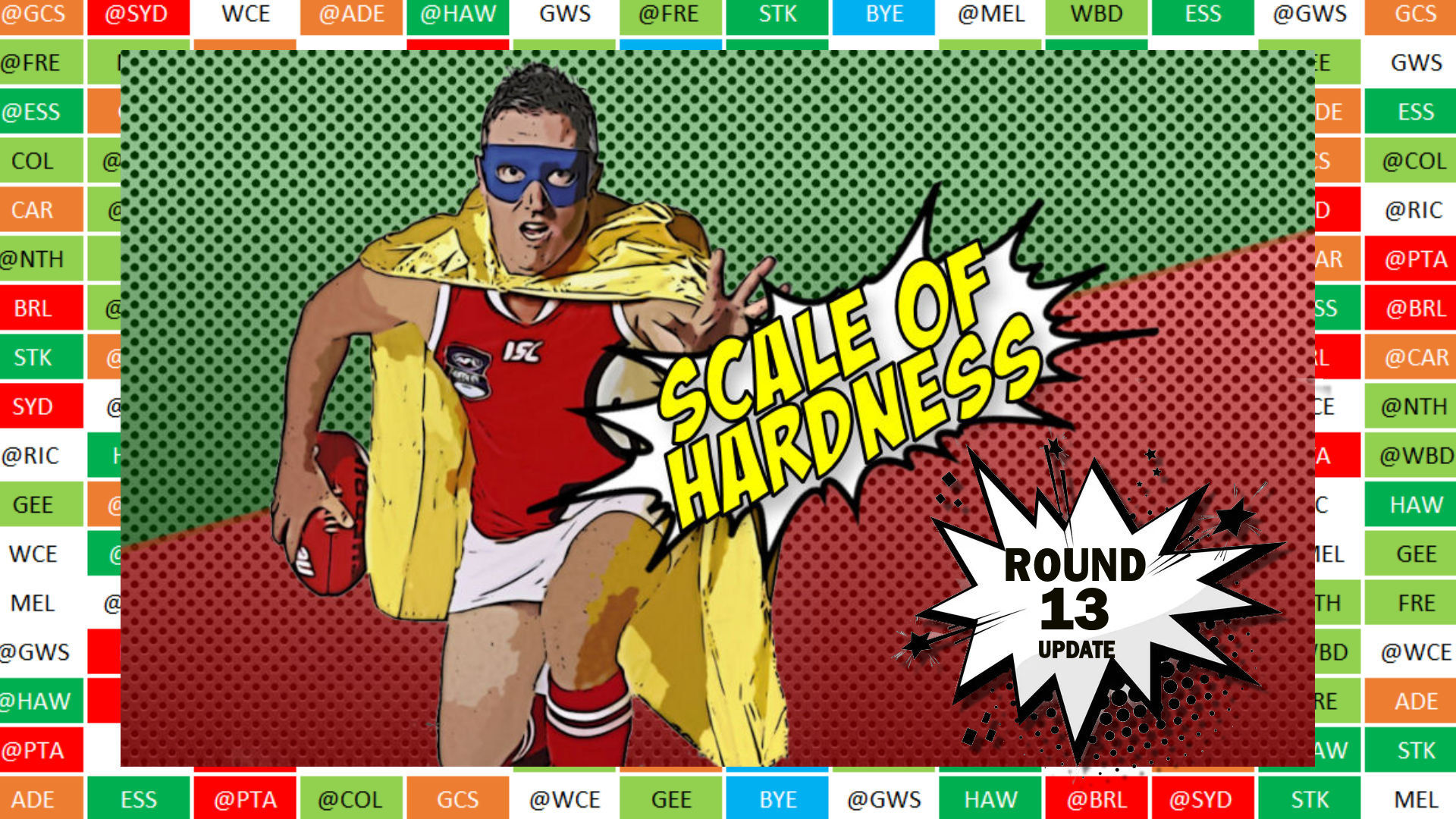 Four weeks ago I released my round 9 Scale of Hardness and with things starting to heat up and premium players are being targeted, maybe this is what you need to separate the men from the boys.
As you know, these stats are based on what opposition teams have given up so far this year and then coloured accordingly. These are based off real data and not opinions and should be used to assist you in the trades you are looking to make over the coming weeks. Especially for those 50/50 line ball decisions.
DEFENDERS
PLAYERS TO CONSIDER: Sam Docherty, Jordan Dawson, Jack Crisp…
It's hard to get a read on defenders as their roles tend to change a bit such as it has with guys like Jayden Short. Sam Docherty is a true defender though looks ok for the next five weeks. Adelaide also have a good run, if Jordan Dawson and sneak back like he did last week then maybe a few more +6's are on the cards. Defenders from Richmond and St Kilda appear to have a tricky run, but as I said with defenders… don't look too much into this position compared to the others as it's much tougher to get a read on.
MIDFIELDERS
PLAYERS TO CONSIDER: Rory Laird, Jackson Hately, Cam Guthrie, Mitch Duncan, Touk Miller, Noah Anderson…
It's hard to look past what Adelaide has coming up which makes players such as Rory Laird and Jackson Hately very good options. Dropping an under-preforming premium to Hately after his bye could be a play, and pocket you $150-200k. A move I will seriously look at if Cripps sucks again this week.
After their bye do we need to look at Cameron Guthrie and Mitch Duncan? They are three awesome games for these guys and a guy like Guthrie is starting to fire with scores of 98, 126 and 114. Duncan on the otherhand hasn't been as good but is coming off 115. He is dirt cheap at $735k.
RUCKS
PLAYERS TO CONSIDER: Braydon Preuss, Max Gawn…
I don't usually cover rucks but things are starting to get interesting in this area. Players like Braydon Preuss are getting close to being an option and his run coming up is rather juicy, even for Preussy. The change of Collingwood rucks have resulted in a change of colour. They have always been red, but since Cameron has come along, rucks have been scoring much easier against the big man. Of the recognised ruckman to have played them recent was Sean Darcy (126) and Nank (118) didn't struggle.
On the negative, maybe Reilly O'Brien might have it tough after his bye as he runs into Witts, Goldstein and Gawn.