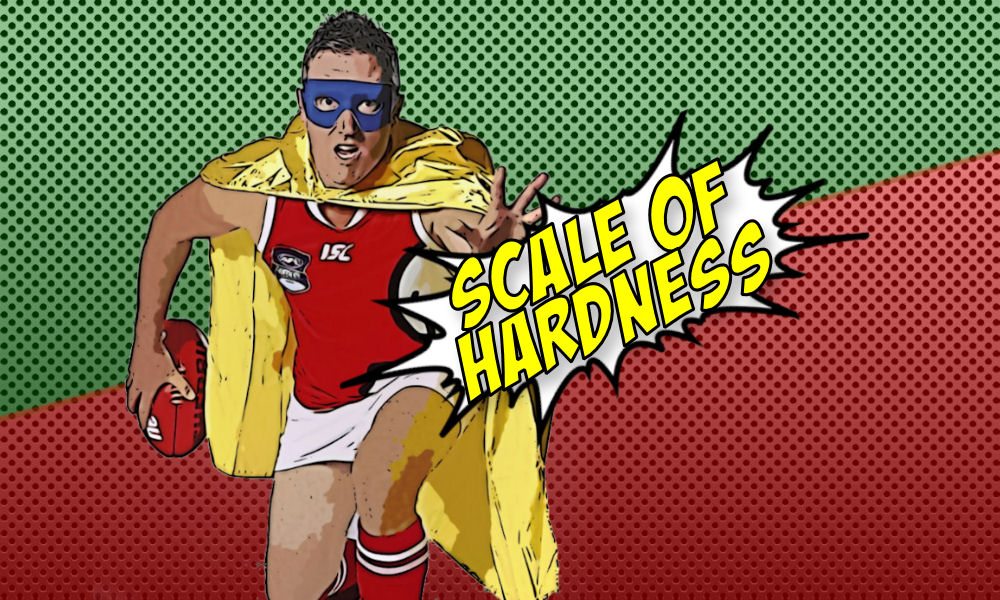 How Does the Scale of Hardness Work?
Based on the data from 2021, teams are coloured according to how many points they gave up to opposition players across the course of the year. This is how the Scale is currently constructed per position.
This data will change as the year progresses… and so will the Scale. The Scale has a new and exciting complex formula in 2022 which takes into consideration multiple components of data which are weighted differently.
The Scale should be used as a resource. A guide in case you are torn between two players and you are looking for a deciding factor after the coin let you down. The Scale is here to help!
Please note… forwards are not covered. The forward we should be targeting in Fantasy should be playing midfield and that should be your area of focus.
Premium Focus:
Jack Steele (MID, $1,020,000) – Pay the price. He plays Collingwood and Freo in his first two games and scored 157 and 134 against them last year. A walk-up captain option is gold.
Andrew Gaff (MID, $815,000) – You know this hurts to say, but Gaff (and Yeo) and a super run early. Gaff was a 26pt better player last year in wins compared to losses and according to my cal-culations, the Eagles should win their first three. Gaff will be starring us all in the first saying "How do you like those apples Calvin?"
Jack Macrae (MID, $972,000) – Macrae scored 103, 138 and 147 against the Demons last year which shows why they rank as (surprisingly) one of the easiest teams for MIDs to score against. Add to this the fact that you can use him as a VC nice and early… only adds only to his importance.
Ollie Wines (MID, $938,000) – Even though Wines starts off with a tough game, he did score 126 against them last year. After that it should be all smooth sailing for the man who averaged 118 after his bye.
Mid-price/cheap options predictions:
Patrick Cripps (MID, $686,000) – Add Hewett and Cerra to this as the Blues meet three of the easiest teams in their opening four games. Doesn't get any better for a team in the first four rounds.
Matt Rowell (MID, $464,000) – Eagles and Melbourne are a nice opening combo for the man who struggled to get going last year. If he can't fire after these two, you might consider jumping ship.
Jason Horne-Francis (MID, $270,000) – JHF and Tarryn Thomas could get off to the start we are after against two of the easiest teams in the competition. She gets harder after that though but a quick price spike will be handy.
Zak Butters (MID/FWD, $639,000) – Brisbane away is always a tough start but then Zak should go BANG and it should be all roses after round one. Maybe a slow start… so hold your nerve and don't trade after one game.
Scale Sends a Warning:
Zach Merrett (MID, $925,000) –  I guess we can add Jye Caldwell to this as well, because the Bombers have it tough early. Geelong in Geelong is the hardest start in town and from there, they meet one easy team in their next seven games. Ouch.
Jy Simpkin (MID, $801,000) – Expect this guy to get off to a flying start against two of the easiest teams going around. He scored a season-high 142 on the Hawks and 118 against the Eagles last year but after that… it gets tough meeting Brisbane and Sydney away, followed by the two hardest teams in the games. In fact, against those next four teams he averaged 86 last year which did include a tagged 49 against the Swans. Quick start… then a drop off maybe.
Sydney Swans – Three tough ones straight up. Not sure who you'd be looking at from the Swans but it doesn't look overly appealing.