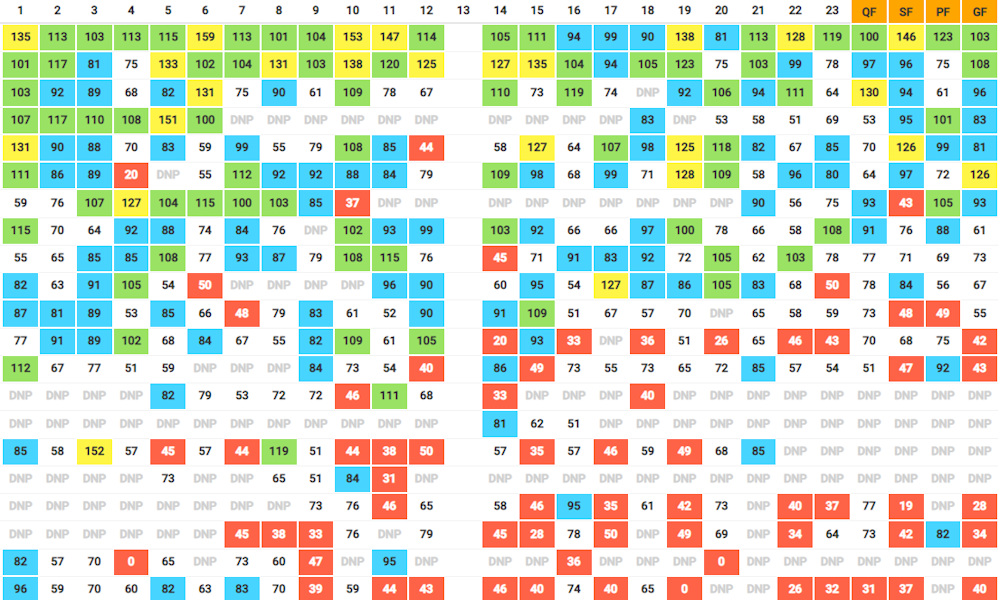 There is plenty of great fantasy footy content around these days and I thought I'd compile a list of the stuff I consume. It might be for when I'm researching my own content, to take on board to improve my game or just for entertainment… as at the end of the day, I'm a fantasy footy nuffie. One of the reasons we started what we're doing 16 years ago, is that there wasn't a lot going on. Back then it was basically m0nty's great FanFooty site, his podcast with Molly and some posts on BigFooty.
Make sure you follow us on all the socials.
The Traders
I had better start here! Since 2014 we've been providing content for the AFL under the moniker of The Traders (one day we'll deep dive into our history, but this name was born out of NBA podcast 'The Basketball Jones' who got a gig with the NBA at the same time and called themselves The Starters).
We provide a HEAP of stuff that goes through the AFL channels and also provide content for the AFL Record, including a large contribution to the pre-season edition that is available now.
Key links
One season ends. Another begins. This on sale today in Victoria, nationally later this week. @AFLFantasy @1116sen @AFLNation pic.twitter.com/NQhGtRIAQm

— AFL Record (@AFLrecord) February 13, 2022
Moreira's Magic
Back-to-back winner, all-round good guy Selby Lee-Steere, has created a fantastic resource that is well worth the membership. Even better, a portion of the proceeds go to charity which Selby has been super-generous over the last few years. Not only is there the pre-season guide, featuring exclusive podcasts with Xavier Ellis, there's an in-season subscription that will help you round-to-round.
Key links
We're on! https://t.co/X5EyVBbFYr

— Moreira's Magic (@MoreirasMagic) February 10, 2022
The Draft Doctors
Great blokes and epic content. The No. 1 fantasy related podcast I consume. Insightful with a good mix of fun and banter, the OGs Steve Fizz and Jon Crockett have built a great experience for their listeners and has gone from strength-to-strength with the addition of the Statesman (2x of brand hat winner) and Cam. Their Draft Kit is a must-buy and the Mock Draft Simulator is something that you can spend hours playing with as you prepare for your drafts.
Key links
Have at it ya filthy animals. #AFLFantasy #SuperCoach

– 151 pages – 50,000ish words of pure fantasy content.
– Comprehensive AFL Fantasy + SuperCoach Ranks
– 270 (unique & banter-heavy) Player Profiles
– 18 Team Profiles
– Keeper stuff

And much more!

— Cam (@ThePotatoBake) January 30, 2022
The Keeper League
Heff and Kaes, now joined by Dos, produce a very professional podcast (something we should try to emulate!!) and unrivaled resources for their members. I could list all the epicness, but you should just click below to find it all. One thing that I'll highlight are the State League and Junior Fantasy scores. Top dudes and an integral part of the Fantasy community … whether you're into keeper leagues or not.
Key links
Check out @Heff_KL's new 'Advanced Stat Averages' spreadsheet!

VIEW HERE: https://t.co/TpO37lXfud

— The Keeper League – AFL Fantasy Podcast (@keeperleaguepod) February 12, 2022
FanFooty
The OG of Fantasy resources is m0nty's FanFooty website. Pretty much everything you need when searching historical scores are here. I like the individual player profiles as you can check out players' scores by opponent, venue and in the single year view, you can see what they were averaging to or from a point. One of the key things that make's m0nty's product the GOAT, is the live scoring. He live blogs all the games and you get plenty of insight on roles and how points are being scored by players through the icons. Super-handy for in game injuries. FanFooty has been my go-to second screen (and first screen when out and about on weekend) throughout the season.
Key links
Final stat update with #Supercoach scores in for #AFLGF at https://t.co/HflJjb7rli

— FanFooty (@FanFooty) September 25, 2021
DFS Australia
Bloody hell Morts is a genius. He's been tinkering away at crunching numbers for a few years and his site, DFS Australia, continues to evolve and become part of my daily routine when I need to find some stats to justify a selection (or maybe talk myself out of one!). I like the visuals on a lot of the pages for key metrics that we've been getting around in recent seasons like centre bounce attendances (CBAs) and kick-ins. Something I used a lot in doing my pre-season research is the 'scores with/without' page that lets you see how a player score when a team mate is out. Also, via the player stats, you can see state league and junior score logs.
Key links
How do breakout candidates Serong, Thomas and Anderson's start to their career compare to some of the games highest #AFLFantasy scorers?

Matrix covers the first 50 career games of each player. (2020 scores adjusted for COVID). pic.twitter.com/cn4Orjp4Y7

— Morts (DFS Australia) (@DFSAustralia) February 18, 2022
DT Live
Chad has been a long time friend of DT Talk and he's very good at what he does. His site, DT Live, has been kicking around for a while and provides live scores with some features not found elsewhere. In the pre-season, it's always great to use the Drawing Board to pick a team. My most used feature is Data View. Here, you have a lot of flexibility in filtering stats how you like. Want to see the top averaging defenders priced between $300k-$500k with less than 10% ownership from round 5-15? You can. Incredibly powerful resource.
Key links
.@chadleverington's DT Live website is great, especially for Data View. Nice view of season long stuff going back a few years. Easy to filter/sort data.https://t.co/v4srHrJZct

The Drawing Board is a very cool pre-season tool as well.#AFLFantasy pic.twitter.com/UFYIuUQtSa

— Adam 'Warnie' Child (@WarnieDT) January 3, 2022
Other resources
There are a heap of other things I consume that can fit under this 'other' category such as social media accounts and podcasts.
AFL Ratings
If you're on Twitter and you aren't following Pete, then you're doing it wrong! It's a great resource for news and analysis from a man who lives and breathes footy. Articles on his website provide some fantasy insight along with, most importantly, the facts. Make sure you listen to the Plus Six podcast as Pete is joined by Jeppa for some deep chats on Fantasy Classic.
Hat Chat
Relatively new kids on the block, this crew have the aim of winning a hat. They've got an entertaining podcast and host Wednesday night Twitter spaces with plenty of great conversation.
The Fantasy Community
2x top 10 finisher (runner up in 2021) Kyle Holmes has teamed up with his mate Zac to create a Discord server.
Twitter accounts
News is important to be across as a Fantasy coach. There are all the official channels that most people will know and should already be following – including AFL website, club accounts, main newspapers and key journos (eg. Mitch Cleary!). Some below are great for news and also Fantasy takes on things.
There's probably a few others that should make this list and I may add to it in the future! Thanks for listening to my Ted Talk.