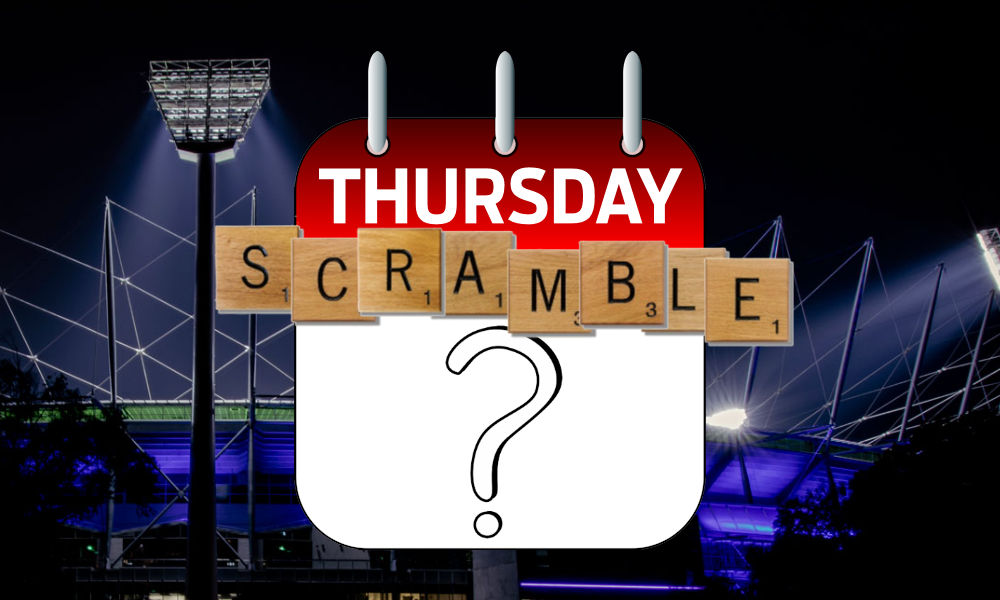 Great work if you have made it through to this week of the season and are still in contention for your grand final. It has been a long season and a difficult one as we have found it very hard to get some cash generation going. If you made it through to the Prelims already, if not, then it is time to Scramble!!
Do you sacrifice your bench?
This time of the season you are looking for any little advantage you can get and with our two trades a week in the AFL Fantasy game we can hopefully make a bit of a luxury trade to try and improve our teams (I am sure the fantasy gods will have something to say about that with teams tonight). But in trying to make these luxury trades you will probably need some cash to get there. If you are trading out one of your fallen premiums who has probably lost some cash.
We will need to try and get some cash to upgrade these guys (I am looking at you Tim Taranto). So to get some cash you will need to start looking at who you can downgrade. You will probably have some guys on your bench that are providing you with some great cover and you have to make the call as to whether or not you sacrifice them to better your on field contingent.
One of the things that you need to consider first is, if you trade this player out what are you getting in? Are you going to get in someone that will get you a decent score? Are you trading in someone that is just a warm body that might get you a 25 if you are lucky? Or are you trading in someone that is no chance to play but are at a bargain basement price. The odds of trading in someone that will get you a decent score is very slim so you are probably getting in a heartbeat or a red dot bargain. Whilst this can be pretty risky to do, the later in the season we get the more valid that play becomes. If you need to make a big move to get the win in your knockout final then you may need to just roll the dice and hope that there are no late withdrawals over the weekend that means you need that bench cover. With our two trades per week this is a much less risky play than it used to be as any long term injury this weekend means you can still fix it up next week.
In both Realdreamteam and SuperCoach the advice is somewhat different. In both of those games there won't be too many coaches that are still actively playing that more than 2 trades remaining. If that is the case with you then I would strongly advise against doing a one down and one up trade. You simply can't afford to do that. With 2 more weeks to go in this season after this week you are more than likely still going to need to make a trade for injury purposes over those two weeks. You can afford to go down to 1 trade left this week with just two remaining but going down to 0 would be quite risky, particularly if you are still very much in contention.
Another question I have heard is ' Should I be upgrading my bench players?'. I say no. No point using cash and trades on your bench cover, you are far better off upgrading the guys on the field and getting those points on field. The only way you should be looking at upgrading a bench player is to upgrade such that you are pushing your last field player to the bench by getting someone better.
What to do with a week off
Don't forget about your team just because you have the week off in your league. Make sure that you keep improving your team for the following week when you have your preliminary final matchup!
#AskDunny
Got a question on Twitter from Lauren @LozM76 asking about Sidebottom and whether she should trade him in for Bramble whilst giving Taranto and Ridley one more week.  A couple of things here and let me address the easier parts first.  Ridley. Absolutely give him another week. In fact I would suggest holding him through the end of the season as last week was his only really poor score in recent weeks. Look for him to bounce back.  As for Taranto, I really didn't want to watch the game given he was playing so poorly but given he was playing the Power I continued on but jeez it was hard watching him do his best to avoid the footy! I will probably hold him this week still as I think with Hopper out he is likely to get that extra midfield time and hopefully he can put in a decent score over the coming weeks.
On to Sidebottom. Last week was his second over 100 since their bye but he also had a 47 and a 69 in that stretch and the other two scores weren't fantastic. But as we know with Pendlebury out for the rest of the season we saw the results of that with his 114 on the weekend. He is more than worth bringing in. Particularly for Bramble. Whilst he had a great scoring run from rounds 16 to 19 his first two scores were 43 and 46 and last week he had a 52. As with all rookies his scoring is likely to be very up and down and if you can go to someone that is likely to be consistent like Sidebottom then that is a move well worth making.
Things to Remember
Monday Night Footy! Don't forget we won't know the final squads for the Eagles v Melbourne game until Saturday night.
Just because you have the week off don't neglect your team.
Keep an eye on the order of the games, particularly if things change, when you are planning for any captain or emergency loopholes and your trades.
Not long to go now folks and don't give up!  There are still plenty of points on the table to not only win your leagues but also to push your ranking right up towards the top. As teams get knocked out of finals the coaches may give up and that is the chance for you to elevate your ranking by still playing!
Have a great weekend and for those still in a lockdown we are all thinking of you and hopefully you will all be through this soon. Until then , enjoy the footy and the Olympics.  A great excuse to spend the weekend on the couch watching the footy!  Catch you all again next week as we get to the final four teams in your league!