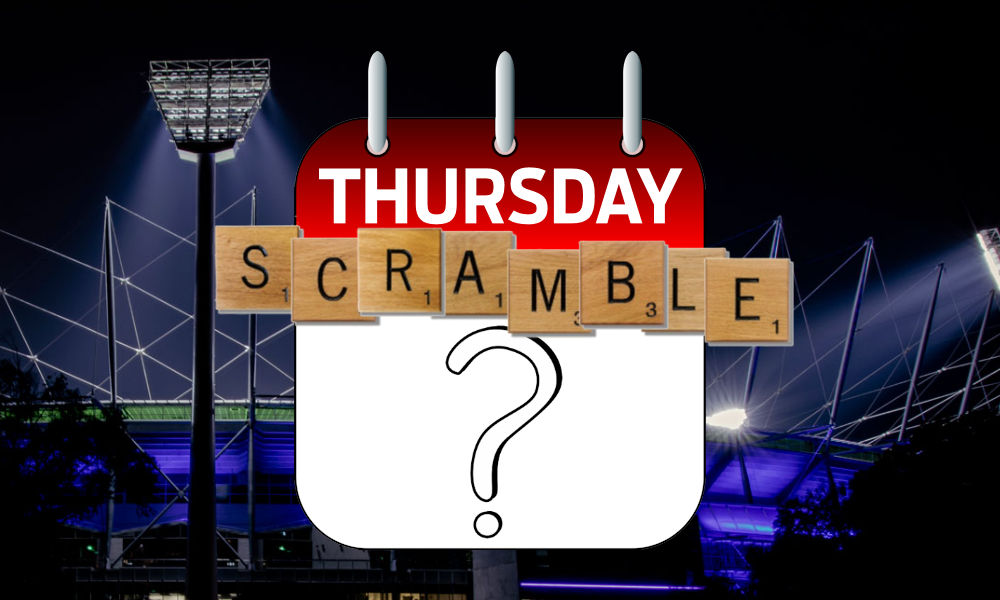 This time last year we were heading into round 10 of the season! How things have changed. We are now at the pointy end of the season and we have already said goodbye to a number of teams from our leagues and also a number of players from this season too. But with players dropping like flies that creates heartache for some coaches but also opportunities for others! But if you are in a knockout final this week, there is only one thing to do and that is Scramble!!
It's Finals Time!
Can you smell it, the freshly cut grass, Spring just around the corner….  nope, me neither, stuff the AFL finals, this is more important!  I am sure you have all been here before and you are all aware of what goes on with the Fantasy finals. So I won't bang on about it too much here.  Just to say that you need to use your trades strategically and also have a very close eye on your team and your opponent. One of the key strategies I use here is to hold my trades to as late as I can whilst sticking to my plan. This will keep my opponent guessing whilst also giving me options just in case there is a late out.  The last thing you want is to have your trades locked in and a late out meaning you have to change them but it is too late.
For those of you in the limited trade formats that are purely going for the League Wins. My advice here would that if you are in a final that is a knockout, go for it, use your trades to get the win if you need to. But if you are in a top 4 final and you think you can squeeze by without using one of your last couple of trades, try and hang on to them if you can, they will be invaluable later on.
Make sure you get the W and get yourself either through to a Prelim or just survive one more week.
#AskDunny
So I put the call out yesterday for some strategy questions etc for this first week of finals. The main thing I got was player v player, which I will have a crack at answering in a sec, but I just want to stress to everyone that any player v player comparison that you get from people online will always be fairly general in the advice. It can't take into account other players that you might be able to afford or the make up of your team. Always look at any trades/changes very strategically.
For example, I (stupidly) still have Zac Williams in my Supercoach team (I am blaming Roy). Now I did look at X v Y down back, but what I am going to do is flip that on its head and trade Williams out, flip Laird to the mids then flip Danger to the mids to allow me to bring in a forward. It is the best use of my cash available and means I can get a decent scorer in without having to double trade (something a lot of teams can't do at this stage of the year in that game).  So I guess my main piece of advice is to always look at all the options you have, don't just limit yourself to the guys that are on the same line as the player you are moving out.  Similarly, if you have an option between two players and they are very even, I will generally take the one with DPP just to allow flexibility over the last few weeks. And lastly, if using DPP to get a player in means that you break a link between the Mids and particularly the forwards then I would say don't do it. You will regret it later on.
Now… on to a couple of questions I got.
The first question I got was from one of the main men here at DTTalk the great Warnie, so I figure I better look at that one.  There were a few follow ups so I will add them in as I go.
Warnie asked…. Mills v Crisp v Dangerfield.  After that I had people add in names like v Dunkley, v Stewart, v Whitfield and v Zorko.  So I will try to address this as best I can.
There are a few factors to consider, Their Scale of Hardness, Is their team battling for a finals spot or have they put the cue in the rack and what sort of a ceiling do they have. When I look at all of that together for me the one that I go first is Mills. Finishes with Essendon, St Kilda, North and the Suns. He has a very impressive run of scores before his Covid incident. He has only been under 110 on two occasions in his last 9 games and they were a 96 and a 100 (In SC he has only been under 100 on three occasions all year and the last two were both 120+). He has also shown us a ceiling this year and he has the role we have been waiting for from him for the last few seasons! The Swans are battling it out to stay in the 8 and to push up to the top 4 or at least get a 'home' final (whatever that looks like this year) in that first elimination final. He is my number 1 pick.
However, I am also a very big fan of Dangerfield. He has a good run home with North, Giants, Saints and Melbourne.  His last four games have yielded a 149, 80, 105 and 118 in AF/DT and a 184, 97, 134 and 165 for Supercoaches. He has a great role at the moment and he is going to be the main focus in the midfield as well with Duncan out and Selwood a bit wounded.
A few words on the other guys…..
Crisp – I like that the Pies are playing the kids but they have a few hard games with two of them against sides battling to get in the 8. Plus that 69 against Carlton worries me.
Dunkley – All that time off then some quarantine.  Makes me very nervous.
Stewart – You should have him already, but if you can get Mills he is a much better option.
Whitfield – Once again you should have him. He has been good of late but if I am picking a defender I am still going Mills first.
Zorko – Of this menagerie of players, I think I would have taken Zorko at 3 behind Mills and Danger.  The Lions are on the charge and whenever Neale is in the side teams are likely to go to him first then Zorko which leaves Zorko to run a bit free.
Brenton Eckersley asked… Trac or Lyons.  I go Lyons here.  I have Trac but Lyons just keeps racking up the footy and with Neale and Zorko he is less likely to get a tag than Trac is.
Shaun asked if you could go Bramble for Pendles (onfield) and then you could finish another mid to make Menegola into Oliver.  Now I don't mind the strategy, but I like it alot more about 4 – 5 weeks ago. That sort of move then allows you to make cash from Bramble and upgrade to a premo for the finals. Here you are placing a lot of trust in a rookie that they can keep this form going whilst playing in a bottom 4 side.  Risky but could be good reward (I like Menegola to Oliver).
Lauren asked … Gaff? Good value or too risky?  I would love to let Calvin answer that one and I think he would say No.  And I do tend to agree with him. I think he is just too much of a risk…. however, if he is all you can afford then he may be worth that risk.
Things to Remember
No guts no glory! Go for the win, if you are in a knockout game just play hard and maybe take a risk if you are the underdog.  You never know.
Be strategic with your trades and look at all the options available, not just the obvious ones.
If you are out of finals, don't give up, keep playing for that rank and remember, it is just a game so keep having fun.
There you have it folks, the first week of finals is upon us and the cash is going to start getting sorted out, just make sure you are on track to get some!  Just one more thing too, the fixture is a bit all over the place at the moment so make sure you are well aware of it as you are trying to get your loopholes and trades organised.
Catch you all next week when most leagues will be down to just 6 left in contention!