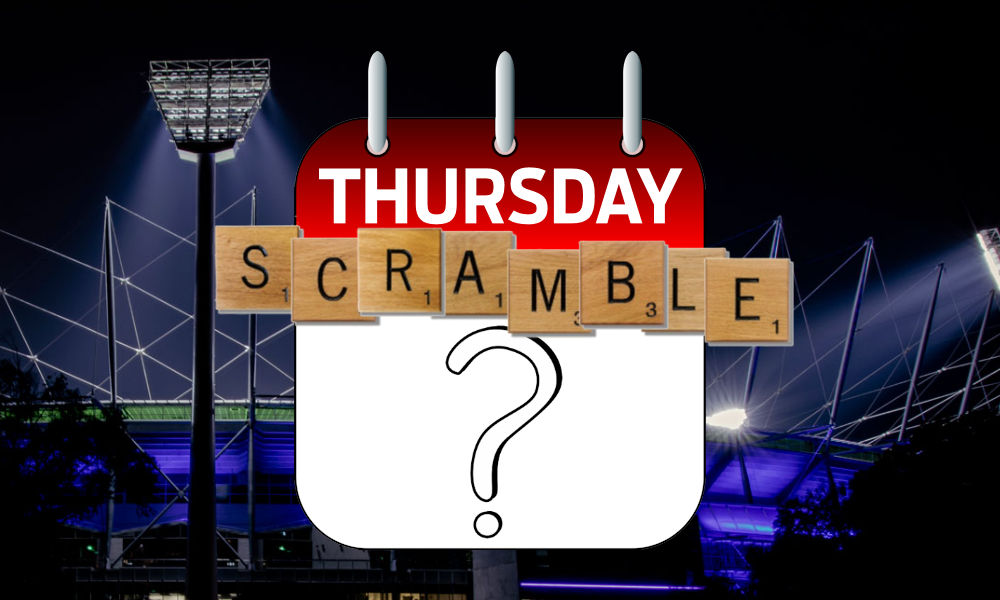 As always we are all pretty happy that the byes are behind us but does that mean that things get easier, of course it doesn't. We are already facing the issues of not having enough money to complete our upgrades, lack of trades in the SC and RDT formats of the game and of course injuries that have occurred during the bye period, I am looking at you here Josh Kelly! Add to all of that some players that are out of form and rookies that haven't performed and it all spells ….. Scramble!!
Post Bye Problems
Now that we have free reign over who we can pick we have to take a few things into account and the main ones that will cause us problems are Rookies getting dropped and Premiums getting injured. This is only going to get harder as the season goes forward. We are likely to see more rookies get a rest and as bodies get banged up we may see those teams that are out of the finals race put some of their guys in cotton wool and send them for surgery or they will simply give them a bit more time to get over a niggle or two. Having durable players at this time of the season is absolutely critical.
This is where keeping your ear to the ground is the most critical at this time of year and making sure you are on top of all of the different announcements so you can give yourself the very best chance to position your side for the win.
Our Downgrade Focus changes
As we enter this next phase of the season our downgrade target focus will change. No longer are we looking for those players to come in and have a quick burst of 5 weeks to generate some fast cash. Now we are looking for players that are going to have some good job security so that they can sit on our benches for the remainder of the season and be there in case of a late withdrawal. This isn't as critical as it is normally in AFL Fantasy as we have the rolling lockout this year and previously we would have set an emergency and hoped for the best but at least now if you have some trades left you can adjust on the run.
Can you downgrade to a non playing player for the cash? Of course you can and the longer the season goes on the more viable this strategy is. As we all know making money is very hard in the second half of the season as our best cash cows have normally played early on in the year. But this year we have had even more trouble making money so if you need to drop down to a bargain basement player that isn't going to play then you may just have to do that and take the risk that you will be stuck with this non playing player on your bench for the rest of the season. The only thing I would stress here though is that I wouldn't do this unless I had a rock solid option in the other bench positions for each line first. This is particularly critical in the limited trade versions of the game.
#AskDunny
@pkd73 Phillips and Green are going, I just can't take it any more. Looking at brining in Pendlebury and Haynes, leaving Amartey at R2. Is this better than reaching for Grundy now?

— James Farrar (@londonstatto) June 22, 2021
I feel your pain with Phillips and I know what you mean about Green too. Phillips promised so much but just isn't delivering this season. Bringing in Pendles is a great option as he has a solid track record. Haynes has been ok without being fantastic too. Leaving Amartey at R2 does worry me to be honest. I would feel much happier and would sleep better with Grundy there (I am assuming he is named for this week) and Amartey may be dropped at a moments notice. The only reason that I would sign off on this trade is if you are playing the break even game with Grundy. If you can live with Haynes and Amartey whilst waiting for Grundy's price to drop then do it but just remember that anything can happen and you may have other issues to fix that prevent you from bringing Grundy back in the following week.
can we trust newcombe and armanty on field?

— Jake Just (@_Mr720_) June 22, 2021
The short answer to this is No. I think after Newcombe's first game we all thought this kid was going to be a star and the answer to all our problems but we saw on Sunday that he came crashing back to earth with his score and the same thing can happen to Amartey too as it can with all rookies. They are a huge gamble to have on field and I would suggest that if you have a better option I would go with that.
Is it worth ignoring some of these value picks (pendles, Martin Haynes) to sure up your cash generation for future rounds by downgrading a Phillips instead of sideswapping? Thanks for the help dunny

— Anthony (@Tanaglias) June 22, 2021
Good question Anthony. It is hard to go past value picks and in a season as tough as this one I think we should look to find value wherever we can. We only have 9 rounds to go and the prospect of a rookie making you money in time to do some significant upgrades in a few weeks to make them meaningful is not great. You have to think now, is the player I can get in after this rookie makes money going to get me as many points as the value pick that I can bring in now will for the rest of the year.
In regards to sideswapping, I would only recommend that if you were dealing with a season ending injury, you should always be looking to improve your side.
To maximise points for the rest of the season, is it good to stick quite strongly to the upgrade downgrade trade strategy? Or is there still merit to sideways and double downgrading ?

— Billy Elsum (@_billyelsum) June 22, 2021
This is a good follow up to the last question, and I have sort of answered some of it. I am not a big fan of sideways as you are not really improving your team and you should only consider that in case of a long term injury. However, with double downgrading that is certainly an option because it will then allow you to either do a double upgrade the following week or it will allow you to get to a better premium the following week if you have no cash in bank.
But as has been the thread through all these questions this week you need to make sure that you are maximising your points and if you are going to do a double downgrade then you need to make sure that the upgrading that you are going to do will, in the long run, make you enough points to outweigh the lack of points you will get from your double downgrade this week.  Sorry if that came out confusing but it is about the best I can do. In short, Yes stick with the upgrade downgrades as best you can but if you are very short on dollars then a double down is a valid option.
Things to Remember
Triple check your bench to make sure you haven't left any of your premiums on it!
WATCH THE SCHEDULE CHANGE. There has been some time changes for games on the Saturday so if you were planning your loopholes around these games just beware that you may have to come up with another strategy.
Just 5 more minor round games to go until the majority of the final series start for Fantasy so make sure you are getting those wins in place!
Enjoy the full round of footy being back and hopefully a return to some big scores for your team and I will see you all again next Thursday.